I sit in the heated foyer of Notting Hill's Tabernacle cafe, avoiding the gloom and biting cold of this early Tuesday afternoon. I keep an eye out while reviewing notes on Mission Gallery, the traveling art gallery dedicated to promoting work by creators of color in whatever city it stops in. Mission has hosted over a dozen social justice-themed exhibits throughout Greater Boston and San Francisco, and just debuted its second London-based show entitled "Ain't I Beautiful?". The installation houses work from eight artists in homage to Black beauty and its expressions across gender, sexuality, economic background and spiritual practice. I am waiting for Mattie Loyce, Mission Gallery's founder.
Within minutes of my arrival, my phone rings and I spot the familiar blonde-brown afro finding its way through the courtyard. Mattie and I greet one another with hugs and complaints of frostbite before settling into the Tabernacle's lounge area. This is only our second meeting after a month of emails and Facebook messages, and by the time we shift into the interview portion of our conversation, it becomes clear that Mattie Loyce is a force. At five-foot-seven, equipped with a smile as large as her afro and the full raspy voice of a woman far beyond her twenty-six years, she started Mission Gallery in 2014 while a social worker in Boston, Massachusetts.
"I had a lot of friends who were artists and creatives that were making really great work and I never saw it outside of their homes," she says of the gallery's founding. "We didn't have space...and the gallery environment in Boston was very different from where I was from."
Loyce was raised in cities throughout California and has lived in Boston, Trinidad and Salvador Bahia, Brazil. Mission Gallery takes its name from San Francisco's Mission District, which she cites as her primary home base as a child.
"I came from a place where art is everywhere...on garages. Art is in your taquería. Everywhere you go, you see color. Every house is a different color...I moved to Boston, and everything is brick, and I felt there was no accessible art to me. It got to this point where I said 'okay where is my art? Where are the things that reflect me? Where am I in this city?' And no space was presented, so I decided to do it myself."
This was a way of bringing in what you needed...
Yeah! I don't come from a background where I have auxiliary income to rent a space, so that's where the pop-up idea came from. And for my friends and surrounding community, they were so limited in places they could display their art. It was like you either displayed it at your art college or be attached to some sort of gallery that sells your paintings for $5,000 or more and then it's over.
Mission Gallery focuses on artists of color and folks who identify as queer, trans or anywhere else along the gender and sexuality spectrum. It's important, given the current lack of access to museums and galleries, and the relationship to the art within them.
There's this huge void in our population in terms of representation. When you think about the racialized history of who has access to institutions and to schools, you can't help but think of who lacks voice in these spaces. And then when it comes to art it's even more stratified. And who is represented in our museums. The fact that Black and Brown folk weren't even let into certain buildings--why would their paintings be on the wall? Paintings by them and paintings of them. And that is something that is not history, that is present.
We are an hour into our conversation. Our now hot layers of coats and scarves have been peeled off and strewn across chairs, and the food we ordered from the Tabernacle's kitchen has arrived. We answer one another between bites of roti and lamb curry, Mattie's fork waving to provide subtle emphasis on her words.
Being a black woman, being a multicultural woman who identifies as queer, I can't go into these spaces and deny the fact that I don't see myself represented there. Very few (aspects of my identity) are often picked to be represented in these spaces -- in dominant arts culture.
Each of your exhibits has a specific theme. Whether beauty or gentrification or Black Lives Matter, each is lead by a specific social justice issue. Can you speak to the significance of choosing a theme for each?
Most of my shows have some thematic presence or thought behind them...not only for the community but for the artists to engage with, knowing that their work will bring forth a specific discussion. I also appreciate doubling that thematic discussion on top of our lived identities instead of just focusing on our identities. It's great to have Black art, it's great to have woman art, but why can't it just be art by these individuals who sometimes meet at these different points of identity? Or it's seen as art through the lens of these people who have a perspective. I enjoy adding the social justice perspective, and asking someone to talk back to that. Often times the artists I work with are already producing within these themes.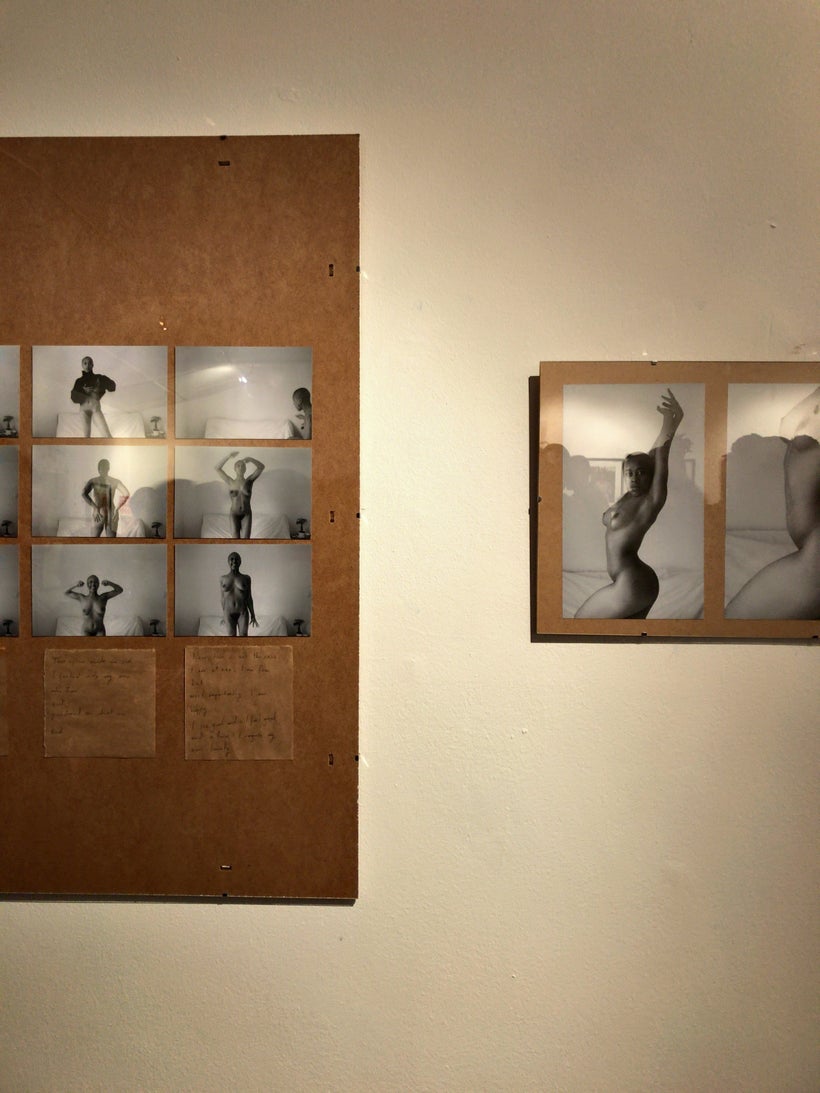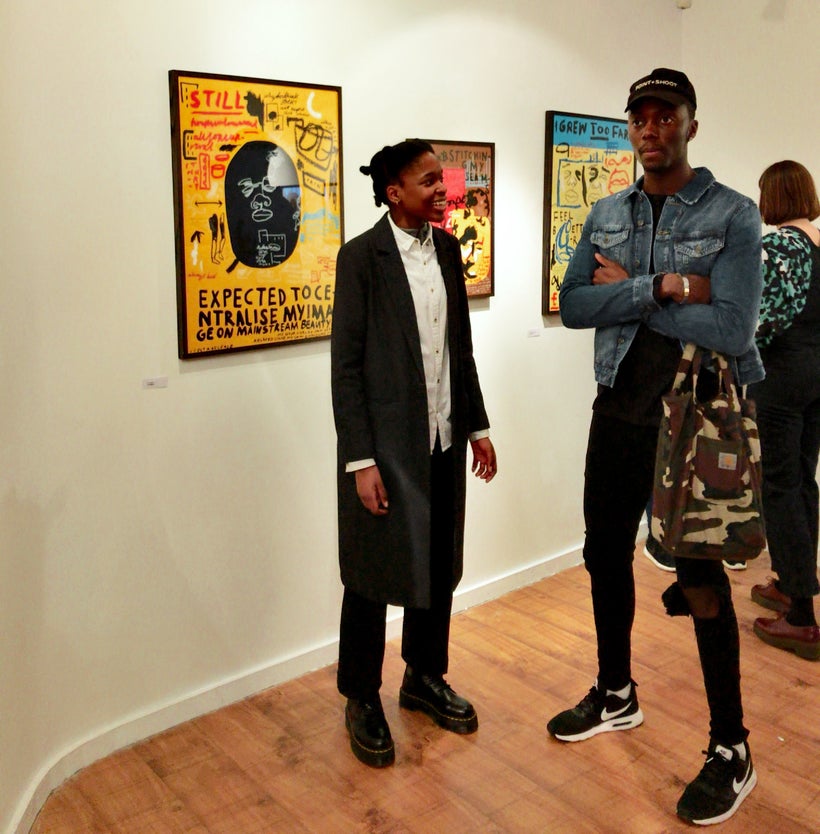 Where did the concept for "Ain't I Beautiful?" come from? What sparked that idea for you?
I was watching this natural movement for Black and Brown women. In the natural hair and body positivity movements there was a very specific pastel and beige aesthetic that was happening. It was very feminine. And it is beautiful, but my aesthetic is not that. I'm used to a little grunge and some dirt, and a little punk and black punk. I got tired of seeing that for a while as the only way to be beautiful. We don't have to be soft in order to be beautiful. We don't have to be soft with our colors...our face...the landscape we want to photograph ourselves in. We can be harsh.
Ain't I Beautiful was created to discuss and challenge this notion of beauty--what that means and what power that holds. And it's not just in the body. We have to step away from solely focusing on the body...and start to think about what beauty means in terms of geography... Why are communities gentrified? Because they're not beautiful, quote-unquote. I've been living here for generations and now you have to replace my bodega with a Starbucks because that's better?
I'm so proud of all the gender nonconformity that's happening right now, but the importance of not letting go of the fact that a spectrum exists and putting that forward. Because it's not just a gender spectrum, it's a racial, geographic and economic spectrum.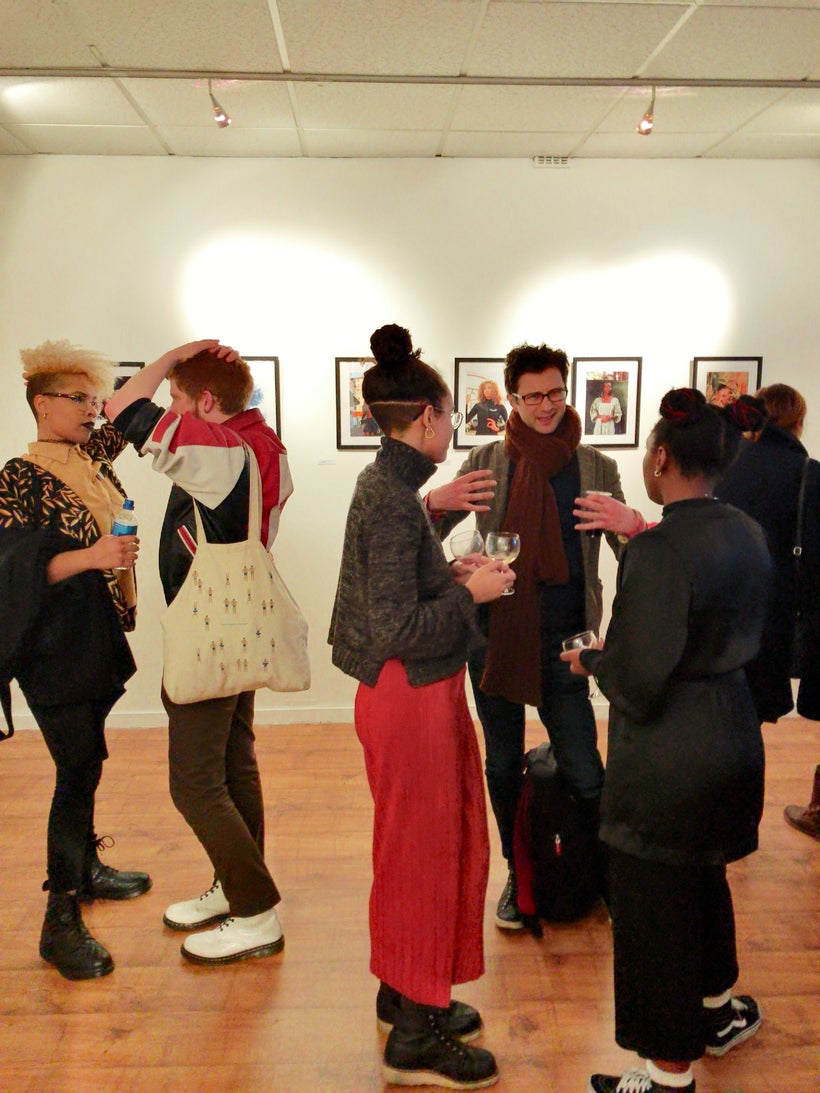 How did your appreciation for art develop?
As a kid art saved me. The nomadicity of Mission Gallery comes from my lifestyle. I moved a lot and grew up moving a lot. Between Southern California to San Francisco and then Boston, Brazil, New York. I think I moved fourteen times within my seven years living in Boston. It was just a continuation of my childhood, on my own terms...As a kid, I was always interested in graffiti and street art because it was always around me. For me, it's how I knew it was home. It was like the city is speaking in that way and I knew people were here because we are claiming space. We're talking to one another...I think Mission Gallery is my adult manifestation of that love. Learning who I am as an adult and the space I want to create around me.
The opening reception for "Ain't I Beautiful" took place on Inauguration Day in the US, and there were a few other people from the States at the event. How do you feel about building these bridges internationally at this time? Given the event's theme and its universality, it could have taken place in the States or anywhere else and felt very similar.
We have to engage what the Diaspora means to us and how we are all treated within it...I never originally envisioned bringing Mission Gallery abroad in this sense. Maybe South to Latin America, not East. But it makes sense because the people I'm engaging are people like myself and the people like my community. We exist everywhere and I think we are also constantly trying to create community in the places that are our home base... The conversations I hold in Mission Gallery are no different than the ones I have in my home. We could talk about the inauguration in that sense in that...people in oppressed positions have always needed to create safe spaces for themselves...wherever that needs to be. And I think it's really important to hold counter-narrative spaces that give us this spectrum and multiplicity of narratives and in strength. Because that (Trump) will not be the only narrative I listen to. I've been excommunicated from that narrative anyways because of the personhood I hold. But I want to contribute to holding space for the narratives that I am a part of in a positive way. It wasn't purposefully planned on inauguration night, but it's also poignant in that this is exactly what we need to be doing. The night he celebrated is also the night that we should also celebrate us.
Mattie Loyce is currently pursuing a Masters Degree in Creative and Cultural Entrepreneurship, and Leadership Studies at Goldsmiths University in London. You can learn more about her work with Mission Gallery by visiting http://www.missiongallery.org/ or by following the organization on Instagram.
REAL LIFE. REAL NEWS. REAL VOICES.
Help us tell more of the stories that matter from voices that too often remain unheard.
This post was published on the now-closed HuffPost Contributor platform. Contributors control their own work and posted freely to our site. If you need to flag this entry as abusive,
send us an email
.