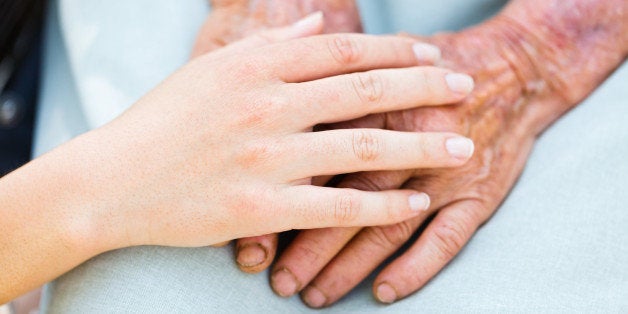 Years have passed since my mother died from Alzheimer's. Photos of her from our last years together still adorn my home. I've wondered, from time to time, if I should put the photos away. Are they holding me in the past... preventing me from moving on to what is next in my life? Or, could the experience of caring for her still have much to teach me?
When I moved from Boston to Iowa - a conscious choice to become Mom's caregiver, companion, and advocate - I expected it to be a pilgrimage of sorts. Knowing people can live with Alzheimer's for up to 20 years, I realized it could be a long journey. I believed my choice had a moral purpose since Mom was essentially abandoned by other family members and alone in a nursing home in Iowa. My heart wouldn't allow me to stay away, even though I expected sacrifice and hardship to accompany the move.
The holiness, however - the mystery and the glory I encountered every day on the journey through Alzheimer's - was an unexpected, ever-cherished surprise. While caring for Mom, witnessing the diminishment of her mind and body, I was simultaneously feeling awashed by the presence of God. My life at that glorious point in time was abundant in unconditional love, hope, forgiveness, reconciliation, and joy.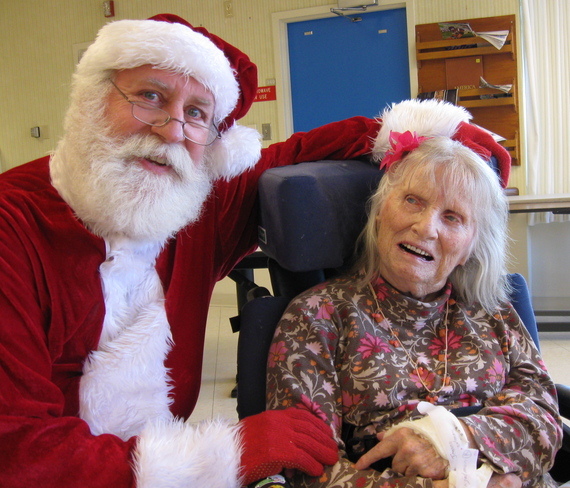 Recently, I realized that those photos of Mom - the very ones I have resisted putting out of sight - show, on her face, the promise and paradox of the Alzheimer's pilgrimage, reminding me of how we were being with each other and God; and how God was being with us. Shining eyes and a present-moment smile beam from the pictures taken during the earlier stages. Mom never smiled like that before Alzheimer's. Never. What a paradox - and a promise: in the midst of this terminal brain disease, she reveals genuine joy, perhaps for the first time.
Her expressions faded as the disease progressed, and her face could at times be described as a void. But many photos in the later stages show evidence of specific emotional content. She is curious and in awe when visited by Santa Claus; she is earnest and careful while pushing another nursing home resident in her wheelchair; she is focused and confident when washing dishes or cleaning the dining tables. She is always so happy to see me - causing my heart to leap at the memory. I can also recognize confusion, fear, and sadness in her face.
Many of us, influenced by our culture, tend to believe that people with Alzheimer's are "gone." Believing this is a mistake, because human beings are much more than our cognitive abilities. We are comprised of bodies, hearts, and spirits as well as minds. Alzheimer's diminishes the brain, and subsequently the body. But the groundbreaking research conducted through the University of Iowa Department of Neurology by Edmarie Guzman-Velez and Dr. Justin Feinstein documents the existence of emotions in the form of emotional memory. Long after the cognitive recollection of an event is extinguished from the minds of persons with Alzheimer's, they remember how the event made them feel.
Astute caregivers over the past 25 years - Dr. Paul Raia, from the Alzheimer's Association, for example - have observed that emotions are what persons with Alzheimer's are good at. Through my observation, I have also recognized that they are good at radiating the presence of the Spirit that lives among us and within us, always and forever.
As I looked more carefully at Mom's photos, I noticed how a person's spiritual nature continues to shine through - even through a mind and body ravaged by a disease such as Alzheimer's. On Mom's last Thanksgiving she was taken to the emergency room for what was determined to be a bowel blockage and urinary tract infection - common conditions as the body shuts down. She spent a few days in the hospital. During those few days I was repeatedly surprised to notice how beautiful she looked. Compelled by the power of this beauty, I took a picture of her in her hospital room, in her hospital gown, hooked up to an IV, and holding her Teddy Bear. I distinctly remember remarking to myself that I didn't realize dying people would look so beautiful. It felt highly contradictory to me.
Over the next seven weeks, as Mom seemingly leaned into her death without fear or resistance, I took several more pictures of her, again thinking that her beauty at this time was astounding. There are two photos in particular that were taken in an attempt to capture the beauty shining out through her diminishment: the one in the hospital, and another taken a month before she died. We had just come from the birthday party for the nursing home residents with December birthdays.
In the early morning hours of that day, I rode with Mom in the ambulance to the hospital emergency room - she had another infection and needed an IV antibiotic. She surprised the ER doctor by turning to him and smiling when he said her name, "Jeanne." We got back to the nursing home in time for the birthday party, and so we went. I didn't want Mom to miss the party since I knew it would be her last. We celebrated her 92nd birthday with singing and cake. After the party, the aides took Mom to her room and helped her settle into her big reclining chair. And then I saw it again: the surprising, radiant, completely unexplainable beauty of a person who was literally wasting away. I took a picture of Mom wearing her new snowflake turtleneck with her two favorite aides perched on the arms of her chair.
These two photos reveal one intersection on my pilgrimage through Alzheimer's where promise and paradox met. As I walked with Mom, I experienced, with my whole being, beauty radiating from her whole being. To my shock, the camera did not always preserve this beauty, but it survives in my memory. What those last photos reveal - what I didn't see at all when Mom was alive - is the frail body of an elderly woman completely ravaged by disease. I see the body her doctor warned me would be the precursor to her death, one that is wasted down to skin and bones. When I look at these two photos now, I see a near-skeleton in a hospital room holding a Teddy Bear, and a skeletal skull atop a snowflake turtleneck.
This contradictory seeing, as I have come to understand it, is a result of looking through different lenses. The camera lens has captured the actual facts of Mom's corporeal presence and physical deterioration. But the lenses of my eyes, which had been seeing her and all the people with Alzheimer's through "holy eyes" - God's eyes - were able to see the Spirit shining through.
As a spiritual director, I am inspired to look for God in all the corners of life. I entered Mom's nursing home with the intention of seeing God. And I did - everywhere, every day. God shined. At those glorious moments of radiant diminishment, as her spirit was preparing to leave this world, I concluded that this must be how God sees us, always: radiant in all of our humanness.

The Alzheimer's Journey, the nursing home, witnessing Mom's decline - all of this that I had previously dreaded - became like a coming-home for me. Home to God. The very definition of Pilgrimage.
Rev. Dr. Jade Angelica is the author of Where Two Worlds Touch: A Spiritual Journey Through Alzheimer's Disease, and Director of the Healing Moments Alzheimer's Ministry. Her work will be presented at the 6th Annual Conference on Spirituality and Aging in Los Angeles, October 4-7, 2015. http://www.6thinternationalconference.org/
Related
Popular in the Community