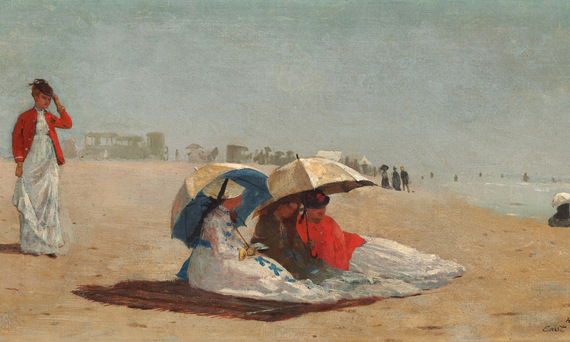 The two lane road, even heading in on a Sunday, can't help but get backed up with traffic that slows to a crawl. In a way I don't understand, this is part of the allure of the east end of Long Island for the people who love it, the source of an essential bond. I was on this road, driving to Montauk with my boyfriend; outsiders whose understanding of the Hamptons is admittedly shaped as such. We were about to spend two days at Ruschmeyer's Hotel with the most obscenely fortunate of them all: those with no need to get back to the city for Monday morning.
After Bridgehampton and Sagaponack, we came to the village of East Hampton, where we stopped for a coffee. This village is notable for its string of clothing and jewelry stores, the most down market of them all being a J. Crew, which stands out like a sheepish kid from New Jersey trying to get past his first velvet rope. Turn any corner off that main strip and homes so painstakingly tended that they've achieved the slightly creepy perfection of a fairytale pass by one after another. There are no Thomas Kinkaid landscapes in real life, but here, close enough.
In East Hampton and the rest of the villages collectively known as the Hamptons, you run up against the uber-privileged, many of whom have been summering here for generations. (There are a few of their forbearers in the painting at the top of this essay, Winslow Homer's "East Hampton Beach" from 1874). Rather, you don't run up against them so much as drive by the Maidstone Club and know that they're in there. You can also drive down the lanes where the likes of Martha Stewart and Jerry Seinfeld live and you can look at the tallest hedge you've ever seen and know that there's a huge house behind it that you'll never be able to see.
Related