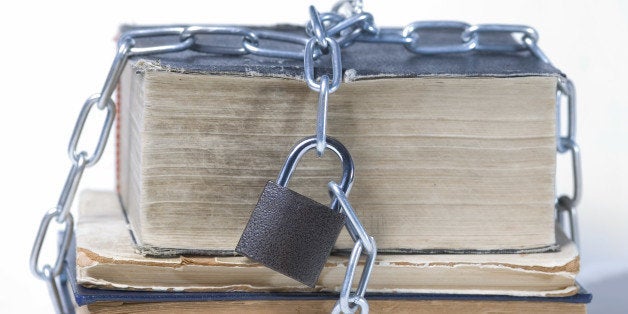 The ongoing dispute between Amazon and Hachette Book Group has once again ramped up a notch. (Full disclosure -- I'm a Hachette author and an Amazon customer, and I have blogged here about this subject before, as well as in social media.)
On Tuesday, July 8, Amazon apparently made an offer to Hachette, intended to take us authors "out of the middle" by offering "windfall royalties on e-books" until the dispute between the two companies is resolved.
In an open letter posted on The Authors Guild blog today, and also emailed to their membership, Richard Russo, novelist and co-Vice President of the Guild, calls the offer "highly disingenuous."
At the very least, it would seem to be more about Amazon trying to get authors to switch allegiances than an act of genuine concern for our well-being. According to a New York Times story published on Tuesday, the offer was initially made by David Naggar, an Amazon executive who works with publishers and independent authors, via a letter to "a few writers and agents," before later being sent to Hachette itself. Note, too, that it is extended only "until the dispute between the two companies is resolved." After which, presumably, the "windfalls" revert to Amazon.
It's important to remember that this dispute is the result of a mandated contract renegotiation between the five major publishing houses, of which Hachette happens to be the first -- so the outcome impacts not only Hachette and its authors, but all other publishers and authors who follow. It's not much of an overstatement to say that the future of commercial publishing may be sitting on the slender shoulders of Michael Pietsch, Hachette's CEO and an esteemed man of letters, known for his hands-on approach to publishing and his easygoing nature.
Amazon's "offer" also fails to acknowledge that, for children's book authors such as myself, who comprise a substantial part of the Hachette family via Little, Brown Books for Young Readers, ebook royalties are not the only or even the primary source of revenue from our books -- especially picture books, many of which don't even exist in ebook format.
But as the dispute drags on, six months now and counting, many recently or soon-to-be released Hachette titles (including those by first-time authors as well as established ones) continue to die a slow death thanks to Amazon's mean-spirited negotiation tactics, such as delaying shipments for weeks on end and omitting pre-order options.
Russo's letter (the full version of which is readable here) speaks to the need for a "healthy ecosystem... as diverse as possible, containing traditional big publishers, smaller publishers, Amazon, Apple, Barnes & Noble and independent bookstores, as well as both e-books and print books," adding that "such an ecosystem cannot exist while entities within it are committed to the eradication of other entities."
Nor can it exist by pitting one entity against another.
In the end, what continues to rise up in the debate -- and what Amazon seemingly continues to ignore -- is the fact that books are different from the myriad other products that Amazon sells, that they are "...integral to the culture in a way that garden tools and diapers and flat-screen TVs are not. To our knowledge, Amazon has never clearly and unequivocally stated (as traditional publishers have) that books are different and special, that they can't be treated like the other commodities they sell," Russo points out. "This doesn't strike us as an oversight."
Until this changes and/or this dispute is resolved, I know I'm not alone in saying, "Thanks, but no thanks" to Amazon's offer.
So I'll add my name to the growing list of authors at the end of another letter, this one calling on Amazon to resolve its dispute with Hachette without further hurting authors and without blocking or otherwise delaying the sale of books to its customers... and I'll continue to buy my books at my local independent bookstore.
Popular in the Community