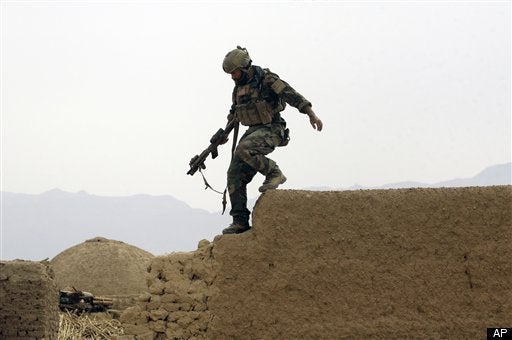 Exactly one year ago, on February 13, 2010, the U.S.-led International Security Assistance Force (ISAF) in Afghanistan launched the first major military operations enabled by President Obama's 30,000 troop increase. President Obama and the high priests of counterinsurgency warfare, Generals David Petraeus and Stanley McChrystal, made two major assertions about the escalation, that it would a) enable coalition forces to reverse the insurgents' momentum and b) increase security for the Afghan people. After a year of fighting, neither of those things happened. The escalation is a failure, and it's time to bring our troops home.
February 13, 2010: The Push into Marjah
Three hundred and sixty-five days ago, U.S. and other international forces began Operation Moshtarak, the invasion of Marja District in Helmand Province. Looking back, the hubris and hype surrounding this military operation boggle the mind. General McChrystal promised, "We've got a government in a box, ready to roll in," meaning that good governance and the extension of Kabul's writ would be implemented very rapidly. The operation was supposed to be a prototype for future campaigns in Afghanistan and a "confidence builder" for both U.S. forces and a restive political class in Washington, D.C., not all of whom were happy about the escalation or McChrystal's brashness in pushing it.
To put it mildly, Moshtarak failed to live up to the hype:
"[I]n the weeks leading up to the imminent offensive to take the Helmand River Valley town of Marjah in southern Afghanistan, the Marines' commander, Brig. Gen. Larry Nicholson, sat with dozens of Afghan tribal elders...offering reassurances that his top priority will be the safety of Afghan civilians." -- Chicago Tribune, February 10, 2010.
Almost immediately, this hype about an operation purported to be proof-of-concept for the population-protecting counterinsurgency strategy fell apart in the face of U.S.-caused civilian deaths. Just prior to the operation, coalition forces dropped leaflets on the largely illiterate district warning people to stay in their homes. An Italian NGO, Emergeny, warned that military blockades were preventing civilians from fleeing the area. At the same time commanders bragged that the "evacuation" of the residents would allow the use of air strikes without the danger of civilian casualties. These contradictions soon bore deadly fruit: On the second day of the offensive, U.S. troops fired a HIMARS (High Mobility Artillery Rocket System) weapon on a house full of civilians, killing roughly a dozen people. By February 23, the Afghanistan Independent Human Rights Commission reported that ISAF forces were responsible for most civilian deaths so far in the incursion.
As insurgents melted away (as all guerrillas do in the face of superior firepower -- to bide time and return once counter-insurgents are dug in) the "government in a box" hype fell apart as well. The coalition's hand-picked governor, Abdul Zahir, turned out to be an ex-convict who served part of a prison sentence for stabbing his own son. By July, he would be replaced as part of a "reform procedure."
"In the weeks since they were sent to Helmand province as part of the U.S.-led offensive in Marjah, ANCOP members have set up checkpoints to shake down residents, been kicked out for using drugs and shunned in some areas as outsiders, according to U.S. officials briefed on a recent analysis by the RAND Corp. ...More than a quarter of the officers in one ANCOP battalion in Helmand were dismissed for drug use, and the rest were sent off for urgent retraining. One Western official who attended the briefing termed ANCOP's role in Marjah a disaster."
As late as October 2010, residents of the town said the area was "more insecure than ever," and Reuters classified the Taliban re-infiltration as a "full-blown insurgency." And, although U.S. commanders want us to believe that the fighting in Marjah is "essentially over" as of December, the numbers tell a different story. According to the Afghanistan NGO Safety Office, in Helmand Province, in which Marjah is located, the number of attacks by insurgents in spiked from 620 in 2009 to 1387 in 2010, a 124-percent increase [pdf].
A Wider Pattern of Failure
This pattern of hype ("Protecting civilians! Reversing insurgents momentum!") followed by a failure to deliver extended from Marjah to the whole of the escalation strategy across Afghanistan. Even after a month of fighting in Marjah in which U.S. and coalition forces were responsible for the majority of civilian deaths, Defense Secretary Robert Gates characterized the offensive in this way on March 8, 2010:
"Of course the operation in Marjah is only one of many battles to come in a much longer campaign focused on protecting the people of Afghanistan."
As was the case in Marjah, that broader campaign has utterly failed to protect the people of Afghanistan in terms of the reach of the insurgency, the levels of war-related violence and the number of civilians killed or injured in the conflict.
Although President Obama, General Petraeus and others have repeatedly asserted in public remarks that the U.S. has reversed the insurgents' momentum, reports from the Pentagon and from NGOs agree that the insurgency continued to grow in size and sophistication throughout 2010. By one measure, insurgent-initiated attacks this January are up almost 80 percent from last January. Worse, a new report from Alex Strick von Linschoten and Felix Kuehn at the Center on International Cooperation warns that the U.S. targeted killings of senior Taliban leadership is not only failing to retard the growth of the insurgency, but it's providing opportunities for much more radical junior leaders to take control of the operation, making the Taliban more susceptible to al-Qaeda influence and making the insurgents less willing to negotiate. In short, over the year in which the U.S. was pursuing its escalated military strategy, the insurgency got larger, smarter and more radical.
When testifying to Congress immediately following President Obama's 2009 West Point speech, Joint Chiefs Chairman Mike Mullen asserted the escalation would "improve security for the Afghan people." The past year proved him wrong. According to the Afghan NGO Safety Office's (ANSO) Q4 2010 report [pdf],
"Consistent with the five year trend...attacks by armed opposition groups continue to rise. This year they were 64% higher than 2009, the highest inter‐annual growth rate we have recorded... If averaged, the total of 12,244 armed operations (mostly small arms ambushes, below right) represents roughly 33 attacks per day, every single day of the year. ...[T]aking the national data as a whole we consider this indisputable evidence that conditions are deteriorating."
General Petraeus has taken to speaking of "security bubbles" in Kandahar and Helmand Provinces, but violence is up in those provinces by 20 percent and 124 percent, respectively, according to ANSO. Security in Afghanistan for Afghan civilians sharply declined in the period following the launch of the escalated military campaign.
This heightened level of insurgent-initiated violence, combined with attacks initiated by U.S. and coalition forces, led to a predictable result: 2010 was the worst year of the war so far for war-related civilian deaths.
President Obama and numerous Pentagon officials asserted that the escalation strategy, which began one year ago with the invasion of Majah, would enable U.S. forces to reverse insurgent momentum and protect the population. They were wrong. Measured by the standards of its backers, the escalation strategy in Afghanistan is a miserable failure.
Let's have some accountability here. In the leaked strategic assessment that's largely responsible for getting us into this mess, General Stanley McChrystal used dire language to describe the "need" for escalation [pdf]:
"The long-term fight will require patience and commitment, but I believe the short-term fight will be decisive. Failure to gain the initiative and reverse insurgent momentum in the near-term (next 12 months) -- while Afghan security capacity matures -- risks an outcome where defeating the insurgency is no longer possible."
McChrystal wrote those words in late August 2009, under Petraeus' supervision. The insurgency's momentum has not been reversed and security continues to deteriorate across Afghanistan. So let's take the generals at their word when they say we had to reverse insurgent momentum by late August 2010 to have a chance at defeating the insurgency. Let's also take the Pentagon at its word that insurgent "operation capability and geographic reach are qualitatively and geographically expanding." That means that today, on the one-year anniversary of the launch of the escalated military campaign, we're several months past the point of no return. And that's if you bought the analysis of those who thought the escalation was a good idea in the first place.
The American people have been more than patient with Washington, D.C. when it comes to the Afghanistan War. In fact, we've been downright indulgent, having forked over more than $375 billion in tax dollars and debt and having given the Pentagon almost a decade now to play Risk with other people's lives in other people's country. Every deadline that's been laid down has been fudged. Every justification that's been given for just one more big push has fallen apart. Every guarantee of a positive outcome has been junked. We've had enough.
Rethink Afghanistan and our supporters are tired of politicians making excuses for their failure to rein in this debacle, so we're doing a little escalating of our own. Starting on Sunday, February 13, Rethink Afghanistan will have a new ad on CNN in Washington, D.C., featuring the winners of our Because It's Time contest, calling for an end to the Afghanistan War. They represent the voices of the 72 percent of Americans who support congressional action to speed up the withdrawal of U.S. troops from Afghanistan. The ad buy also coincides with the upcoming reintroduction of U.S. Rep. Barbara Lee's Responsible End to the War in Afghanistan Act in the House of Representatives. These actions send a strong message that we want decisive action from our elected officials to bring our troops home -- because it's time.
Today is the one-year anniversary of the launch of the escalated military strategy in Afghanistan. It's clear from the last 12 months that the escalation strategy is a failure. It's time to come home.
Popular in the Community