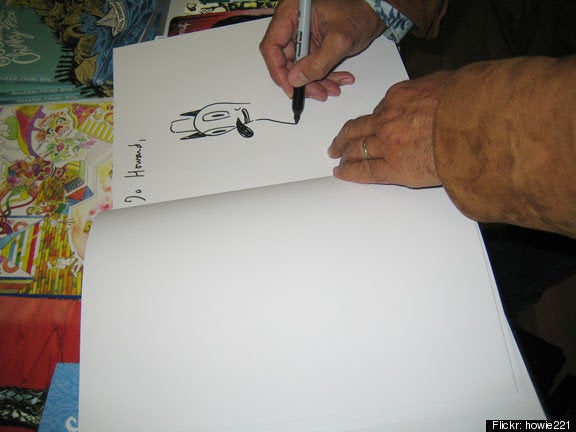 As public funding for the arts enters an era of uncertainty and collector budgets shrink, perhaps the innovative promotional strategies of Hint Mint can usher in an era of positive corporate patronage to benefit artists and charities alike. Consider their Limited Edition Artist Series, Hint Mint's annual program where a selected artist creates original pieces inspired by the classic mint flavors; the artwork is then printed on the company's tins in a limited run.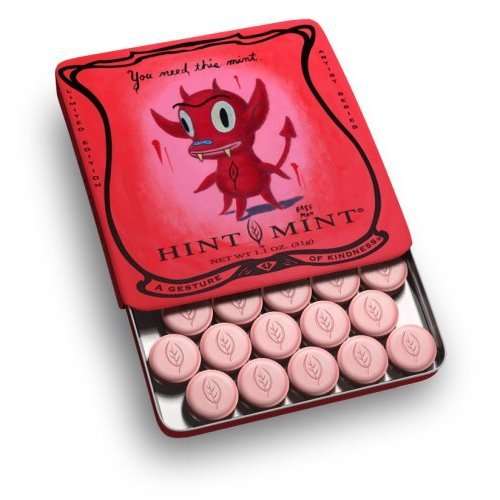 The legendary "You Need This Mint" Devil candy tin by Gary Baseman is now a sought-after art collectible.
The series has featured reproductions of art by Shag, Gary Baseman and other superstar Post-Highbrow artists. They are highly collectible, and hey, the mints inside are tasty too!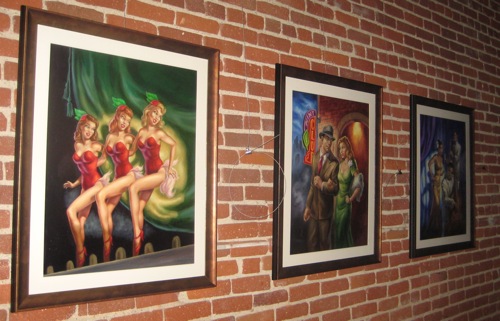 Owen Smith original artwork published as tins now hang in the Hint Mint offices.
Hint Mint takes the time to emulate all of the art world's most sacrosanct marketing hallmarks (quality printing, numbered editions, low numbers of exclusive artist-signed collectibles), to the benefit of the artists and to a growing fan base of art collectors whose love of low-budget art collectibles is not necessarily an indication of the breadth of their pocketbooks. Hint Mint Limited Edition Artist Series tins are numbered on the back of each box. Unlike a 1960s Warhol print published in editions of 250, these tins can run in editions of five figures... but at a recent Hint Mint charity event, one collector shrieked with joy when she unwrapped a grab bag of these and found an Owen Smith-illustrated tin numbered 76 of 35,000.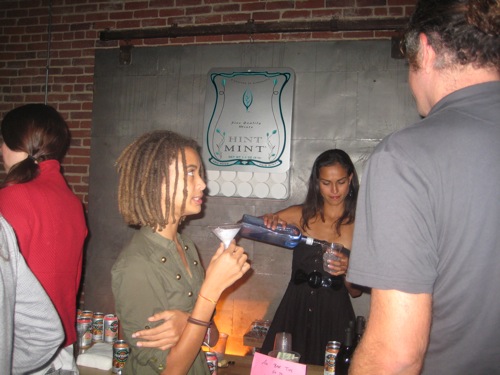 The Hint Mint-hosted Art for Awareness charity fundraiser was a rocking party.
The charity event was a midweek fundraiser/mixer to benefit the Avon Walk for Breast Cancer and was held at Hint Mint's Downtown LA headquarters. While many fundraisers hit up every artist in town and accept any work available from studio inventory, Hint Mint limited their donors to fourteen artists. The company's clout is so strong in the art community that they were able to request original works with the theme of the Pink Ribbon that signifies one's support of the many charities fundraising for the fight against breast cancer. The array of pictures is up on the Hint Mint website and the Auction continues at ebay through October 28.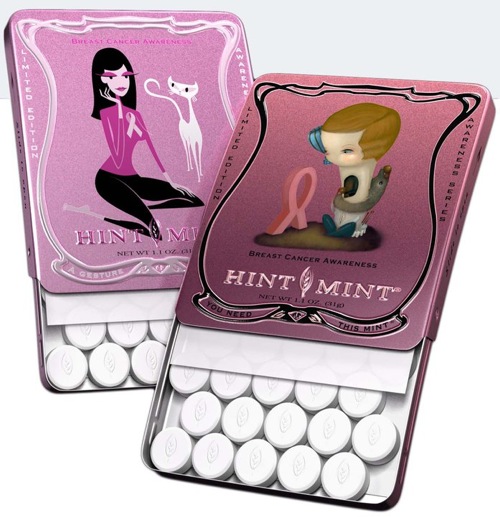 Shag and Lola Smith limited edition art series raise money for the Avon walk for Breast Cancer
Hint Mint has released two limited edition Art for Awareness tins, one by artist Shag and the other by Lola Gil. Thirty-five cents of each sale of these pink-tinted tins will be donated to the Avon Walk for Breast Cancer.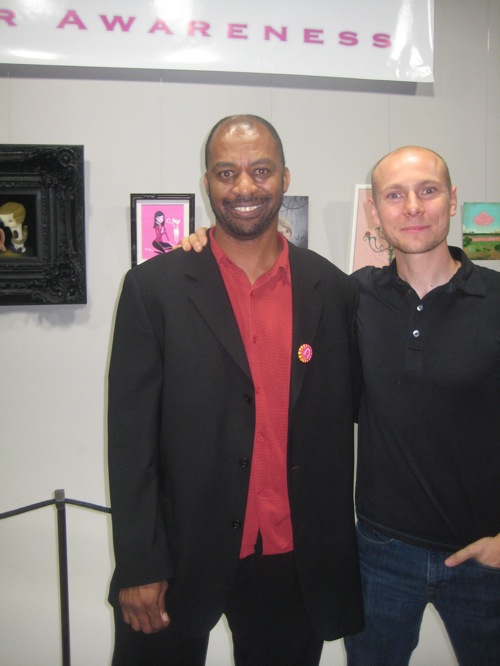 Arts Patrons and Hint Mint Owners Cooper Bates (L) and Harley Cross (R) at their Art For Awareness Auction.
While one can only speculate on how much these tiny collectibles may one day be worth, there was much harrumphing about a certain artist painting the labels of Campbell's tin soup cans less than half a century ago. Today's patronage is tomorrow's art history, be it the church and royalty in the Middle Ages, the railroad tycoons in the late nineteenth century or socially responsible confectioners today.
Full Disclosure: I ate about three tins worth of complementary Hint Mints at their Art for Awareness function. Mmmmm... 'twas the tastiest flirtation with a possible story bias I have ever had as a reporter.
Related
Popular in the Community