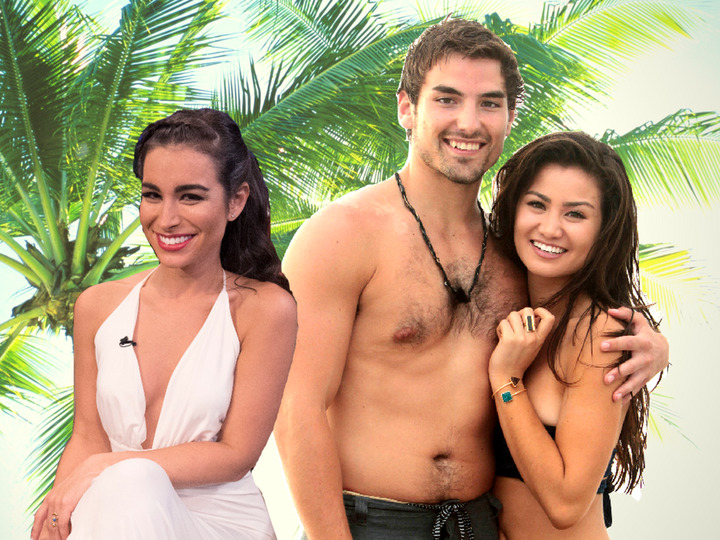 Poor Ashley Iaconetti, right? The most beloved sentient mascara smear on TV, or at least on "Bachelor in Paradise," continued her stint on Season 3 this week with more tears and more heartache. 
Last week, Ashley arrived in Puerto Vallarta to find her beloved Jared Haibon, the object of her single-minded attentions since last season of "Bachelor in Paradise," had recently paired up with Caila Quinn, the ever-sunny second runner-up on Ben Higgins's season of "The Bachelor."
Devastated, Ashley simultaneously insisted that she'd come to "Paradise" to move on and meet someone else, but also that she could never get over Jared and couldn't stand to see him fall in love with Caila. But she was ready to move on. But would Jared EVER want to be with her? But she finally had closure with him. But maybe if she can convince Jared that Caila is a robot he'll fall in love with her at last? It's like "The Notebook," ladies and gentlemen! 
It's impossible not to empathize with Ashley. But the world isn't black and white. She can be suffering, but also acting in a selfish and even cruel way.
Ashley has become a core member of the "Bachelor" squad since her arrival on the second season of "Paradise" last year. She's beloved by her co-stars, including Jared ― if only platonically! ― and by producers ― if only for her nonstop capacity to spark emotional dramatics! ― and by many fans ― if only out of sheer pity. We feel like we know Ashley, far better than Caila (and, for that matter, Jared, who barely makes a peep in three seasons on the franchise until he meets Caila and finally gets excited about something). 
Perhaps more importantly, we feel like we know Ashley, as viewers, because she behaves exactly how we all would like to behave when a romantic endeavor doesn't go our way, and how many of us have behaved in the past when suffering through a first heartbreak. Sure, she can't stop sobbing, following Jared around and begging him to give her a glimmer of hope, but most of us can remember a time when we acted just that pathetic over a romantic object.
Twitter rallied around Ashley this week as she sobbed over Jared and lashed out at Caila: 
I won't dispute this. Years ago, in college (and, for the record, Ashley and I are the same age ― 28), I fell hard for my best friend. We had an on-and-off relationship through graduation, and remained friends throughout. I know exactly why I acted the way I did when I sobbed on his shoulder after he told me that he couldn't see me romantically, or that he'd met someone else. I know why I remained obsessed with the idea that we were ultimately soulmates and no other girl could satisfy him.
But I was wrong. I hurt him, many times over. I made his life very difficult and his dating life impossible, because he cared deeply about me but he wanted a platonic relationship. I look back and see an agonizing time in my own past, but also a lot of unjustifiable, hurtful actions on my part.
Now, I see Ashley making the same mistakes out of the same pain, and it's impossible not to empathize with her. But the world isn't black and white. She can be suffering, but also acting in a selfish and even cruel way. I know, because I have DONE JUST THAT. Most people have.
Defending this as "just being honest" or "being the realest," though ― that's a bridge too far.
Ashley might be aware of her own pain, her own resentment toward Caila, and her own hopeless desires ― and how embarrassing all of those are ― but she doesn't seem aware of how selfish they are, so it might be healthy for her to be made aware. A true friend doesn't pat a girl on the back for spiraling out and calling a romantic rival a "backstabbing whore" and "a robot" ― they pull a Nick Viall and tell her to pump the brakes. Sometimes tough love is better for you in the long run.
In the rush to pump Ashley up on social media ― as many other "Bachelor" stars did ― and to trot her out on "After Paradise" to double down on her nastiest statements, there's been little regard for the actual couple in the mix here: Jared and Caila.
And believe it or not, Jared and Caila (Jaila?) are real people too. Imperfect perhaps, but easy enough to sympathize with, were there not such an automatic suspicion toward a woman who has a cheery disposition and tries to be diplomatic. Caila has long been dogged by the label of "fake," though the evidence seems to come down to how much she smiles and how sweet she acts ― which, by the way, can both be genuine behaviors, not to mention behaviors that women are traditionally groomed to possess.
So far, Caila hasn't been needlessly unpleasant toward Ashley on or after the show, even taking responsibility for not handling the situation with Jared as thoughtfully as she could have. Meanwhile, Ashley has been openly discussing her intent to sabotage the relationship in her in-the-moment interviews and tossing around slurs about Caila behind her back, especially to Jared. When Jade and Tanner, last season's golden couple, show up to hand out a date card, Ashley goes in for the kill:
Afterward, when Caila finally confronted her underminer, Ashley smugly told her, "I don't know if [Jared is] ever going to trust you more than he trusts me," and flaunted her intention to continue telling her main man whatever crap she wanted about Caila.
Meanwhile, between sob sessions, the woman has brought her supposed dear friend Jared to a state of such exasperation he nearly walked off the show. 
Has no one ever experienced the misery of a "friend" who controls you by inducing guilt, demands all of your attention, and blackmails you emotionally whenever you try to find a scrap of happiness elsewhere? What about the hurt and frustration of being slut-shamed and trashed by a jealous ex or so-called friend of a guy you're seeing, who's determined to ruin your reputation?
These may not be comparably intense or heart-wrenching experiences to what Ashley is going through, but both Jared and Caila are suffering because she's choosing not to deal with her pain in a mature and considerate way.
Frankly, there's no way for Jared and Caila to avoid the situation short of simply ceding to Ashley's demands ― and sacrificing their right to pursue a mutual, adult relationship. That's not a fair or remotely healthy expectation, but it's one Ashley is creating by constantly surrounding their blossoming romance in a tropical storm of tears. 
The Ashley I.-Jared-Caila love triangle is painful to watch because we all relate to the anguish of unrequited love, but her pain is inevitable. Jared doesn't love her back ― that's just how it is.
It's hard not to love Ashley's openness and relate to her pain. But kindness and self-control are also virtues, and a little bit of moderation in all things never hurt anyone.
Thus, Ashley is the only person with choices that could minimize everyone's pain: She could have left when she didn't get a rose instead of begging to stay. She could seek out non-Jared friends on the show to be her emotional supporters and distractions from Jared and Caila. She could simply be a little less impressed with her own realness and a little more kind. 
Honesty is a virtue, of course. It's hard not to love Ashley's openness and relate to her pain. But kindness and self-control are also virtues, and a little bit of moderation in all things never hurt anyone. 
Speaking of which, Team Jared and Caila ― but also Team Ashley. There might just be humanity and goodness in every single one of them. Who'd'a thunk?
For more on week four of "Bachelor In Paradise," check out HuffPost's Here To Make Friends podcast below:
REAL LIFE. REAL NEWS. REAL VOICES.
Help us tell more of the stories that matter from voices that too often remain unheard.
BEFORE YOU GO
PHOTO GALLERY
Tweets About "Bachelor In Paradise" Week 4