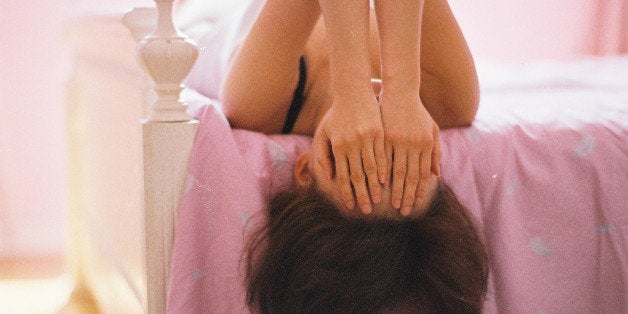 "Today I Didn't Put My Kid In The Dryer and other parenting wins."
Let's be honest. Having a kid is a pain in the a**. It is really hard on a person's psyche. No one is immune to it. Not one parent has had a 100 percent easy time with their child(ren). Anyone who says otherwise is a liar who should be punched.
It all sounds so magical when you first start talking and thinking about this new person you'll have around (all the friggin' time). The midnight feedings will be peaceful and I'll get caught up on Netflix or maybe even a book! She'll have the cutest little cry and the sweetest giggle. Even diaper changes will be the greatest thing ever. And ohmigod the clothes!
And then, for many of us, it all falls apart. At least, it did for me. But what made it exponentially worse was feeling like I was alone in the way I felt. I didn't have some glorious, overwhelming sense of joy and love when she was born; I was terrified and couldn't figure out why she was crying so much for so long. I felt sticky and sweaty all the time. I'm sure I smelled like a barn. It was exhausting to even think about going to the bathroom. And you know that feeling of wanting the one thing you just cannot have? Yeah...that was me with sleep. Adding insult to injury was the fact that I couldn't successfully breastfeed for almost five months and didn't lose an ounce of residual baby weight (I'm still carrying around about twenty pounds of baby making flubber).

I didn't have some glorious, overwhelming sense of joy and love when my daughter was born... I was terrified.

But this isn't about my post-partum depression or the struggles I had/have every single day.
This is about saying all of this out loud. This is about airing all that dirty, sticky, sweaty laundry.
Because being a parent is hard. It sucks for everyone. But it's the "not feeling okay saying it out loud" part that sucks the worst. Holding all that frustration and pain and anger and fear inside, it's not okay. Even more than that, it's not okay that we've been tricked into thinking it's not okay to talk about it, let alone feel it.
One of the most freeing things I've ever said out loud was, "Sometimes I think about putting her in the dryer." The response was nothing short of shocking. My friend just looked at me and said, "Me, too. But we didn't do it! So yay for us!" Suddenly, I felt a little more normal. I felt like I could unleash my caustic humor on my current situation and people would laugh (rather than call CPS) and say, "Holy crap, me too!" I started to realize that my situation isn't all the unique, that other people go through this with far more frequency than I'd initially thought.
More importantly, other mothers actually want to say the same things I was am saying. Most of the time, we find the humor in it. But on the odd occasion, there's a need to just come unhinged and cry and say we hate doing this right now, that we're not cut out for it, that the guilt is too much, that I hate that I only wear leggings and tank tops anymore, but I can't muster the energy to put on real pants, that our husbands are driving us crazy despite all their best efforts, that sometimes we wonder what the hell we were thinking having babies?!
There are wins in parenting...big, huge ones (like those first steps) and small ones (like not having to change a outfit 17 times in one day). But there are also the devastating losses (like when your kid tumbles down the stairs because you forgot to latch the gate and weren't paying attention because he's finally quiet) and those are the ones we need to be more willing to talk about with abandon. Those are the ones that damage us when we hold them in, thinking we're the only person that's ever happened to and that the sanctimommy in your life is going to judge you (even though you know it happened to her just the other day).
Those "bad mommy" moments? Those are the ones that can make or break you as a parent. Those are the moments in which you have to make some pretty hard choices. You have to choose to walk away from a crying, tired baby because you are also crying and tired. You have to choose to call the doctor because you can't remember what they said is a "too high" temperature. You have to choose what's best for you sometimes...because sometimes, that's what's best for all of you. You have to choose to give up breastfeeding because it's too hard or painful or whatever reason. And we have to put away the damned shame about doing any of those things. Walking away means not shaking the baby. Calling the doctor means being safe, not sorry. Buying formula means feeding the baby.

Shame is a garbage emotion that doesn't deserve any space in motherhood.

Shame is a garbage emotion that doesn't deserve any space in motherhood. It doesn't benefit anyone. It won't make us better people or mothers. All it does is whisper to us during our weakest moments and tell us all about the shortcomings we already knew we had. And who needs that kind of reminder? You know what we really need in those dark hours is a good laugh and a safe space.
Find your safe space, wherever or whatever or whomever that is, and rest there often. Voice your fears, concerns, failures (which are probably more like "failures"), frustrations, and angers. Say them out loud to someone who will listen without judgment. Don't let those things fester and rot inside your soul. Get them out and get on with your day.