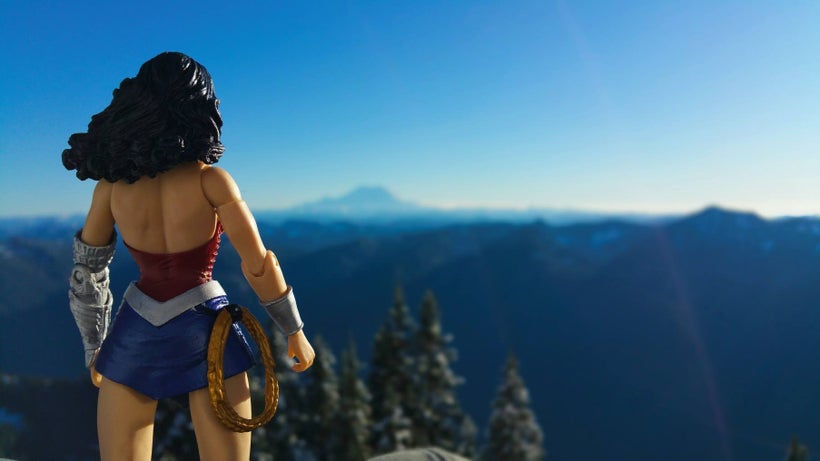 Wonder Woman has always fascinated me. Ever since I was a little girl, I watched the TV series with Lynda Carter portraying the beautiful superheroine. I even had Wonder Woman underoos and remember driving my parents insane as I jumped off the couches flinging my cardboard tiara - actually believing it would boomerang like on the TV show.
To say Wonder Woman was my favorite heroine is an understatement. I truly felt I embodied this Amazonian beauty in my little 4'11 frame. Aside from her beauty, it was her strength, wisdom, and loving heart that I admired most. There was nothing Wonder Woman couldn't conquer emotionally or physically.
With my 44th birthday just around the corner, I stand amidst life's reality far from wonderful and innocent childhood illusions. Things don't always have happy endings as in the TV show, and sometimes physical strength is beat down by life's emotional punches. A few years ago, I experienced a ridiculous string of mishaps, misfortune, and inner turmoil. Even Wonder Woman would've thrown her hands up and quit!
It all started at the end of 2011, with partial unemployment at a music branding company I worked for. Struggling to pay bills, I found myself standing in a line at a food bank to get financial assistance. I applied and interviewed for several jobs, but they all fell through. I had never been in this position before. I'd used to be a public school music teacher with 13 years under my belt. Then, I made the decision to move in a different direction in my career, thus moving to Seattle in 2007. Before this, I lived a comfortable life making steady income, having health insurance, living in a nice apartment, and traveling a lot.
To be in this financial state was a jolt. And to make matters worse, I went through a breakup with the first great love in my life.
With professional and personal disappointments on my heart and mind, I embarked on a solo hike just after New Year's 2012 to Chuckanut Mountain near Bellingham, WA. It was cold, rainy, and hardly anyone was on the trail. Four miles into the hike, I slipped on a boulder and broke my ankle. In all of my solo adventures, I had never suffered an accident.
Two strangers heard my cries for help and came to my assistance. Unable to move, it was two hours before the REMT arrived. Before I knew it, I was in a near hypothermic state and rushed to the hospital in an ambulance late in the night. This, after a six-hour journey on the mountainside strapped and carried out of the woods by a 15-person mountain rescue team. It was a risky effort for all involved, to say the least. One rescuer twisted his ankle and the team even warded off a bear while carrying me out. It was 1 a.m. by the time I left the emergency room, in a wheelchair, and taken to a house where I stayed the night. Had it not been for the two strangers - now dear friends - I may never have made it off that mountain.
I was bedridden for three weeks. Simple tasks like taking a shower and cooking were nearly impossible. I reached out to my ex-boyfriend and asked if he could help me for a couple of days, but all he said was, "I think you've got plenty of people." The fact was, I didn't. Few friends came to visit, and I was lonely. Every phone conversation with family members ended in an argument, as their only logical solution for my situation was to move back to Texas. That had never been an option for me. But, as the only daughter in a family deeply immersed in Latino culture, it was absurd that I was a single woman who was living on my own far away and struggling. One family member even tried to guilt me into thinking that everything I was going through was punishment from God for not staying with my father after my mother died in 2008.
I was on crutches and in a boot for four months. And because I couldn't get myself to work, I was let go from the music branding job. Now I was completely unemployed. Faced with thousands of dollars in medical bills from two hospitals and no health insurance, my future looked bleak. And then, I received my first eviction notice. Helpless, scared, and questioning God's motive, I was drowning in a sea of depression. I reached out to my life coach, who was also my friend. This was not easy since I was raised with many preconceived notions about seeking out this type of help. I was also a little arrogant in thinking I could handle it all on my own.
Aside from developing some new career strategies, I had to face some truths about myself that were very uncomfortable and painful. I was living in need of constant validation. I felt worthless and like a failure because I wasn't financially stable, I didn't own a home, and I wasn't married. I was still dealing with my breakup and profoundly missing the strongest force in my life, my mother. My life coach was helping me through this. He was compassionate and understanding, but he challenged my inner core. "You're powerful as all hell," he said. "You get things done, and you create momentum and change. So do it!" I tackled important issues regarding my faith and professional expectations. I also began physical therapy.
Months later, I reconciled with my ex and moved down to Oregon to be with my great love once again. I completely started over with my life, and both my boyfriend and I were happy. He even thanked me for moving because he knew how much I loved Seattle. We taught together, backpacked together, and made music together.
Things were going beautifully, until he came home one day with a frustrated look on his face and proceeded to tell me that he was resentful of me not having a job. He said that if I stayed in our living situation any longer, it would be a detriment to our relationship. I had been in Oregon for 3 months. I was collecting unemployment and I had job interviews, but things weren't happening fast enough. We broke up again; this time for good. When the one person you rely on to see you through the shit doesn't, well that's just shittier. Not exactly something Wonder Woman would say.
On top of the heartache, a local woman who was friends with my ex began gossiping about our breakup, and her rumors made their way around town. Rejection. Humiliation. I was hurting badly. Not only was I in shock at what was happening, I had nowhere to go. An acquaintance took me in until I figured out my next plan of action.
I was an emotional wreck. Months went by before I could get myself back up to Seattle. Once there, I still had no home. I stayed with friends and took on a gig as a house and pet sitter. Two and a half months after my return, and countless nights of crying, I got the job of a lifetime as an Arts Education Director for an environmental non-profit. I had a salary and benefits, and was able to enjoy my two passions: the arts and being in the outdoors.
While making great strides, I was shocked when out of nowhere I was sideswiped with an unexpected termination only six months into the new job. The manner in which it was done was even more disheartening. The Executive Director who hired me didn't tell me herself; rather, the message was relayed by another colleague during a fundraising event. Furthermore, I was asked to terminate a staff member I'd hired three months earlier.
Here I was again with everything on the line - my apartment, my finances, my career. I just couldn't get a break. Why was this happening to me? I finally broke down and screamed! I screamed in the shower, at the TV, during my runs. I screamed for anything and everything. I even punched walls and broke a few things.
There were more nights of crying myself to sleep; more mornings with swollen eyes. My energy was depleted. Every cell of my physical and emotional being was completely and utterly exhausted. That's when it became clear to me that I wasn't angry at the world and my circumstances. I was angry at myself. Fixated on my failures once again, I had lost my essence.
It was time to move beyond the muck of self-imposed criticism and persecution. I opened my heart to a new awareness and prayed in a different way. I had a serious conversation with God where I expressed every single thought and emotion. I held nothing back.
I stopped asking why and stopped seeking the approval of others. Shutting out the noise, I sought solitude and asked for endurance, enlightenment, and peace to calmly ride the wave of life. The occurrences I faced were not punishments, but opportunities to cultivate deeper compassion and love for myself. It was only from a place of humility that I found a renewed strength and let go of the control, the unnecessary pain, and the burden of worry I'd carried for a long time.
My life today is completely different. I have a successful career in the tourism industry and I teach voice and songwriting at the Museum of Pop Culture (MoPOP) in Seattle. In 2013 with a renewed spirit of adventure, I returned to Chuckanut Mountain and hiked the hell out of it, this time with a friend. This hike is now a yearly ritual. On my 40th birthday, I paddled 104 miles down the Columbia River with the Chinook Indian Tribe and went horseback riding through the woods in search of Sasquatch with the legendary Bob Gimlin.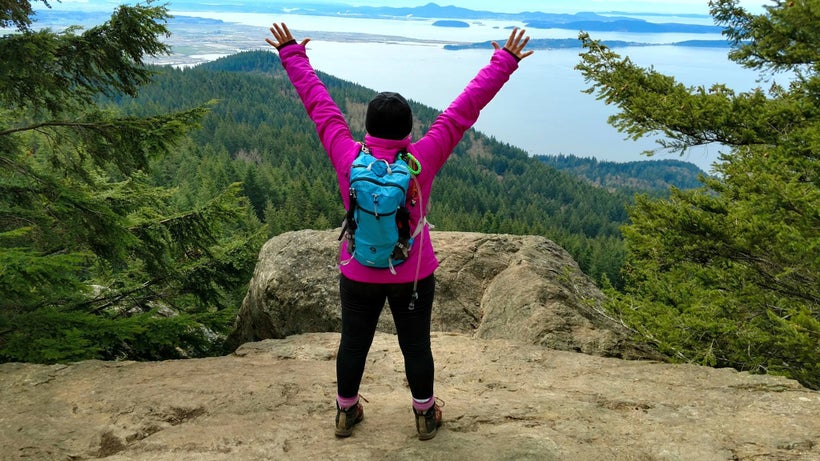 Of course, I've still had a few bumps in the road. As far as romance, a year after I moved back to Seattle, my ex wrote me a letter asking for another reconciliation, but with no apology. Deep down, I knew things hadn't changed. And even though I told him I still loved him, a week later he found someone else. Then a handsome and charming Latino man came into my life, but he turned out to be nothing more than a manipulative player. I got a DUI and served time in jail in 2014. Undoubtedly a painful experience that hit me hard both emotionally and financially. That same year, I underwent a biopsy for cervical cancer.
I don't go a day without thinking what would mother do? In fact, not a day goes by that I don't think of my mother. So, when I received the news that her oldest sister passed away in Honduras, I was shaken up. Now, one last family member on my mother's side remains. It's hard enough losing a parent, but knowing a part of my lineage will soon disappear is even harder.
I've often been told that I'm resilient and have great endurance for life's challenges. True as that may be, I still need the comfort and help of loyal and trusted friends to get me through the hard times. I've had a great deal of hurt and disappointment in my life. However, I've equally experienced great joys and accomplishments. In this journey we call life, the lessons are endless. I'll never have all my shit together. No one does. There will be many highs and lows to which I must remain steadfast and carry on. It takes courage to be vulnerable, and only through vulnerability can I look fear in the face. True beauty is the fire that burns within me. My strength comes from the knowledge that my life path will lead me towards a greater meaning for myself and the world around me. Whatever may come, my purpose is to live passionately and with integrity.
I am a divine feminine warrior. I AM WONDER WOMAN!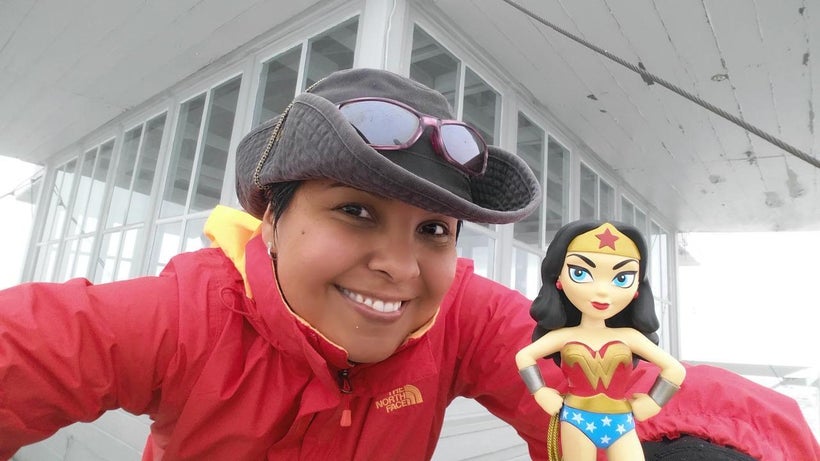 Calling all HuffPost superfans!
Sign up for membership to become a founding member and help shape HuffPost's next chapter
This post was published on the now-closed HuffPost Contributor platform. Contributors control their own work and posted freely to our site. If you need to flag this entry as abusive,
send us an email
.