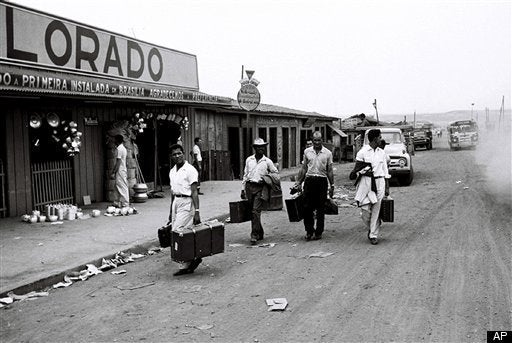 "History doesn't repeat itself," Mark Twain once quipped. "At best it sometimes rhymes."
Don't tell that to the owners of 1500 Gallery in New York. They've got other ideas. Their exhibit of photojournalism from the heady 1950s when the instant city of Brasilia rose up out of the South American desert draws distinct parallels between then and now.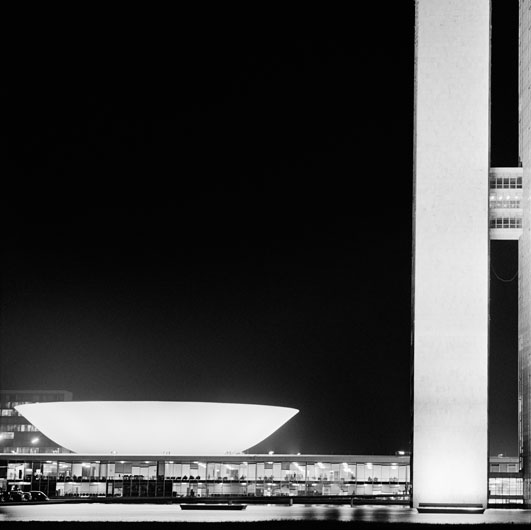 "The message is tied to the 50th anniversary of Brasilia, which never fulfilled its destiny," said Andrew Klug, partner in the gallery dedicated solely to Brazilian fine art photography. "We have favorable cards in our hands now. There's an economic boom taking place. The World Cup is scheduled here for 2014, and the Olympic Games will be here in 2016."
The nation seems determined to disprove a cynical Charles de Gaulle who once wryly noted that "Brazil is a country of the future -- and always will be."
Back in the mid-1950s, Brazil's President Juscelino Kubitschek made the decision to move the capital from Rio de Janeiro to a constitutionally mandated site at the country's center. He called in a trio of Brazilian visionaries to make his new city a real symbol of a buoyant future. Lucio Costa would serve as urban planner, Oscar Niemeyer as primary architect and Roberto Burle Marx as landscape architect.
Costa would follow Le Corbusier's modernist and utopian Letter of Athens, with its ideal qualities for city planning:
• Well-ventilated residences near green spaces
• Separation of residences from workplaces, with industries excluded from the city proper
• Exclusive space for cultural activities, near residences
• Separation of circulation between vehicles and pedestrians
Costa's urban plan was shaped like an airplane. Niemeyer would use fantastic geometric forms for government and religious buildings. Burle Marx would introduce a modernist brand of landscape architecture, tropical and sweeping, to the city's parks and gardens. It was to be an architectural laboratory, a clean and well-lit place to take the International Style out for a test drive.
"I first heard about it in 1958," said American architect Richard Meier. "It was controversial because of its scales and location. There were concerns about it being too far away and hard to get to, with not enough to sustain it. But then, it was the bold new future -- there was that aspect too."
"I heard about it in 1959 at MIT graduate school," said British-born Brian Shawcroft. "Niemeyer was using concrete as a dynamic form, as a fluid, plastic material. He was able to build exciting structures using new techniques and knowledge. You could compare it to the height of the Gothic period in Europe when stone was being pushed to its limits."
It was built in 41 months while Brazil experienced an economic boom, a strong democratic government in place. The nation was open -- goods, ideas and people flowed easily into and out of its borders.
But the political winds soon shifted. In 1964 a military regime supported by the United States took over the government. "Shortly after that, the country went back to the Middle Ages," gallery owner Alex Bueno de Moraes said. "The country closed itself off economically and culturally. People left because of the political situation."
Built for 500,000 people originally, Brasilia soon outgrew its urban plan, housing residents in slum-like satellite cities. Its location in the middle of the country removed political power from most of the people. And it usurped Rio's once-revered status as capital, leaving a vacuum behind.
Unfairly, some say, Brasilia became a poster child for the nation's late 20th-century failures.
But in the last decade Brazil's prospects have changed dramatically. Inflation is no longer rampant. People are betting on its success and investors are pouring in. "After decades of depression, Brazil has started to reach a new step in the global game," said Brazilian architect Pedro Rivera. "We believe we're finally one of the global players."
Thus the boldly optimistic show of black and white photos at 1500 Gallery in West Chelsea. It was curated by Murillo Meirelles, with the effect of sanctifying and celebrating the glory of Brasilia in the late 1950s. He sifted through thousands of images to arrive at the eight on display.
"They represent a brighter way forward," said gallery owner Klug. "It's a country whose time has come, a country that's watching itself bloom."
Whether Brasilia succeeded is still a matter for discussion -- with plenty of lessons learned for those in Asia now contemplating their own instant cities.
And whatever Brasilia's social, political or economic shortfalls, it does offer a spirit that's nearly palpable in these photos today.
"It probably doesn't work as a great city, but so what?" asked Jeff Paine of Duda Paine Architects, a firm now designing in China. "It's become a symbol for Brazil, like the Eiffel Tower in Paris. Sometimes you just have to say: 'It's great -- I love it!'"
Calling all HuffPost superfans!
Sign up for membership to become a founding member and help shape HuffPost's next chapter