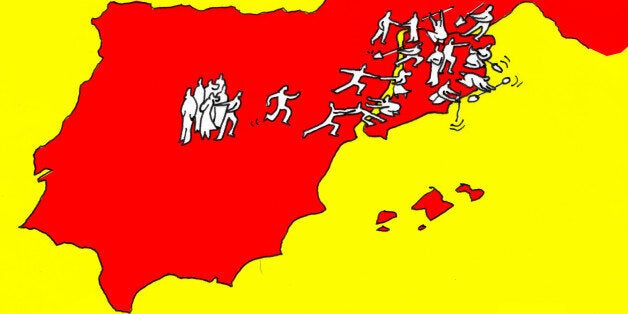 Let's be clear: the Catalan elections on Sunday, September 27th, are exceptional due to the explosive mix of emotions, political debate and intensity that have inoculated Spanish politics. But, the previous notwithstanding, will they be the first step towards an independent Catalonia? Hardly.
What can't be denied is the success of the promoters of the independence movement, who have managed to impose their secessionist agenda when, traditionally, only a third of all Catalans supported it. Like George Lakoff's elephant, independence has blurred the customary tensions between the right and the left, saturating all the political space. Even President Mariano Rajoy, who vehemently denies the rupture, ended up discussing, in one of the campaign's most surreal episodes, what sort of passport Catalans would have in an independent Catalonia.
This Sunday, five and half million Catalans are set to vote in the eleventh election for the Catalan Parliament since the restoration of democracy in Spain (it's the third election in five years). The difference with all the previous ones is the secessionist turn, led by Convergencia Democratica de Catalunya (CDC), the hegemonic party, and the fact that this time the elections are considered a plebiscite (the Spanish Magna Carta, like the majority of European constitutions, does not contemplate referendums on self-determination).
It is here that the shadow of Scotland has lengthened: "If a year ago London agreed that the Scottish could choose between staying in or leaving the United Kingdom, why can't we do the same?" the Catalans ask. And, after warping this (regional) election into a plebiscite, they now seek to break the firmness of the Spanish legal system.
Supporters of independence say that by winning a majority of seats in Parliament they will be able to start a process that should end in a Catalan nation in just a year and half. But if the popular vote for secession fails to reach 50 percent, will it be democratically legitimate to go down that road? It wouldn't have been for Scotland or Quebec, the two most recent referents. Most polls show an absolute majority for independence in parliamentary seats, but not in popular votes.
It's true that experts in public opinion appear to be clueless in this election. Traditionally, regional elections like this one fail to attract the less nationalistic voters. And yet today, these are the voters that are in the spotlight. Nearly a million of them, most of them of non-Catalan origin, are the ones capable of reversing all predictions.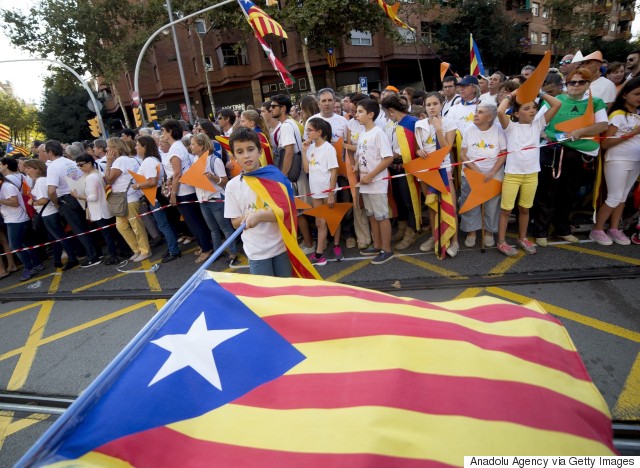 Demonstrators wave pro-independence Catalan flags during celebrations of Catalonia's National Day.
In the unionist side, there are two emerging forces: the centrist Citizens party (Ciutadans), and the left-wing Podemos party, in coalition with other parties. Also, a diminished Socialist Party and the conservative People's Party (PP), which, despite ruling Spain with an absolute majority, has never harnessed more than 13 percent of the Catalan vote. None of these forces has an indisputable leader, and their ideological differences are a handicap when they try to stand as a homogeneous front.
The secessionist side -- Junts Pel Si --, meanwhile, does present a solid coalition between conservatives and the Republican left (ERC), which is also backed by civic movements for independence and well-known public figures like former FC Barcelona coach, Pep Guardiola. One of this campaign's peculiarities is that Catalonia's president, Artur Mas, is currently fourth in his coalition's list, which means that he does not have to appear in public debates or answer for his government's actions of the past three years. And there is another cause of uncertainty: in order for the secessionists to win a majority in Parliament, they need the support of the Popular Unity Candidacy (CUP, for its Catalan initials), a radical left-wing party that opposes capitalism, NATO, and the EU, and that has said that it won't support a government with Artur Mas as president. Therein lies the weakness of a pro-independence candidacy with such a different mix of supporters: After the elections, how can such a large number of motley partners form a government that does not end up resembling a Marx Brothers bunk-bed?
Catalonia, both culturally and socially, is one of Spain's motors. Economically as well: with 7.5 million people, it represents 18 percent of the national GDP. Therefore, and like other "rich" regions such as Madrid and the Balearic Islands, it contributes through its taxes to the economic improvement of less developed territories. And this is one of the key points of friction: Catalonia demands better fiscal treatment -- similar to that of other communities like the Basque Country and Navarre --- and more self-determination to manage taxes and make decisions on important investments and infrastructure.
What's exceptional is how a legitimate complaint has transformed into a casus belli against Spain. President Rajoy's political clumsiness -- a year and a half ago he could have but didn't want to or failed to open a negotiating table with the Catalan president -- spurred the maximalist attitude that resulted in the current situation. "It's impossible to talk with Spain. Let's leave!" they shout. These days, the People's Party's leaders acknowledge the government's lack of political flexibility, but they justify it by bringing into account Spain's economic hardships in the past few years.
And the truth is that the crisis is an indispensable factor to understand this drama. Catalonia's conservative government, which has carried out the same savage cuts in education, health care, and social services as the national government, has come out unscathed of their citizens' fury by placing the responsibility for all austerity measures on the central government. While in other European countries nationalists and populists saw their windows and took advantage of the crisis to exploit xenophobia, anti-Semitic feelings, or Islamophobia, in Catalonia the blame was set on the Spanish state. The infamous slogan "Spain is robbing us" has made a mark on the Catalan population, which has been convinced by siren songs that claim that an independent Catalonia, one that is free of giving to other Spanish regions, will have more resources to be rich and prosperous.
Last but not least, we must deal with another chapter: emotions. And a fundamental one at that: the falling out of love. One of the most flung around metaphors by supporters of independence is that a couple cannot stay together when one of the parties does not want to. What's true -- and what's more worrying -- is that many Catalans have already emotionally divorced from Spain and its symbols. Among others, they feel constantly aggrieved by the People's Party's questioning of policies dealing with the teaching of Catalan, the old and beautiful language that all schools in Catalonia teach, a language that peacefully coexists with Spanish in towns and city squares.
The debate has rarefied. Secessionists don't like hearing David Cameron or Angela Merkel warning them about how an independent Catalonia would be automatically kicked out of the EU, according to existing treaties. Neither do they care for Barack Obama when he asks for a "strong and united" Spain. They think it's a great threat that banking institutions based in Barcelona are contemplating the possibility of leaving in order to continue operating with euros under the auspice of Frankfurt and the European Central Bank. But, paradoxically, they are sure they'll find formulas that will allow Barça to continue playing -- and winning -- in the Spanish Football League.
Curiously, only 20 percent of Catalans, according to some polls , believe that the process will end in independence. Many will vote for a rupture, but only to buttress the Catalan government in their negotiations with the central government. But in order to do so, they will have to wait for the second act: the general elections in December, also of uncertain result. If Rajoy wins again, the negotiation field will be narrowed.
There are some defenders of a Third Way -- an agreement to update, reform, and reinterpret the Spanish constitution allowing a better fit for Catalan complaints -- but their voice can barely be heard in the midst of the thunderous proclamations of supporters of independence, on the one side, and of steadfast government supporters, on the other.
For this writer, who was born in Madrid, the daughter and granddaughter of Catalans that were always proud of their seny -- a Catalan word meaning soundness and temperance -- it's unthinkable to imagine a road different from dialogue, politics in its most pure form. There are alternatives when dealing with trumpeters exalting jubilant or apocalyptic scenarios. We are all facing formidable challenges in this 21st century: Catalans, Spaniards, and Europeans, we all need to add up our strengths. It's better to face them together.