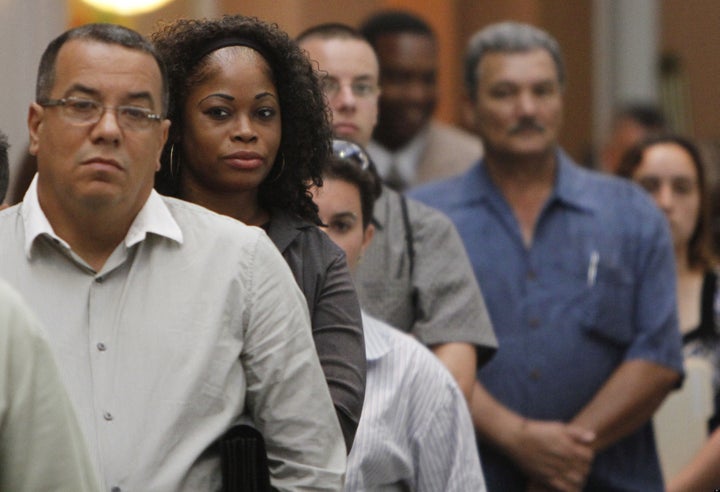 On our drive to the clean energy future, we are stuck in traffic.
The BlueGreen Alliance continued its cross-country trip when our "The Job's Not Done" Tour Bus participated in Detroit's Labor Day parade with the United Autoworkers.
We started August 16 in Carson, California, and traveled to a total of 17 states -- stopping in more than 30 cities along the way -- to spread the message that the U.S. Senate must pass comprehensive clean energy and climate change legislation to preserve and create millions of jobs, to protect the environment and to reduce our dependence on foreign oil.
Until the Senate acts, their job is not done.
Had the Senate passed comprehensive climate and clean energy jobs legislation, those corporate reserves would already be hard at work producing the new infrastructure and manufacturing capacity our country needs.
Carol Vetter is a 44-year union member and president of United Steelworkers Local 850 in Kewaskum, Wisconsin. She makes what she calls "the finest-quality union made cookware in America." She has seen her local -- which once had 3,000 members -- dwindle to about 250. She rode the bus for a week -- from Pittsburgh, Pennsylvania, through Richmond, Virginia -- stopping every few hours to speak out for what she says is a "no brainer": creating good, clean energy manufacturing jobs across America.
Lindsay Patterson is the president of USW Local 404 out of Philadelphia. He makes steel tubing, which is used as an electrical conduit in many products, including wind and solar power installations. Lindsay rode the bus because he believes that comprehensive clean energy and climate change legislation will drive demand for his product -- American-made, steel tubing -- at a time when his company is struggling to compete with China's unfair trade practices.
Carol, Lindsay and many other union members traveled the country for the last three weeks spreading the message that passing comprehensive legislation will bolster current industries, create new ones, and establish the United States as a global leader in the production of clean energy technologies -- instead of ceding that position to countries like China. In 2010, China has emerged as the leading producer and investor in clean energy, and is taking the jobs that come with those investments.
Unfortunately, after the House passed landmark legislation to address our economic, environmental and energy challenges last year, the Senate remains hopelessly stalled -- mired in election-year partisan politics. As the election draws near, it is important that American voters are reminded that more than 15 months ago, common-sense, job-creating policies were passed by the House and then blocked by Republican Senators. Had similar legislation been passed in the summer of 2009 by the Senate, the American economy would be on the move, companies would be investing in clean energy technologies, and millions of our neighbors would already be back at work.
The next stops on the road to our clean energy future are passing a federal Renewable Electricity Standard of 25 percent by 2025, funding critical investments in clean energy and advanced vehicle manufacturing technologies and providing safeguards for energy-intensive industries that must compete in the global economy. We also need an Energy Efficiency Resource Standard, investments in efficiency, mass transit, and freight rail, and, yes, a price on carbon pollution in our economy. In order to ensure the job quality of these investments, we need critical federal prevailing wage measures to guarantee good, family-supporting jobs.
Regrettably, it's an apt metaphor to suggest that our bus is stuck in traffic on the drive to the clean energy future. Between Labor Day and Election Day, only the American voter can break the partisan gridlock blocking our road and get the U.S. Senate back to the business of creating jobs in this country -- good, clean energy jobs -- now.
REAL LIFE. REAL NEWS. REAL VOICES.
Help us tell more of the stories that matter from voices that too often remain unheard.