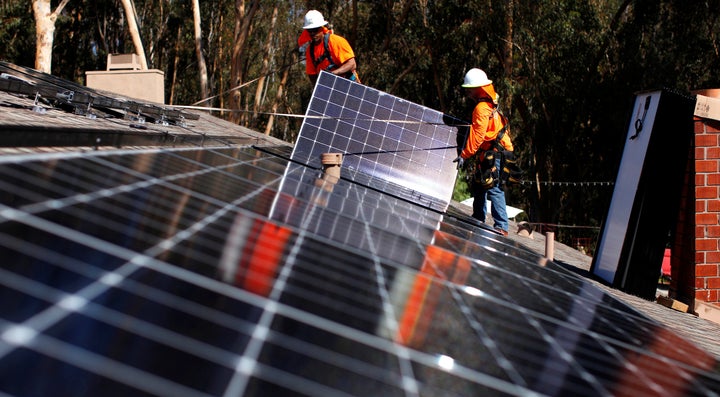 President Trump's executive order on Promoting Energy Independence and Economic Growth, signed on 28 March 2017, reneging on actions taken by the previous administration to deliver on commitments made under the Paris Climate Agreement is unconscionable. The United States is the second biggest greenhouse gas emitter on the planet, and the biggest cumulative emitter since 1850. It has a responsibility to play its part in global climate action. Climate change is a grave injustice and its negative impacts are worst in vulnerable countries and communities that have least responsibility for emissions.
Climate change is already happening in the United States. In the western states drought is critically affecting local communities and impacting food production. In the midwest and northeastern states, the incidence of heavy downpours has substantially increased over the past few decades leading to flooding and erosion. Climate change poses a particular threat to people who live in areas that are vulnerable to coastal storms, drought, and sea level rise or people who live in poverty, the elderly, the young and immigrant communities. As happens elsewhere in the world, it is the people who are already vulnerable in society that will be most impacted by the adverse effects of climate change. People living in poverty have fewer resources to cope with heat, to relocate or evacuate, or even respond to increases in the cost of food. And, tough as these impacts are for people in the U.S., they are even worse for people living on small islands or in the least developed countries.
I saw this first hand last year when I was appointed as Special Envoy of the UN Secretary General on El Niño and Climate. I travelled to countries already impacted by climate change which were now devastated by the layered effect of El Niño bringing even more pronounced drought or flooding. The countries I visited – Ethiopia, Honduras, Vietnam and Swaziland – are not major emitters but they were part of the 60 million people badly affected in their food security, with severely malnourished children and displacements and deaths. In a rural area of Honduras – part of the 'dry corridor' of Central America known to be badly affected by El Niño – I met with village women brought together by a Honduran Women's organisation. Sitting under a large tree, I saw the pain in their eyes. "We have no water", one woman said, "How do you live without water?"
The Trump administration has been vocal about the failure of some NATO countries to live up to their commitment to defence spending as members of NATO, and is insisting this must be paid up. But the reneging by the Trump administration on the commitments made by the United States in the Paris Climate Agreement is potentially far more serious for global human security than paying up for NATO defence arrangements. In September last year 25 military and national security experts, including former advisers to Ronald Reagan and George W Bush, developed a briefing on security and climate change for the new administration and noted a growing security consensus that 'climate change presents a strategically significant risk to national and international security, and that more comprehensive action must be taken to ensure the US response is commensurate to the risk.'
The Paris Climate Agreement came into legal effect on 4 November 2016. Shortly afterwards over 190 countries, including the United States led by Secretary of State John Kerry, signed a Proclamation at the Conference Of Parties in Marrakech pledging to fully implement the Paris Agreement. At the same conference 48 of the most climate vulnerable countries pledged to lead on ambitious climate action through actions in their countries despite the minor contribution they have made to greenhouse gas emissions. It now falls on the countries of the world, along with states, civil society and business in the U.S. to hold the Trump administration to account and insist that the U.S. plays its part in implementing the Paris Agreement.
In any case, the transition to a low carbon climate resilient world has already begun.
Countries all over the world have started to act to keep global temperature rise "well below 2 degrees Celsius of warming above pre-industrial standards" and to pursue 1.5 degrees Celsius. Climate action is also happening at many different levels in the U.S. ― in cities, states, business, investment, universities, civil society and philanthropy ― and it will continue to do so despite executive orders issued by the administration. While these developments at the federal level matter, and are highly regrettable and unforgivable, it is encouraging to know that there are already states and civil society groups mobilising to ensure that there will be robust legal challenges to the administration's inaction on climate change, whether through executive orders or other measures. The rule of law will be critical to enforcing commitments on climate change and advancing climate justice.
I was very heartened on a visit to the U.S. this month to see the commitment to climate action in cities and universities. Speaking in Boston College I noted that Boston, along with 12 other major U.S. cities, is one of the C40 Network of cities worldwide with a roadmap to having carbon neutral energy by 2050. As 1 in 5 U.S. citizens lives in one of these cities and they generate 30 percent of GDP, this represents a significant contribution to the United States' climate action. C40 cities have a roadmap to put in place energy efficiency and a transition to renewable energy to meet their targets. I also went to Loyola University in Chicago to attend their fourth climate change conference which this year focused on climate justice. I was aware that Chicago is also a C40 city with ambitious targets on energy efficiency and renewable energy, and I was impressed by Loyola University's own efforts to give leadership including through geothermal heating on the campus. My last visit was to Salt Lake City. It, too, is part of the C40 Network of cities and its Mayor Jackie Biskupski told me that her city is on course to have 100 percent renewable electricity by 2032.
Climate Action is having a positive impact on employment with renewable energy employment in the U.S. increased by 6 percent in 2015, reaching 769,000. The increase was driven by rapid growth in the wind and solar industries. Solar industry employment grew 25 percent in 2016 to 260,000, surpassing oil and gas extraction (177,000), and coal mining (50,000). Employment in the wind industry now exceeds 100,000 – an increase of 14 percent compared with the end of 2015. In addition, the EPA's own analysis of the health benefits of the Clean Power Plan indicates a 25 percent reduction in polluting particulates, meaning that each year 2,700-6,600 premature deaths and 140,000-150,000 asthma attacks in children would be prevented - and who can argue with that? These examples of municipal and sub‑municipal action form the heart of a sustained U.S. climate change effort and an antidote to policies of the Trump administration.
My message to the large audiences I addressed in all three cities was to make their climate action more known and visible in the United States itself and to the world outside. What is going on is a battle for the minds and hearts of people on the future they want. The only sustainable, safe future, with jobs for people, is the one that states like California, Washington and Vermont and cities like Boston, Chicago, Salt Lake City – and many more – are striving for.
It is the Trump administration that is in the dock for its failure to uphold the Paris Climate Agreement, not the United States as a whole or the majority of American people.
Related
Popular in the Community