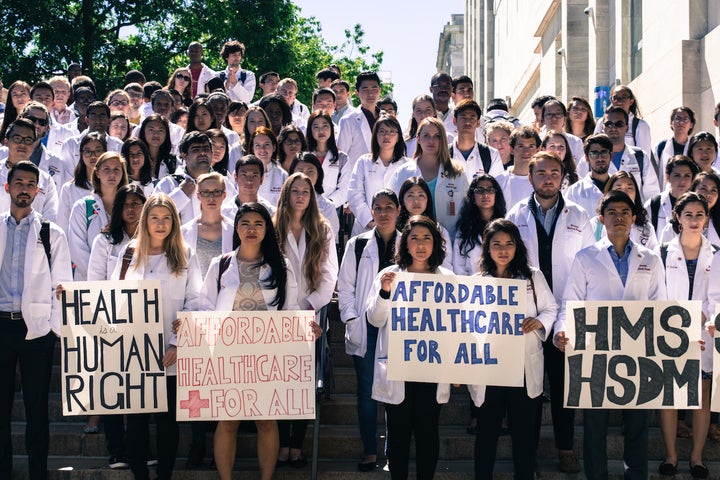 By Erin Plews-Ogan, Sandhira Wijayaratne, Michael Lindeborg, and Katherine Warren
On Friday, October 14th, Rosa Rivera, a Harvard University Dining Services employee, was arrested in a peaceful act of civil disobedience. She sat on the road in Harvard Square, her arms linked with eight other women who work in the University's cafeterias. In the crowd lining the street, other Harvard employees held large photographs of their children. They gathered to express fears over the impact of Harvard's proposed health plan on their families, representing over 700 dining service workers on strike.
We spoke to Rosa after her arrest. "Are you a mom?" she asked. There was a long silence. "I'm doing what a mom would do."
Rosa is a single mother. Her son is two and her daughter is eight. They lost their housing at the end of August.
For 17 years, Rosa has worked as a full-time cook at the Harvard School of Public Health. Now, she and her two children are staying with her mother in a one-bedroom apartment. "If Harvard goes up on [the cost of] health insurance," Rosa shared, "I will not be able to afford housing."
Harvard cites that the average Harvard dining services worker makes more than the minimal living wage in Cambridge. We cannot forget, however, that for many, this wage is earned only 38 weeks of the year, and that most workers–like Rosa–have families. According to MIT's living wage calculator, the wage Rosa would need to earn to support her two children is $30.95. The average Harvard dining services worker's equivalent hourly wage averages to about $16 an hour when spread over the year. Even with Harvard's health subsidies and available benefits, a living wage for a mother like Rosa could be nearly twice the average annual salary of a Harvard dining services employee.
Rosa has done this research: "If MIT's living wage calculator says that I should be making nearly twice what I'm making, and Harvard is pointing out that others make less than I do, then, you know what, they are living in poverty, and we should all be standing up to fight for our rights ... Harvard has the best minds in the world. Why can't we get those heads together to figure this out?"
As medical students inspired by Rosa's story, a group of us analyzed Harvard's proposed health insurance scheme and found it significantly more expensive than government-subsidized private plans that would otherwise be available in the Massachusetts Health Connector, the state's health insurance exchange created by the Affordable Care Act (ACA). Both the University and our Dean, Dr. Barbara McNeil, disagree with our assessment, but they misunderstand our position. They confuse our comparison to the Massachusetts ConnectorCare plans, private insurance subsidized by the state and federal governments, with MassHealth, the state's Medicaid and Children's Health Insurance Program.
Given the strict eligibility thresholds of MassHealth, most Harvard dining services workers would likely qualify for Massachusetts ConnectorCare plans. Let's take Rosa as an example. Under a Massachusetts ConnectorCare plan, Rosa would likely pay $43 in monthly premiums, compared to $281 for the most popular Harvard plan.
In addition, most Harvard dining services staff do not work year-round, and the average worker makes only $31,193. An employee supporting two children with an income of $30,000 spends 9.4 percent of income on the cost of Harvard's premiums alone under the new plan–meaning that a single visit to the emergency room or a single outpatient procedure would push that family over a threshold defined by the World Health Organization as "catastrophic." A Massachusetts ConnectorCare plan with similar access to some of Boston's best hospitals? $0.00.
Despite the unaffordability of Harvard's employer-sponsored insurance, dining workers are locked out of ConnectorCare plans. Many Harvard dining services employees, along with six million other working low- and middle-income individuals, fall into a now well-known oversight in the Affordable Care Act called the "family glitch." Under the ACA, if a family member has an offer of individual coverage from an employer that is less than 9.69 percent for 2017, the family is deemed ineligible to receive federal subsidies for market exchange premiums.
We are not advocating that Harvard union workers be moved from employer-sponsored insurance to the state-based exchange, but we believe that the richest university in the world should offer its employees insurance deemed affordable by sound policy rather than technical oversight. Given that voices at Harvard are among those proposing a fix to the family glitch, it seems only appropriate for the University to proactively offer truly affordable coverage for all of its employees.
As medical students, we are reminded every day that behind the financial justifications Harvard cites for unaffordable insurance, there are real people like Rosa. We've witnessed how our university's unfair healthcare priorities pushed a 17-year Harvard dining services veteran from cooking in the kitchens, to speaking through a loudspeaker, to sitting on the streets–all to be the best mother for her kids. We urge our school to remain true to its value "to seek diversity and promote equity and social justice."
A rite of passage for each Harvard Medical School class is to write their own oath, an extension of the Hippocratic tradition stating that as physicians in training, we are committed to the utmost health of our future patients. Ours includes a "promise to bear witness to historical injustices that continue to unfold for marginalized communities ... to listen to every person, wake up to the realities of the world, strengthen our abilities, and rise up."
We're awake, we're listening, and we're rising up. On behalf of more than 3,000 students, we are asking Harvard to do the same.
Rosa Rivera is a long-time employee with Harvard University Dining Services. Erin Plews-Ogan, Sandhira Wijayaratne, Michael Lindeborg, and Katherine Warren are first-year medical students at Harvard Medical School. Photograph by Ahmed Elnaiem.