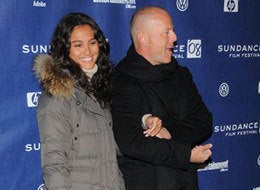 I started dating a man and we have an amazing connection. We have endless and effortless conversations about the myriad interests we share, he's hilarious (and he thinks I am too), we share the same values in life, I feel like I can be 100% myself with him.
Here's the problem. I'm 27. He's 42. I know he's not old enough to really be my father, but he's up there. I had NEVER considered or imagined I would be drawn to someone so much older. But now that I am, I am so torn. Do I turn away what seems to be my perfect match because of the age gap? Let me be clear, I'm not drawn to him because he "fathers me." I have a great, solid relationship with my dad and have no issues there. It's really a case of two kindred spirits being separated by a lot of numerical years. If I follow what feels right, am I setting myself up for future failure? Do you think this is a terrible idea? Please help! - Old Soul, 27
Just the fact that you are presenting this question makes me wonder if you already know the answer. Usually, we don't question the things we know in our gut to in our best interests. You are concerned that a 15 year age difference may be a "terrible idea" or "setting yourself up for future failure." Are these irrational concerns, or is this your intuition trying to out-talk your infatuation?
In my opinion, there is a lot more than just 15 years that separates you from your 42-year-old boyfriend. He's had a heck of a lot more life experience than you have. You are in your late twenties, a time in life when you are just beginning to become sure of who you are and what you want. You are creating your life while he is already in the prime of his. If you were 40 and he was 55, I would not be as concerned about the age difference as both of you would have had ample time to experience life and mold your identity. By dating someone so much older, you are missing out on being with someone who is in the same phase of life that you are; someone with whom you can share the joys and pitfalls of discovery. Plus, this is a new relationship and you need to take into account that some of the sparks you feel come from the novelty of it.
You mentioned that you are not trying to live out some father figure fantasy. Okay, but consider this: are you drawn to him because he is so settled in his life while you are still putting the pieces of yours together? I speak from experience. In my twenties, I dated a man who was eleven years my senior and it was great until I realized I was living vicariously through him. I wanted to be where he was in his life - accomplished, more confident, and all the other things that come with additional years on the planet. What I realized is that I was trying to skip over my own twenty-something experience by coat-tailing his life. Sure, we had the same kind of connection you speak about and I really did feel like we were kindred sprits in a lot of ways; however, the unavoidable truth was that we were at very different points of our lives. Dating an older man can be an ego boost since being wanted by someone older makes you feel more mature. I share this with you because I encourage you to ask yourself if some of his appeal lies in the simple fact that he is older.
Furthermore, other than the very obvious reasons, why is a 42-year-old dating a 27-year-old? Has he ever been married or in a serious committed relationship? Think about your needs and growth. Do you want to spread your wings and live the carefree singles life for a while, or are you looking to settle down into the lifestyle that he has spent the past two decades creating?
Since I realize my advice is very one-sided, and I really don't know anything about you or your love interest, I want to offer you a different perspective. I forwarded your question to Dr. Ava Cadell, Love Guru, Therapist, Author, and founder of Loveology University. Here is what she had to say: "Why are you thinking about problems that don't exist? Age is just a number, but love, connection, values, compatibility and chemistry are real. And by the way, they are real hard to find in one person, so thank your lucky stars that you have found your soul mate. Celebrate your union and enjoy each moment you spend together. A word of caution though, if you think and anticipate failure, you will surely achieve it!"
I echo her word of caution and circle back to the simple truth that you are having doubts. Some say love is blind and ageless, but a sustainable relationship is built on a lot more than just love alone. It takes a certain amount of compatibility to carry you through the decades ahead. A 15 year age difference is significant. Period. Just think about having children in your thirties, and chasing around toddlers with a man in his late forties. I hear that you are an old soul, but that doesn't necessarily mean you have to date someone significantly older to meet your "soul-match." I say go for a five to seven year age difference.
But bottom-line, you are the only one who really knows if this relationship is a fit. I'm not saying it couldn't work; I'm just asking you to think beyond the immediate comfort and initial honeymoon phase, evaluate your doubts and the source of those doubts, and ask yourself if this is what you really want. After thinking it through, if you believe he is still your soul match, then don't let the age gap get in your way. -Christine
Please send me your questions by posting them in the comments section below. You can also email me at christine@huffingtonpost.com