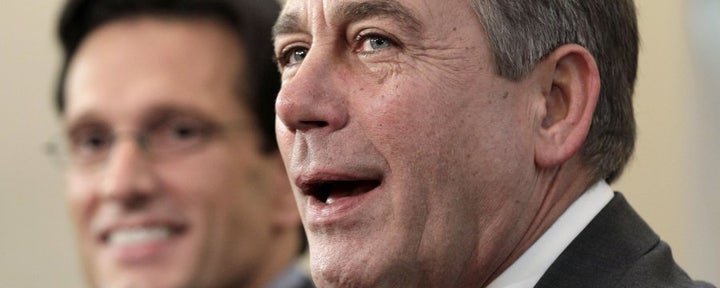 It took just hours for the new Republican House majority to break their vows of transparency and bipartisan cooperation. In the new rules they authored, Republicans exempted budget-busting items like health care repeal from their own pay-go requirements, and they took the budget-writing process behind closed doors, consolidating it in their own hands. Without input from Democrats and without even an amendment process, they crafted a dangerous set of rules that threatens not just the way Congress works, but puts American jobs on the line as well.
One of the lesser-noticed provisions of the Republican rules package brought together an array of interests from across the ideological spectrum in opposition. What unites the U.S. Chamber of Commerce, the Ironworkers, the American Trucking Association, the Associated General Contractors of America and the Laborers International Union?
They are all opposed to a job-killing GOP proposal that undermines the Congress's commitment to the federal Highway Trust Fund -- a move that has potential to further destabilize the building trades sector and devastate an already-struggling workforce.
The new rules package reverses a policy in effect for over a decade that required that all revenues paid into the Highway Trust Fund be used for eligible highway and transit projects. Enacted in 1998 by Republican Rep. Bud Shuster, this rule provided the kind of certainty and stability that the industry and state and local governments need to plan long-term major infrastructure projects.
The building trades sector is already facing Depression-level unemployment figures of 25 percent, and now Republicans want to throw the entire industry into disarray under the guise of budget fairness. It is a dangerous and unnecessary move in any environment, but against the backdrop of a slowly recovering economy, it is flat-out irresponsible.
One day into their tenure, House Republicans are breaking promises and taking dangerous ideological stands. Their action on the Highway Trust Fund is reverberating across constituencies, but perhaps more strikingly, it is also crushing the construction industry on Wall Street.
As Republicans were preparing to name John Boehner their speaker, the global financial services firm UBS downgraded a number of construction industry stocks, explicitly citing the GOP rule as one of the reasons for the move. In the wake of that decision and as the rule moves closer to reality, stocks across the industry have tumbled in recent days.
Yet, all the while, Republican leaders stand idly by. They have time to read the entire Constitution on the floor of the U.S. House and they have time pursue a meaningless, dangerous and futile effort to repeal health care reform, but they do not have time to consider changing a rule that is wreaking havoc in an industry and imperiling jobs across this country.
I have written to Speaker Boehner and other Republican leaders urging them to reconsider and strike their rule, which they erroneously claim is fiscally responsible. This issue is not about a bottom line; it is about jobs and working-class Americans' livelihoods. It is far too important to be ignored.

Support HuffPost
The Stakes Have Never Been Higher
Popular in the Community