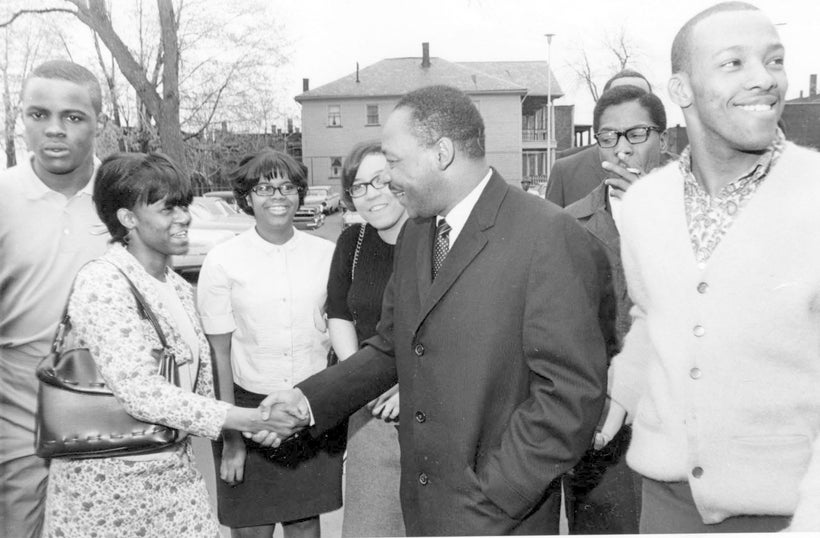 "Life for me ain't been no crystal stair," the mother says to her son in a poem Langston Hughes published in 1922. "It's had tacks in it, and splinters, and boards torn up, and places with no carpet on the floor—Bare."
Almost a century later, we have a president whose life has been a crystal stair—more accurately, a golden escalator. His path was not filled with tacks or splinters or boards torn up.
He is a racist who looks down on people of color and disparages their homelands as "shitholes." He has no clue of their life struggles.
So on this Martin Luther King, Jr., holiday weekend, how appropriate it is to look back at Dr. King's use of Langston Hughes' poem "Mother to Son" in an address to high school students in the Glenville neighborhood of Cleveland.
Dr. King came to Cleveland in the spring of 1967 to start a campaign to address the critical issues of Cleveland's ghettos and to help Carl Stokes, an African American lawyer, register black voters in the hope that Stokes might become the first black mayor of a major U.S. city. Cleveland at the time was the eighth largest city in the nation.
Just the summer before a rebellion broke out in Hough, an East Side neighborhood that had converted from white to black in the 1950s and 1960s. Rioting started on a hot July evening when an African American customer had been refused a drink of water in a bar run by white owners. Tensions that had been building for years spilled over into four days of burning, looting, and sniping. Four African Americans were shot and killed, many more wounded.
King knew that he faced a different set of circumstances in bringing his non-violence philosophy to the North. He succeeded in the South, helping to spur the Civil Rights Act of 1964 and the Voting Rights Act of 1965. But his tactics were seen with disdain by many black nationalists and those who followed Malcolm X in the North. Armed self-defense had become a watchword for militants in Cleveland.
Both King and Malcolm X had spoken in Cleveland one year apart from the same pulpit in an African American church in Glenville, a black neighborhood that bordered on Hough. King came in 1963 to raise money for bail for his followers who were being arrested by the thousands in Birmingham by Bull Connor. A year later, Malcolm X delivered his celebrated "Ballot or Bullet" speech, encouraging African Americans to use their ballots, yet he warned it would be "the bullet" if those elected continued to neglect blacks. "It's the ballot or the bullet," he declared, and challenged black Clevelanders to start rifle clubs.
Three years later in 1967, after Malcolm X had been assassinated, Carl Stokes appeared to be the best chance for African Americans to take political power peacefully via the ballot. Hence Dr. King made Cleveland a priority in what would be the last year of his short life (both King and Malcolm X were murdered when they were just 39 years old).
He looked into the faces of young people at Glenville High School on April 26, 1967, and saw many who still burned with the fervors of Hough. "Our power does not lie in Molotov cocktails," he instructed. "Our power does not lie in bricks and stones." He told them of a secret weapon:
"Our power lies in our ability to unite around concrete programs. Our power lies in our ability to say nonviolently that we aren't going to take it any longer. You see the chief problem with a riot is that it can always be halted by a superior force. But I know another weapon that the National Guard can't stop.
"They tried to stop it in Mississippi; they tried to stop it in Alabama, but we had a power that Bull Connor's fire hose couldn't put out. It was a fire within. And I say that we can have that same kind of fire all over the United States of America. And we can transform dark yesterdays into bright tomorrows through this method."
Then Dr. King recited Langston Hughes' poem. He reminded the Glenville students "life for none of us has been a crystal stair, but we must keep moving." He said, "And so, if you can't fly, run. If you can't run, walk. If you can't walk, crawl. But by all means, keep moving."
But most importantly, he encouraged the students to develop a sense of what he called "somebodiness." He told the students he was required to ride segregated buses to school every day when he was young. But he knew he was somebody. "I started getting on that bus going across town," he recalled, "and every time I got on the bus, even though I found myself having to take my body to the back of the bus, I always left my mind on the front seat."
As if rebuking Donald Trump in the future, he said, "Don't let anybody make you feel that your are nobody."
That fall Carl Stokes won his election. Dr. King, just out of jail from serving a final few days of his Birmingham sentence (the Supreme Court reinstated his sentence, finding he could not ignore a court injunction not to march), was in Cleveland to witness the happy day.
The ballot had seemingly prevailed. Five months later, Dr. King was assassinated in Memphis. The bullet of American racism had reared its ugly head.
Senator Robert F. Kennedy was in Cleveland the day after Dr. King's murder. He had recently joined the race to run for president in 1968. He took the moment to deliver his greatest speech—known as the "mindless menace of violence" speech.
The speech ends with words that shame President Trump today. Bobby Kennedy said,
"But we can perhaps remember—even if only for a time—that those who live with us are our brothers; that they share with us this same short moment of life; that they seek—as do we—nothing but the chance to live our their lives in purpose and happiness, winning what satisfaction and fulfillment they can.
"Surely this bond of common fate, this bond of common goal, can begin to teach us something. Surely we can learn, at the least, to look at those around us as our fellow men. And surely we can begin to work a little harder to bind up the wounds among us and to become in our hearts brothers and countrymen once again."
One can only wonder where these ghosts of 1968 have gone? Langston Hughes, however, would brook no defeatism. The mother to son says,
Don't you set down on those steps
'Cause you finds it's kinder hard.
For I'se still goin', honey,
And life for me ain't been no crystal stair.
James D. Robenalt is the author of four nonfiction books. His latest, Ballots and Bullets, Black Power Politics and Urban Guerrilla Warfare in 1968 Cleveland (Chicago Review Press) is expected this summer. Robenalt lectures nationally with John W. Dean, Nixon's White House Counsel, on Watergate and legal ethics. www.watergatecle.com
REAL LIFE. REAL NEWS. REAL VOICES.
Help us tell more of the stories that matter from voices that too often remain unheard.
This post was published on the now-closed HuffPost Contributor platform. Contributors control their own work and posted freely to our site. If you need to flag this entry as abusive,
send us an email
.