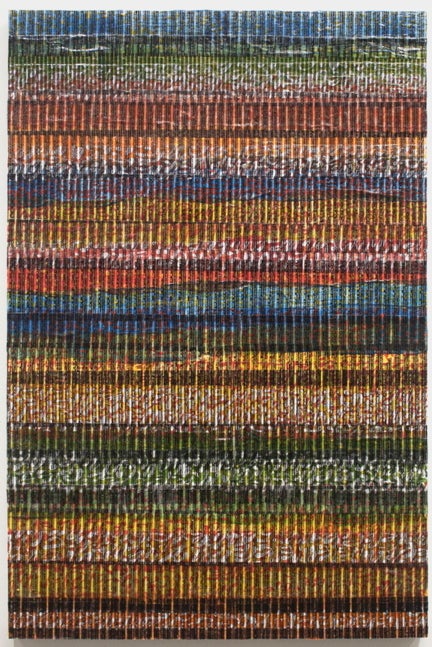 On Drawing in process, a selection of recent panel drawings by Creighton Michael is the inaugural exhibition of the Katonah Museum of Art's newest gallery. Their mission is to showcase regional artists whose work relates in some significant way to the exhibition in the main space. In this instance, there is a distinct relationship between the use and application of pattern and movement of Creighton Michael's art and the designs found in Wall to Wall: Carpets By Artists, as presented in the two main museum spaces.
For Michael, drawing has endless possibilities once you understand it is not limited to pen or pencil to paper. His current expansion of the principles of drawing has brought him to two series of works that suspend mark making in layers of translucent acrylic.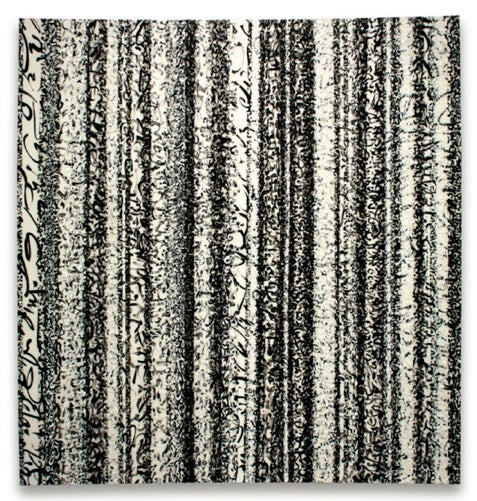 The one black and white piece in the exhibition is from an earlier series collectively titled Script. The roots of this series come from the patterns and visual effects associated with Op Art. The detailed modulations in the vertical bands of Script 214's black 'glyphs' create distinct optical fluctuations with one's depth perception while the palimpsest, or floating and overlapping synthetic calligraphy creates a symphony of beautiful noise of hidden and emerging text.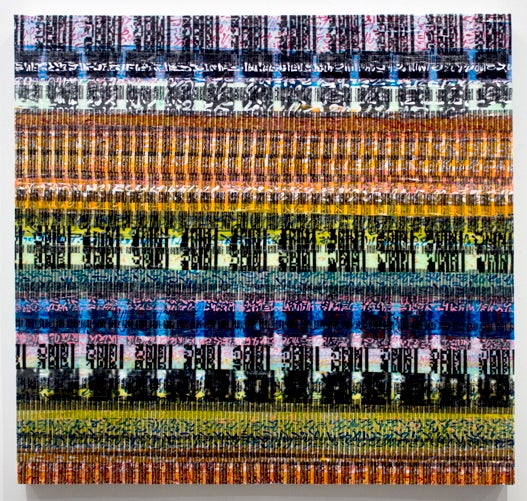 Like Script, Chronicle, has hand-rendered text inspired by everything from shorthand and Hebrew to Sanskrit, but in Chronicle, he additionally interweaves his integrated calligraphy with mechanical or digitized patterns. The discovery of these patterns came accidentally when an image became scrambled and indecipherable as it was transferred between two non-compatible software programs. At that time, the artist instantly recognized this as a marking system and found it to be an invaluable component of his work.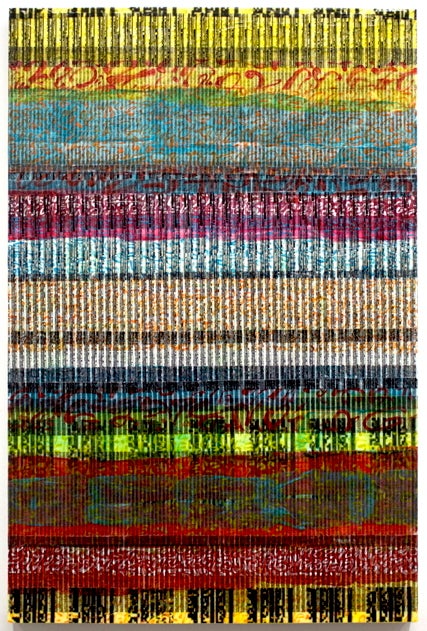 The color drawings from the Chronicle series possess a far more tribal or primal feel than the works of Script. It is as if Michael has something of an anthropological take on the digital age, whereby ancient and standard writing systems are at odds with contemporary communication. Each drawing requires multiple layers of applied transfers and suspended marks embedded in acrylic bands in its construction, a process that must be carefully and systematically applied to each surface to create that distinctive space that is both substantial in its physical depth and texture and visual in its shadows and hazes. The visceral effect of Michael's art is quite mesmerizing as the layers of indecipherable linguistics read like transmissions from another dimension. One might also think of first time archeologists, who stumbled upon Egyptian hieroglyphs, had no basis for interpreting or understanding the candle lit lines and carved symbols before them.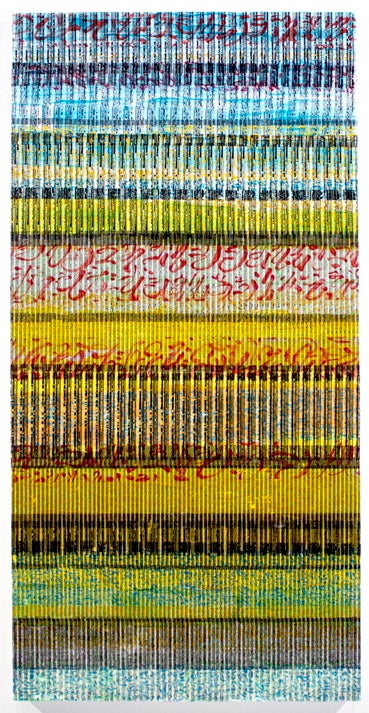 With respect to the layout and design of this new gallery: I am very happy to see that there is a much needed level of casualness; that there is an informal feel with the sitting area and art books available so visitors can experience solitude and contemplation in a comfortable, domestic setting. It is important in today's fast-paced environment that a gallery exists where one can more fully engage with art, as opposed to the pristine white box that can at times be intimidating. Michael's exhibition was organized by the museum's associate curator, Elizabeth Rooklidge and includes five significant works by the artist.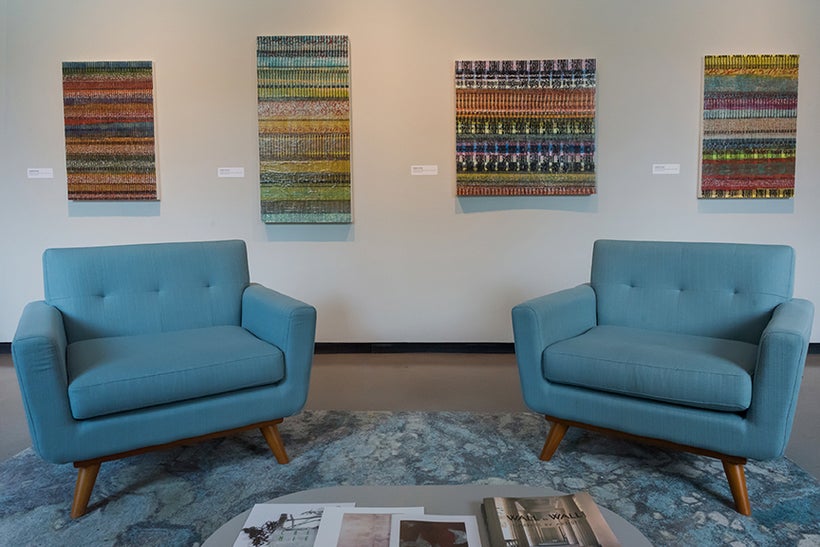 Wall to Wall: Carpets by Artists can be found in the main exhibition area. Here you will find a number of woven works designed by well-known artists including Polly Apfelbaum, Richard Prince and Christopher Wool. Walking through the space, many will be reminded of previous efforts by Joan Miró, Gustav Klimt and Wassily Kandinsky who designed rugs during the golden age of the modern era, a concept that is alive and well as seen here in current day.
Another small related show to Wall to Wall can be found In The Learning Center. There you will find Woven, Knotted and Hooked, a selection of small, tactile and colorful works by Constance Old that have a very pleasing 'Outsider' approach to the recycling of shredded paper and plastic as art.
Out front on the lawn as you drive up and in the Sculpture Garden behind the museum building you will find two wonderful examples of the work of Mark di Suvero, an artists who suffered a near fatal accident in 1960 while working on a construction site. After years of challenging and courageous rehabilitation, Di Suvero healed his broken and battered body enough to become one of Contemporary Art's greatest monumental, outdoor sculpture art.
REAL LIFE. REAL NEWS. REAL VOICES.
Help us tell more of the stories that matter from voices that too often remain unheard.
This post was published on the now-closed HuffPost Contributor platform. Contributors control their own work and posted freely to our site. If you need to flag this entry as abusive,
send us an email
.