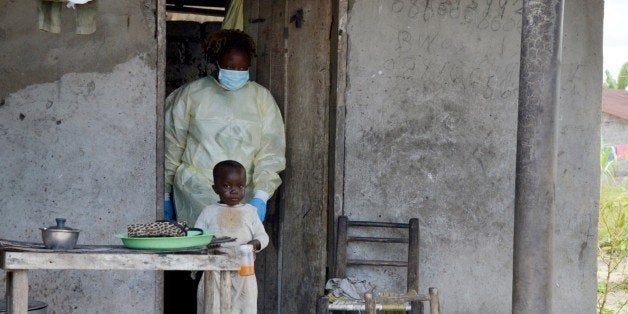 But the situation with health care systems is even more challenging in the 'hot zone' of West Africa. In Freetown, Sierra Leone, the police had to use tear gas as people took to the streets to complain about the authorities' handling of the Ebola virus. They were angry that the body of a woman who died from the disease was left on the street for two days. This is the reality of the situation.
The ongoing emergency response to Ebola by the international community is appreciated. A little too late is better than not at all. Yet a lot more can be done, starting with the quarantine and isolation practices in the worst affected countries. To be clear, the purpose of quarantine is to restrict the movement of people who were exposed to a contagious disease to see if they become sick. On the other hand, isolation separates sick people with a contagious disease from people who are not sick. Both strategies are essential in the control of epidemics, and both need to be rapidly improved in West Africa.
According to Medecins Sans Frontieres (MSF) in Liberia, "life inside an Ebola isolation center for patients who spend their time there is a dreaded one. Minute, by minute as the clock ticks the death toll rises. Many are admitted, but only few make it out alive". This explains why residents of Monrovia, Liberia's capital city, are so frightened about the situation they face. A Voice of America report says no one wants to go to a crowded, unhygienic Ebola treatment center where the risk of infection is even higher -- if they can even find a center that will take them.
Ebola quarantine conditions are an experience that the average American can hardly imagine. According to the Guardian, "As health authorities attempt to halt the spread of Ebola in Liberia (by quarantining communities), many citizens are struggling to feed themselves. People who have lost members of their household to the virus are often confined to their homes for weeks, making it difficult to collect food and other essentials." In West Point, a poor Monrovia neighborhood hard hit by the Ebola outbreak, residents complain that businesses and social life have suffered and other Monrovians treat them like outcasts.
My own country, heavily-populated Nigeria, saw a spate of Ebola cases since late July, but appears to have the situation under control. In a rare bit of good news, the Nigerian government has declared the country to be Ebola-free. But in the days leading up to that announcement, the quarantine conditions in Nigeria were not too different from what we see in Liberia today. In one 'Ebola house,' the families in the compound were not receiving any assistance. They had not eaten anything for three days because nobody would sell them any food. Just as in Liberia, the Ebola survivors in that compound were facing another battle after fighting off the disease -- stigmatization -- which also affects their families and anyone they had contact with.
This tale recounted by a UNICEF staff counsellor reminds me of the experience of a colleague at one the hospitals where I used to work. After caring for a patient who turned out to have Ebola, that young physician was quarantined for 24 hours without access to food! No wonder we keep hearing of people escaping from quarantine and isolation centers. It may be true that quarantine will always be an unpleasant experience but it does not have to be an inhumane one. At least not in oil-rich countries like Nigeria.
What is needed are decent quarantine conditions where people don't have to beg for food and daily supplies. We need well equipped isolation facilities where people can be kept alive and well supported until they are able to fight off the infection in the current absence of specific treatment. We need functional public health systems with the capacity for proper contact tracing and health education. This outbreak will end sooner than later if we had these in place.
The United States is doing a lot, but cannot do it alone. Ebola is a global health threat and it must be treated as such. So every government must do its bit to stem the tide of this epidemic. Even if the efforts of the United States were to control Ebola in Liberia, how about Sierra Leone and Guinea? A concerted effort by the international community under the auspices of the World Health Organization is long overdue.
But beyond these emergency measures there is a need to work on a long term plan to strengthen health systems all over the world against emerging infectious diseases. This should begin in the developing countries of Africa where fragile political systems do not support adequate public health financing. The civil wars of the 1990s in Liberia and Sierra Leone created a desperate refugee situation in Guinea. The health systems in all three countries were literally smashed. But even countries like Nigeria, Africa's largest economy, that appear to be politically stable still have weak public health systems because of poor governance. So the issue is really with the management of the abundant human and natural resources in Africa. Any plan to strengthen global public health must take cognizance of the need for good governments.
Ultimately, the onus lies on the governments in Africa to strengthen their own public health systems by building the required infrastructure and funding appropriate research. The West can only do so much. The people of Africa must begin to demand political accountability, good governance and votes that count. The wealth of our nations should also be used to improve our health and to prepare for the unknown. As a first step, a humane quarantine and isolation system that protects individual rights is our best bulwark against infectious disease.
Otherwise we are simply waiting until the next health crisis strikes.
Dr. Utibe Effiong is currently a research scientist at the University of Michigan School of Public Health. He is a Nigerian physician, global health commentator and a New Voices fellow with the Aspen Institute. Follow him on Twitter @UtibeEffiongMD.
This post is part of a special series produced by The Huffington Post in recognition of the threats posed by Ebola, particularly to West Africa. To see all the posts in the series, read here.
Related