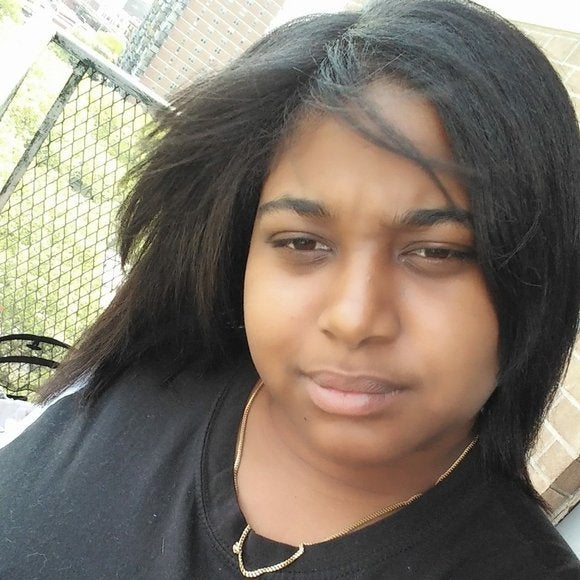 It is easy to look at Erica Garner and try to find fault with her--- that is, if you are not her. If you are not Black and a woman, then it becomes very easy to search for those imperfections that may make you feel comfortable with subjects that are very difficult to deal with: racism and misogyny. These are subjects that we, as Black women, have no choice but to confront head on. They are harsh topics, yet we are expected to deal with them in a manner that is "non-threatening" and to meet all of life's challenges with the strength and regal poise that is characteristic of those Black women society tells us we ought to be like: Oprah Winfrey, Maya Angelou, Claire Huxtable. That is nonsense, and, truthfully, we are tired of being the ones to always have to make sense of the nonsense in this society.
It does not make sense that we are human beings yet the world asks us to not behave as such; to not publicly harbor or display the emotions that are essentially human like anger, frustration and pain. It does not make sense that Erica Garner, a 27- year old mother of two--- one who was only months old upon her passing--- is gone, but what makes even less sense is that it is in the larger consciousness of this nation to find fault with anyone--- any woman who stands firm in being both Black and a woman at the same time.
Over the next few days and months, there will be a number of think pieces that try to make sense of the senseless murder of her father, Eric Garner by police in New York City and the lessons to be learned from his daughter Erica, who took on the cause of racial profiling and police brutality in the wake if such a personal tragedy. There is a story there in the legacy of Black women transcending great loss to triumph and lead despite immense pain, but how the world treats women like her doesn't make sense at all.
We can look to the mother of Emmett Till who "wanted the world to see" the effects of racism on the disfigured body of her 14 year-old son, killed because they thought it wasn't his "place" to speak to a white woman in 1955, then see how in 2017, the woman in question admits she lied both to police and on the stand at the trial of her husband and brother-in-law who were acquitted of the crime. It doesn't make sense that what should have been justice for Emmett came too late and barely at all. His mother, Mamie Till Mobley died in 2004; no one else was ever charged with his murder and his killers sold their story of how they killed and tortured him to Look magazine, for a fee, in 1956.
Sarah Collins Rudolph, the younger sister of Addie Mae Collins, one of the four girls killed in 1963 at 16th Street Baptist Church in Birmingham, and I have exchanged messages since 2015. She still suffers from injuries she sustained in that bombing and is often one of the forgotten victims. Doug Jones, who won a U.S. Senate seat in a special election in Alabama against Roy Moore, successfully prosecuted one of the only living murderers of those girls in 2002, but not after their mothers spent years trying to get that done to no avail. In 1963, Sarah's injuries did not permit her to go to her sister's funeral and she recently learned that the grave site thought to be Addie's final resting place was not. No one knows where Addie is and it doesn't make sense that Sarah has lost her sister a second time.
In 1997, in my hometown, New Haven, Connecticut, 20-year old Malik Jones was chased by police form a neighboring town with a reputation for unfair treatment against people of color. In a vacant lot, not far from his mother's home, he was stopped. There was no reason to fear him. Officers surrounded him and one smashed the driver's side window in and fired at Jones and his passenger multiple times at a close range, killing Jones almost instantly. He was unarmed. His mother Emma Jones walked around town always dressed in white, a symbol of the pain she bore and the pledge she made to see that her son got justice. There was no criminal justice. The officer was never convicted of the murder. A civil case was brought against the town of East Haven and it took a number of years before a judgement of restitution was made. East Haven is appealing the ruling and challenging the amount ordered to pay in the wrongful death suit. Their charge is that Malik's life wasn't that valuable because he had a criminal background and would have died young, anyway. It makes no sense that a governing body would position their argument to sound like they did him a favor by taking his life because they knew nothing about his background when they pursued him; all they knew is he didn't want to go through a police checkpoint in a town with a long history of racial profiling at police checkpoints.
There are so many more of these instances of senselessness, some well-known like Trayvon Martin, Tamir Rice and Sandra Bland. Then there are others, like Rekia Boyd, Aiyana Jones, Virgil Ware and Bianca Robeson who are lesser known, but still equally senseless. However, to the community of Black women, mothers, sisters and daughters who suffer these losses, the loss, itself is just the beginning because the ultimate nonsensical insult of it all is the offense others take to us when we dare speak up, stand up or fight at all; like our voices and our pain shouldn't matter because we don't matter--- to them.
Yesterday on Twitter, someone told Nelba Marquez-Greene, the mother of a beautiful, Afro-Latina girl killed at Sandy Hook Elementary School in 2012, that she should stop grieving the child she lost because "there are other children out there to love." No one should feel comfortable saying that to any mother, but it seems that the mothers and loved ones of Black children and adults lost to violence hear it almost immediately. They tell us to stop crying. To them it doesn't make sense that we hurt when our loved ones die because the stereotype is that we do not care about our families the same and that we do not have the capacity to love the same way they do. It's bull, we know it, but it is our reality nonetheless, and it doesn't make sense, but it does make for a message that Black women need to hear:
Erica's death isn't the end of the cause, but a sign that the rest of us need to voraciously take up the cause because she can't. The larger impact of this is to remember the power we have as Black women in bringing change. We lit the spark of the civil rights movement, we started Black Lives Matter and a Black woman started the #MeToo campaign, so we got this! We can do this and we have to do this; for her and for ourselves. It is believed that a record number of women will be running for something in 2018, we have to be sure that we are represented among them because we can only enforce change if we are at the table where change happens. If you are not a Black woman, but an ally or you, too, do not understand why Erica Garner was important to us and why she should be to you, as well, I offer this:
She was her generation's Fannie Lou Hamer, "sick and tired of being sick and tired," so she fought. She fought through her pain and through all the doors being closed in her face. She is part of a legacy of Black women who bear the weight of their pain and shoulder the struggles of many hoping to make the world a better place. Her loss made her an activist, her voice made her important and a force to be reckoned with. When you think about Erica Garner, think about all the Black women like her, Mamie Till Mobley, Sarah Collins Rudolph and Emma Jones who lost so much, but gave us much more than we ever deserved and appreciate them and their sacrifices. Remember, when the majority of us lose someone, we don't have to relive their final moments on TV, or hear their dying declaration, telling us that their death, their murder, is imminent. We don't have our loved ones vilified in death or our own personal background become justification for homicide. We don't see people raise hundreds of thousands of dollars to support those who've taken our loved ones away nor are we harassed on social media like Nelba Marquez-Greene for standing up for our loved ones who can no longer speak and still loving them.
This is real life and it doesn't always make sense, but when you think about Erica Garner and what she really means to the struggle and to us all, remember what her family said about her because it is true for all Black women: "Her heart was bigger than the world. She was good. She only fought for what was right. No one gave her justice."
And sadly, that makes way too much sense.
Calling all HuffPost superfans!
Sign up for membership to become a founding member and help shape HuffPost's next chapter
This post was published on the now-closed HuffPost Contributor platform. Contributors control their own work and posted freely to our site. If you need to flag this entry as abusive,
send us an email
.