NEW ORLEANS - As New Orleans, the nation and the world prepare to mark the 5th anniversary of Hurricane Katrina on Aug. 29 (and the devastating aftermath), I have been reflecting on the personal journey I have taken these past five years in my love affair with this great city.
Like many, I started watching in horror as events unfolded on CNN, and every level of government failed to care for our own citizens as levees failed and submerged much of New Orleans. I felt debilitated at first, but a resolve grew in me. I began turning the shame I felt -- as an American -- into the ideas that formed my vision of rebuilding the first truly green city in the nation.
In rebuilding a greener New Orleans, we could help improve the homes, the schools, and most importantly the lives of those in need. We would be taking a step toward a greener future that includes clean energy jobs, healthier neighborhoods, and protecting our coastal cities from sea level rise due to global warming.
Fortunately, thanks to many individuals and organizations, there is a green renaissance taking hold in New Orleans. There is a renewed hope here, despite the tragedy and the continued challenges presented by the BP oil spill.
However, there are a few people that sparked this revolution long before Global Green, Brad Pitt, or any others showed up to help support this vision.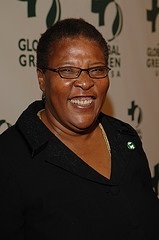 Last night -- with the setting sun in the Lower 9th Ward lighting our faces -- we stood in front of our recently completed 5 homes at our Holy Cross Project to remember one such leader and partner: Pam Dashiell. Joined by neighbors and leaders from the Holy Cross Neighborhood Association, we dedicated our Visitor's Center to the memory of Pam, an amazing woman whose leadership helped her neighborhood become a catalyst for the green renaissance -- and lead a revolution of social innovation -- of New Orleans.
Pam not only shared my vision of rebuilding New Orleans and the Lower 9th Ward sustainably, she went further. Pam worked with her Holy Cross neighborhood (a part of the Lower 9th Ward) to set a goal -- just after Hurricane Katrina -- of becoming a carbon neutral neighborhood. That made it possible to build our sustainable village in Holy Cross.
Today, we will celebrate the first phase of construction completion on our Holy Cross Project -- made possible thanks to our lead funding partner The Home Depot Foundation -- of our 5 single family homes. And we will announce $3.2 million in federal and philanthropic funding to build our Community and Climate Action Center, the first community center in the 9th Ward since Katrina.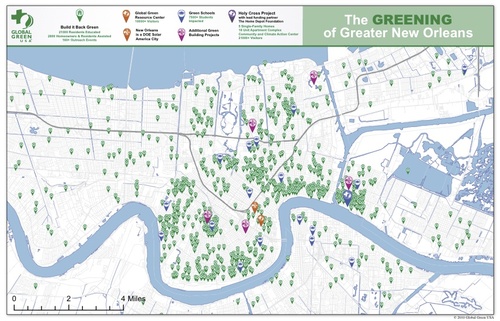 With Beth Galante, the Director of Global Green's New Orleans office, we will also debut our new Green Map that shows the thousands of green projects and programs we've created and inspired throughout New Orleans. Shortly after Katrina, we invited children to submit their drawings of a vision for the green future of New Orleans (insert pic) and today much of that vision is beginning to become a reality... though there's much more to be done.
My husband and I live one block from Global Green's Holy Cross Project in the Holy Cross Neighborhood of New Orleans. Since the day the construction site was marked by a cyclone fence, and the first ground was broken, I have passed by it almost every day while walking Liza Jane (our mutt) on the levee that rises behind it. That levee separates the five, sleek-lined buildings from the titanic tankers docked on the river at the Andry Street Wharf.

This summer, we will "make" (as we say here) five years since The Storm. The Lower Ninth Ward (where Holy Cross is situated) is tucked up against the levee and is on the highest ground the L9 has to offer. It is even above sea level. We know about disaster. We are acquainted with destruction by human negligence and the unleashed might of nature herself. We are vulnerable and we know it. That is why the Holy Cross Project matters to us so deeply. It will extend us all. It is our next hope. The architecture of our city is seductively rich in style and texture, and it enchants the imagination. It is/was sustainable in its day. Uniquely constructed for its Southern citizens living with heat/humidity/water and bugs.

The LEED Platinum status of the homes down the street from me are exactly what we need, when we need them. And we need them now. There is no place like it. I've checked. Thank you Global Green.
Thank you Marna. And thank you to Pam, and so many others who have inspired, moved and humbled me along this extraordinary journey to help rebuild New Orleans green.
Support HuffPost
The Stakes Have Never Been Higher
Related
Popular in the Community