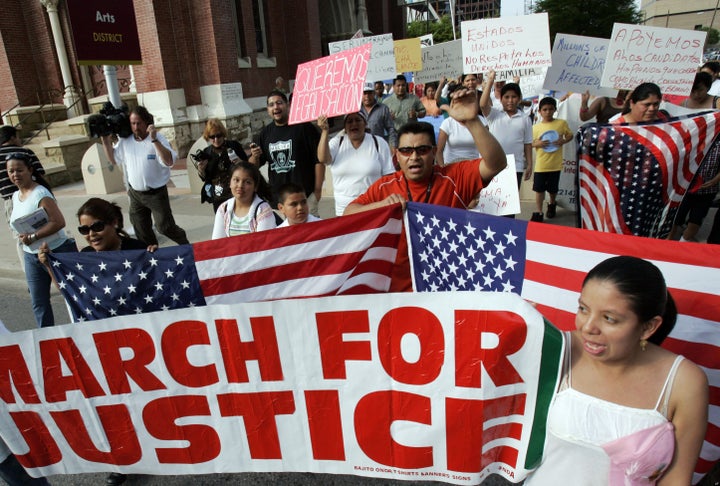 On Sunday afternoon, as many as 100,000 people are expected to descend on the National Mall in Washington and call on President Obama and Congressional leaders to keep a campaign promise: Tackling comprehensive immigration reform this year. Advocates rallying for a diverse array of critical immigration issues -- from a path to citizenship to passage of the DREAM Act -- will bring their cause to the capital in a show of force that already has the White House and key Senators talking about how to move a reform bill forward.
For one group of marchers, however, Sunday will represent a debut of sorts. In the midst of the tens of thousands rallying for reform, a contingent of 300 to 500 people will be on hand, with rainbow flags in hand, to bring attention to the struggles of lesbian, gay, bisexual and transgender (LGBT) immigrants and their families. And before they set their first foot on the grassy lawn off Constitution Avenue, their presence is already being felt and making change.
LGBT immigrants, of course, represent every cross-section of the larger immigrant community. There are undocumented LGBT people, young LGBT people who are counting on passage of the DREAM Act and LGBT people who know all too well that improvements must be made to our detention system so that every detainee is treated humanely and with respect. LGBT asylum seekers look to the United States for safe haven after being persecuted, attacked and vilified abroad. And the LGBT family -- like the American family -- includes immigrants of diverse backgrounds, beliefs and compelling personal stories.
Members from each of those communities, and more, have been called to the National Mall by Immigration Equality, a national organization representing LGBT immigrants and their families. So far, hundreds have signed up, and the list of participants continues to grow.
The organization will be joined by others from the LGBT community who are stepping up to press Congress for inclusive change, too. As Kate Kendall, executive director of the National Center for Lesbian Rights, wrote on the group's website yesterday, "it is critical for LGBT people to become involved in the push for immigration reform."
Among those marching will be Prerna Lal, a DREAM Activist who also happens to be lesbian, and is rallying for immigration reform that doesn't leave her fellow youth, or her fellow LGBT brothers and sisters, behind. For Lal, the choice between standing up for the undocumented, or standing up for LGBT immigrants, is a choice that should not have to be made.
"As a young queer immigrant, I am marching with Immigration Equality on March 21 because I believe the fight for LGBTQ and immigrant rights bring together two of the pressing issues facing our generation," Lal said recently. "Besides the obvious intersections, sexual and gender minorities along with immigrants are mutually denied access to full citizenship rights."
Lal's fellow marcher, Laurie Larson, believes that those have been denied to too many Americans as well. Larson will be marching with the Immigration Equality contingent in honor of her close friend Steve, an American citizen whose partner of nearly a decade, Joe, was recently forced to leave the country after losing his job and, by extension, his work visa too.
Had Steve been in a heterosexual relationship, he could have married his partner and they would have qualified for residency. But because Steve and Joe are both male, that option doesn't exist for them. Under current U.S. immigration law, Steve cannot sponsor Joe for residency simply because they are gay.
For Larson, Sunday is an opportunity to remind lawmakers, and the immigrant community, that a truly comprehensive bill can help LGBT families, like Steve and Joe, too. By including the Uniting American Families Act (UAFA) as part of the legislation, elected leaders can bring couples like Steve and Joe back together. UAFA -- the bill with the most co-sponsors of any single-issue immigration measure in Congress -- would allow LGBT Americans to sponsor their foreign-born partners so they could remain together in the U.S.
On Thursday, Larson's hopes got a boost, in the form of a letter from New York Senator Chuck Schumer -- the Senate's point-person for crafting comprehensive reform -- that expressed strong support for including binational families, like Steve and Joe, in the upcoming bill.
"I support [UAFA]," Schumer wrote to several constituents who had contacted him about the issue, "and I am working on introducing a comprehensive package that would address this issue along with a host of immigration issues."
The letter, first reported by reporter Kerry Eleveld at The Advocate, signaled the first unmistakable pledge by Schumer that lesbian and gay families would be part of his reform package.
"Yes!," one commenter wrote. "Please don't let us down."
"You don't have any idea how hard it is to be away from your loved one for a long time," posted another. "Those cold nights... celebrating anniversaries and holidays alone... and spending too much money on telephone bills."
For Steve and Joe, it's a reality they've come to know all too well. The two stay in touch via Skype, and are planning to relocate to Canada if the U.S. will not allow Steve to be at home in his own country with Joe.
For Larson, and an estimated 36,000 couples in similar situations as her friends who remain separated, Schumer's letter made the day-long gathering on Sunday worthwhile before it even began.
And for others, like Lal, bringing together those who live in two communities, and sometimes more, is an opportunity to educate the immigrant community about the struggles of LGBT people, and to finally open the eyes of the LGBT community to the hurdles and hardships faced by their immigrant neighbors, friends and even life partners.
On Sunday, they will all come together under a shared banner meant to build bridges, form coalitions and foster a deeper understanding.
On the eve of an historic march, history, or at least the hope of it, finally seems within reach for each of them.
REAL LIFE. REAL NEWS. REAL VOICES.
Help us tell more of the stories that matter from voices that too often remain unheard.