In my office, I keep photos of my former students, laminated books of work we've done together—first day of Kindergarten drawings, third graders' persuasive letters to Phillies great Jimmy Rollins, an informational book about our school's namesake (Julia de Burgos) artfully written and illustrated by five year olds. You get the idea. Though I am no longer in the classroom, the nine years I spent at de Burgos, a Philadelphia public school in one of the nation's most impoverished neighborhoods, shape the work I do every day at the teachers' union.
So, when I read this gut-wrenching story—so beautifully told by Philly gem Helen Ubiñas —about my former student Elijah, I pulled Elijah's picture up and tried to reconcile the charming, adorable, dimple faced grin of 5-year-old Elijah with the fact that he was now in serious trouble with the law. At 17, his future is at a critical juncture, and he's now spending it in custody six hours away from his family or the life he knows.
When Elijah was five, I knew he needed extra supports to help him overcome some challenges. But, because he was five, the all too common refrain was to give him time. And ultimately, that refrain is too common because resources are far too sparse and the expectations for our youth—particularly for our children of color living in poverty—are far too low.
But no matter how much we fought for him, like with so many of our young people, Elijah did not get the supports he needed as a young boy. And then when he was in first grade, his whole life came crashing down—his mom, Carmen, turned herself in and began serving a five-year prison sentence. Elijah struggled mightily, and though he was surrounded by family, his mom was away, and nothing was the same.
Elijah's emotional needs have, for now, gotten the best of him. His legal troubles are significant. Over the past couple of months, I have spent a good amount of time at Elijah's Family Court hearings. Seeing Elijah walk into the courtroom simply took my breath away. My God, his face—the same, wonderful face of five-year-old Elijah—now hardened, his brow furrowed, his chin down. During one of the hearings, Elijah glanced over at me, and a giant grin spread over his face. "I remember you," he mouthed to me. And as he was being escorted out of the courtroom after his case was held for another few weeks, he looked over his shoulder and said, "Bye Miss L."
"Bye, sweetie," I replied, choked up, knowing just how colossally our society has failed this young man.
And it's not only Elijah. Of course, it's not only Elijah. On the three occasions I visited Family Court, it was packed with families—mainly families of color—waiting for their moment of reckoning. Families that our society no doubt has let down in ways small and large along the way.
This week, I had the opportunity to witness a beautiful act of humanity that made me reflect on Elijah's story. A family—a courageous mother, Carmela, and her brave beyond words four children, took sanctuary at Church of the Advocate in North Philadelphia. They took sanctuary because, as with Elijah, somewhere along the way, they have been let down. Denied help in their most vulnerable moment.
They were refused asylum despite having fled Mexico to escape grave danger to their lives. But Reverend Renee opened the doors of her church and welcomed them in with a heart full of what she called "revolutionary love." Carmela, Renee, and 11-year-old Yoselyn spoke to the crowd that gathered to shepherd them into the church. As I listened to their words and felt their courage, I thought of Elijah. As I spoke with the children, who told me that they are not afraid, but nervous, their faces reflected so much hope. The family has a wonderful support system with Reverend Renee, with the New Sanctuary Movement, and with so many friends, family, and well-wishers surrounding them with love.
We have a chance to get it right for Carmela and her family. And we have a chance to get it right for Elijah. And Reverend Renee is right—it will require "revolutionary love." Reverend Renee told us that "Carmela is speaking her truth. Actions speak louder than words. People are people. Love is love." She also spoke about the "shared humanity among people of color"—that being on the margins is a powerful way to demand a shift to justice.
Tonight, Elijah spends the night and so many nights going forward in a detention center that must seem light years away for him. And tonight, Carmela, Edwin, Yoselin, Keyri, and Fidel will spend the night and so many nights going forward in a church, away from any home they have ever known. But their fights cannot be theirs alone. We must own our part in failing too many of our children and families. And we must make big, systemic changes in the racism rooted in too many of our society's structures. And that is the "revolutionary love" that Elijah deserves. That the Hernandez family deserves. Because so far, society has neglected them in unimaginable ways.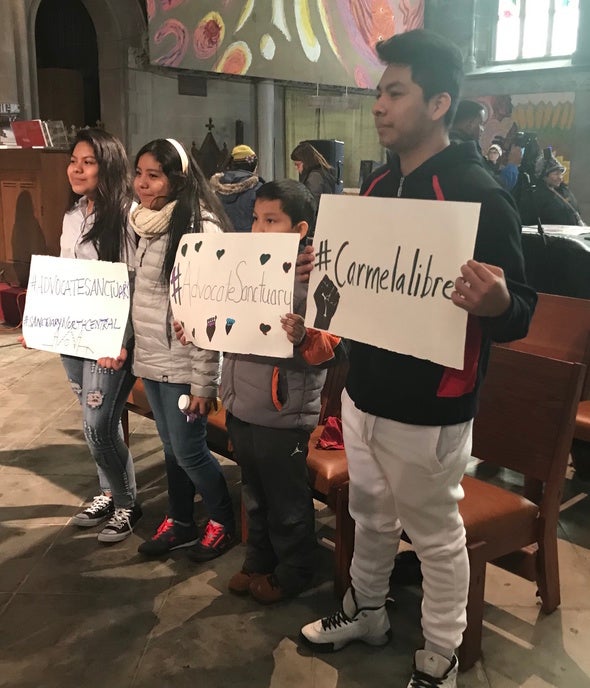 REAL LIFE. REAL NEWS. REAL VOICES.
Help us tell more of the stories that matter from voices that too often remain unheard.
This post was published on the now-closed HuffPost Contributor platform. Contributors control their own work and posted freely to our site. If you need to flag this entry as abusive,
send us an email
.