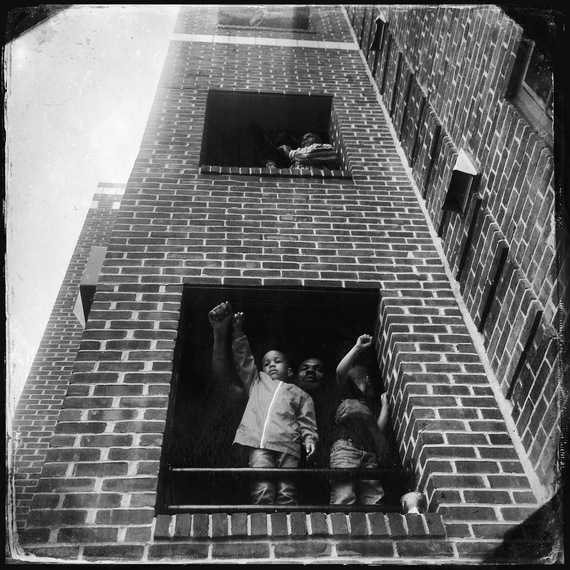 Young protesters in Baltimore after Freddie Gray's death. Jon Lowenstein/NOOR
A young black man dies under mysterious circumstances after a ride in a police vehicle in a segregated city with a lengthy history of police brutality and an entrenched culture of impunity.
The death and dubious official explanation spark calls for justice across the country and youth-led protests.
If Freddie Gray and the ongoing upheaval in Baltimore come to mind, think of another continent and an earlier decade.
Think back to South African activist Steve Biko in September 1977.
One of the most prominent advocates of Black Consciousness, the 30-year-old Biko was driven naked 12 hours and 800 miles in a police Land Rover from Port Elizabeth to Pretoria.
He had already been tortured for days, sustaining a massive brain hemorrhage, among other injuries.
He received no medical treatment during the journey, and died alone in a Pretoria prison cell the following day.
In an unprecedented move, the apartheid-era government issued a lengthy statement, asserting that Biko's hunger strike caused his death.
The comment inflamed passions among many black South Africans, including young people who were among Biko's most fervent supporters. It also revealed the regime's brutal nature to young white South Africans like Tony Karon, later a senior editor at Time magazine.
The South African government's version of events, like statements in Baltimore that Gray severed his own spinal cord and crushed his throat, were ultimately discredited.
The similarities between the two events extend beyond the puncturing of falsehoods to the societies in which they took place.
Although the laws buttressing American apartheid have been vanquished for close to half a century, Baltimore, like many American cities, remains deeply segregated.
As in South Africa during the decades-long reign of the Nationalist party, residential separation is accompanied by searing disparities in wealth, employment, poverty, housing, incarceration and overall health, according to a recent CNN article.
To give just a couple of examples, the median income of white homes is nearly double that of black families.
The station drew on 2013 data from the U.S. Census Bureau to find that the the unemployment rate was 37 percent for young black men between the ages of 20 and 24.
White men of the same age had a rate of just 10 percent.
And residents in the wealthier, predominantly white neighborhood of Roland Park had a life expectancy of 83 years, a full 20 years higher than Upton and Druid Heights, where nearly all of the residents are black, CNN found.
These disparities are by no means limited to Baltimore and its neighborhoods, but exist throughout the nation.
This includes in communities like Ferguson and Cleveland that have also seen young black men killed by police officers.
Of course, there are differences between the two societies.
In South Africa the oppression had legal sanction. Every aspect of life was determined by one's color. Only white people had the right to vote or hold office.
America has a series of promises enshrined in our founding documents, although recent events have prompted extensive reflection about how far we have yet to go to meet them. All citizens have the right to vote. Baltimore has had a series of black mayors, and our nation in 2008 elected the first black president.
Different, too, is the accountability for the police involved in the two deaths.
The men who tortured Biko were interviewed, but never charged.
On Friday, in a surprising, if not stunning, decision, recently elected State's Attorney Marilyn Mosby charged the six police officers who dealt with Gray.
Officer Caesar R. Goodson Jr., the driver of the van, faces the most serious charges of second-degree murder, three counts of manslaughter and assault.
Mosby's action was met with cautious jubilation among many black Baltimore residents, many of whom have continued to march and have said they will watch the proceedings closely to ensure that what they see as justice is done.
Yet as important as they are, these differences should not obscure the critical role young people have played in both situations.
In Baltimore, as in Ferguson last year, they decided they had had enough of the mistreatment and engaged in sustained resistance.
In June 1976, more than 10,000 school children in Soweto, South Africa's largest township, marched against the mandatory instruction of Afrikaans. Influenced by Biko and supported by his Black Consciousness Movement, these young South Africans considered Afrikaans the language of the oppressor.
It was a dark time in the history of the struggle against the apartheid regime. Many of the top leaders like Nelson Mandela, Walter Sisulu and Oliver Tambo had been imprisoned or in exile for years.
The protests spread, energized the movement and ended up altering the fabric of the country. Many who participated in those early actions helped topple the apartheid regime in the early '90s.
We don't yet know how the story will end in Baltimore for the accused officers and the city, but we do know that something powerful there and throughout the country has been unleashed.
And young people have been at the forefront.