I woke up in the middle of my life in a dark woods. And then I woke up out of the trance of that darkness.
As a researcher, Vaillant had taken part in a longitudinal study of human life and aging, the Study of Adult Development. Over a few decades, he interviewed three groups of adults who have been studied since they were adolescents. Looking at wellness and disease, at success and failure, at connectedness and isolation, Vaillant extrapolated the qualities of successful aging. I took from the book these crucial elements: meaningful work, the capacity to play, looking on the bright side, lifelong learning, loving and letting people in, and gratitude.
What startled me out of the fog was the realization that my life is already imbued with most of these qualities. I don't have to start from scratch and fabricate them out of the flotsam and jetsam that's floating around my psyche—they're already here. Despite various challenges, I was in better shape emotionally than I'd realized. Then my beloved friend Mickie came to visit and brought that understanding to three-dimensional, Dolby surround-sound, retina 4K color life.
Over the years, as Mickie confronted various issues, I'd helped her out. Now she's at a place in her life where she's reaping some of the success she deserves, and she was hell-bent on showering me with generosity. Of course, I'd extended myself to her out of love, not expecting anything in return. But that didn't matter. She was grateful.
She filled my refrigerator with groceries and she brought home bottles of wine. We walked around Manhattan and she dragged me to Fifth Avenue, claiming she wanted to peek into the Holiday windows. She marched me into Bergdorf's and to the Hermès counter, pressing me to choose my favorite scarf. "Someone wants to know which scarf you like."
I figured it was soon Christmas and someone might have asked her about a gift for me. Hermès scarves are wearable works of art, and it was going to be an extravagant gesture. "This one," I said eventually, running my fingers over the most luscious silken Tree of Life, a riot of blues and teals and turquoises and greens and yellows.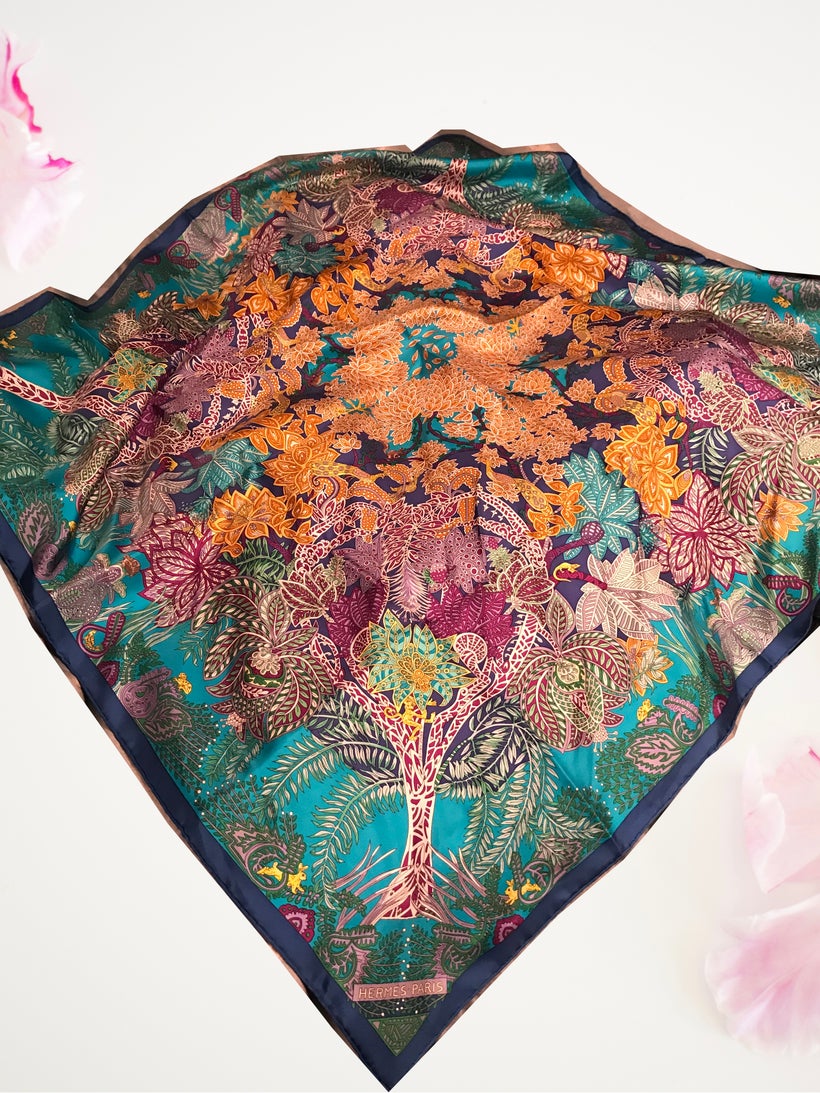 "Wrap it up, we'll take it!" Mickie told the salesman.
I gaped. I was ready to protest. This was too much!
"You can't take this away from me," she said, with some asperity.
She had a point. Feeling gratitude heals us and enriches our lives to the point of bettering it in observable ways, as Vaillant writes in Aging Well. Even so, showing gratitude to a loved one yields the most exquisite, uniquely poignant sense of upliftment. It's an exaltation in itself.
Feeling breathless and awed and—yes—also grateful, I asked the salesman to leave it out of the box and to show me how to wear the sumptuous scarf.
I spent the rest of the day stroking the scarf around my neck and laughing with Mickie, who looked pleased with herself. It was a noble act on her part. My heart was warm and soft, full of pleasure at receiving such a lovely gift from a beloved friend. I also felt great gratitude. Mickie had recognized me and it feels damn good to be recognized.
The people who talk about how good and right it is to be selfish are missing the point. The ability to be grateful requires a kind of selflessness, meaning, lacking entitlement. It's about realizing that nothing in this world is free or entitled; it's about understanding that giving and receiving as a symbiotic unit fill you up, while a focus on taking ultimately empties you out.
Dr. Vaillant writes with a light and reverent hand of gratitude in several places throughout Aging Well. Comments about the importance of gratitude are sprinkled throughout every chapter. My favorite comes when he tells the story of a physically fragile, terminally ill woman whom he calls Ellen Keller.
Keller showed no self pity but "the convincing, if wispy, laughter of a matriarch. …Her sense of humor remained… My wife and I were impressed by her likability, her simplicity, and most of all, by her dignity." (Vaillant, Chapter 6.) He goes on to marvel at her capacity to feel grateful despite her terminal illness: "From what wellspring did Ellen Keller's gratitude come? I must confess, I don't know. The origins of gratitude, of hope…and Keller's humor remain mysterious." (Vaillant, Chapter 6.)
I, for one, am grateful for the splendor of that mystery, so radiantly embodied by my friend Mickie.
REAL LIFE. REAL NEWS. REAL VOICES.
Help us tell more of the stories that matter from voices that too often remain unheard.
This post was published on the now-closed HuffPost Contributor platform. Contributors control their own work and posted freely to our site. If you need to flag this entry as abusive,
send us an email
.