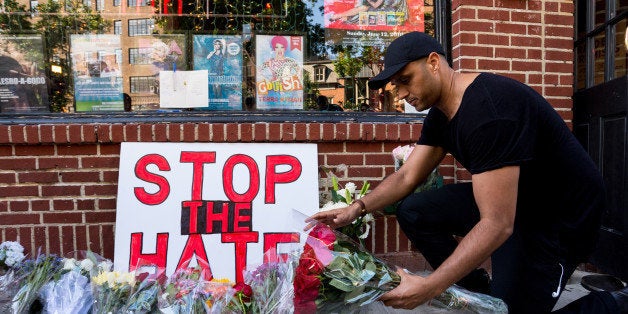 Columbine. Virginia Tech. Fort Hood. Tucson. Aurora. Newtown. Navy Yard. Isla Vista. Charleston. Umpqua. Colorado Springs. San Bernardino.
And now Orlando is etched into the list of places in America that have been forever scarred by gun violence.
In the aftermath of each of these deadly mass shootings, we express our horror, our prayers for the victims and survivors, our condolences, our thanks to the courageous first responders -- and of course, we must and we should. But words are not enough.
After the horrific tragedy at Sandy Hook Elementary School four years ago, I was convinced that Congress would finally take action to address that epidemic of gun violence that kills more than 30,000 Americans every year. But only four Republicans were willing to join with 51 Democrats and independents, and so commonsense gun safety legislation was once more derailed.
That's why I am so proud that Senator Chris Murphy - joined by his Connecticut colleague, Senator Richard Blumenthal - took to the Senate floor with a simple message: Enough is enough. The Senate must address this issue with a vote.
We may not be able to prevent every tragedy, but there is so much we can do to save lives and protect our communities. And we can do it while still protecting the Second Amendment. We should start by taking these six commonsense steps right now:
• We can pass legislation to prevent a suspected terrorist from buying firearms or explosives.
• We can pass legislation to keep military-style weapons off our streets. These are weapons of war, and they do not belong in our communities.
• We can expand background checks - an idea supported by almost 90 percent of the American people and a majority of NRA members - which will help keep guns out of the hands of criminals and the mentally ill.
• We can pass the Gun Violence Intervention Act, which would allow families to go to court to seek a "gun violence prevention order" to temporarily stop someone who poses a threat to themselves or others from purchasing or possessing a gun.
• We can increase funding for the Urban Area Security Initiative (UASI), an important grant program that helps communities plan how best to prevent and respond to acts of terrorism.
• We can protect our children by investing in the Comprehensive School Safety Initiative, which helps schools develop school safety plans and provide critical safety training to school personnel.
We need a layered defense to protect our communities from criminals and terrorists who want to inflict mass casualties, and that is what these proposals would provide.
We know that tough gun safety laws work. We have seen it in other countries, like Australia. And we have seen it in my state of California which - after passing sensible laws - saw a 56 percent drop in gun violence between 1993 and 2010, according to the Law Center to Prevent Gun Violence.
People deserve to feel safe in their communities. They deserve to feel safe at work, at school, at a shopping mall, at a movie theater, at a health clinic, at a night club.
As elected officials, we take an oath to protect and defend the American people. Right now, we are failing at our most basic task - keeping our children and our families safe from harm.
It isn't enough for us to keep lamenting these tragedies. The people of Orlando, San Bernardino, Isla Vista, Newtown and so many other communities want more than words. They want action. And they want it now.
REAL LIFE. REAL NEWS. REAL VOICES.
Help us tell more of the stories that matter from voices that too often remain unheard.