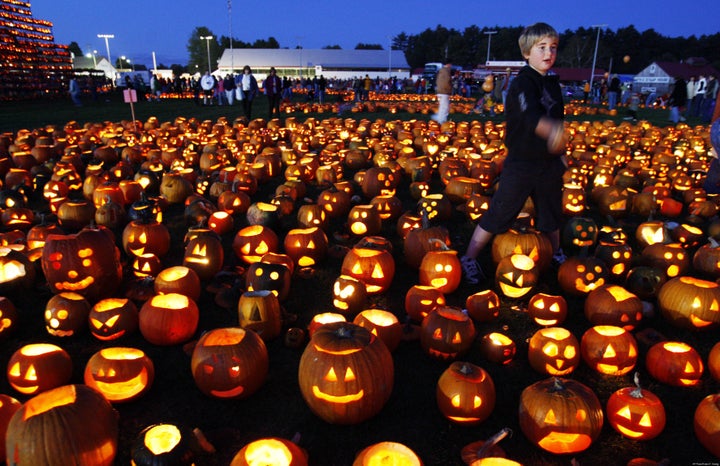 By Whitney Jones
Religion News Service
(RNS) While ghouls, witches and wizards run door-to-door for treats this Halloween, St. Michael, St. Patricia and St. Lawrence will swap candy in their basement, sharing stories of their heroic exploits.

One child, wrapped in toilet paper, sticks out from the rest, not because he's an Egyptian mummy but rather St. Lazarus, the dead man raised to life in the Gospel of John.

The festivities are part of an All Saints' Day party hosted at the Bowie, Md., home of Sam Fatzinger, a Catholic mother of 12, who wanted a more sacred alternative to Halloween.

"It's all about having fun in your faith. Just being a Christian and Catholic isn't something to be embarrassed about," she said. "We make faith come alive."

Fatzinger said the tradition started because the first neighborhood they lived in wasn't the safest, but also because they wanted to highlight the religious aspects of the holiday.

Halloween, after all, was first known as All Hallows' Eve, the night before All Saints' Day, when Christian churches commemorate all the known and unknown saints and martyrs.

This year especially, some families question whether it is appropriate to revel in ghouls and goblins since Halloween falls on a Sunday, the first time since 2004. Some will move Halloween celebrations altogether, to Saturday, to avoid Sunday conflicts with church. Some
churches will provide more wholesome activities, such as "trunk-or-treating" or harvest festivals.

Delor Baumann, the mayor of Hueytown, Ala., started asking residents several weeks ago to shift trick-or-treating to Saturday night to avoid conflicts with churches.

"Some people may go out trick-or-treating on Sunday night, but the majority of the people may not," Baumann said. "This (Saturday) is just the most respected day to do it. Saturday night and Halloween go together."

The Yorktown Church of the Nazarene in Indiana welcomes families to its "Hallelujah Harvest," a trick-or-treating alternative that includes a drama with 16 stations depicting biblical scenes, and candy for children.

Janice Blankenbaker, the coordinator of the event, said it began as an effort to keep children safe during Halloween, and she was bothered by dark, gruesome Halloween costumes.

"There ought to be something the church can do," she said, noting that the church festival still welcomes children "in their little costumes."

Overseas, Catholic bishops in England and Wales encouraged children to dress up like saints instead of ghouls or witches in a move to reclaim the evening's Christian roots.

"Take away the saints and our beliefs about the dignity and destiny of human beings and the only thing left is pre-Christian superstition regarding the dead," author Page McKean Zyromski wrote in an article for Catholic Update magazine.

Zyromski, author of "How to Pray with the Bible" and former editor of Catechist magazine, said parents can use stories of the saints -- including suffering and martyrdom -- to teach their kids important lessons.

Some girls may choose to wear the crown and fancy dress of Queen Elizabeth of Hungary, but Zyromski said they may not understand that she died at age 24 and spent much of her life in poverty.

"Until kids get bigger they don't appreciate that so many of these great saints had to suffer a great deal, even to the point of martyrdom," she said.

St. Paul's Episcopal Church in Richmond, Ind., is taking a similar approach with an All Hallows' Eve service that will include Bible stories of witches and sorcerers instead of the typical saints, angels and disciples.

The service, which will include a hymn about the setting of the sun and a reenactment of the story of the Witch of Endor summoning the ghost of the Hebrew prophet Samuel, touches on elements linked to Halloween.

Although the service is rare, the Rev. Rick Kautz said it can be an alternative to trick-or-treating and a way to focus on the Christian elements of the holiday.

"We don't look at (the holiday) in a traditional Halloweeny way," Kautz said.
Toraine Norris of The Birmingham News contributed to this report.
Related
Popular in the Community