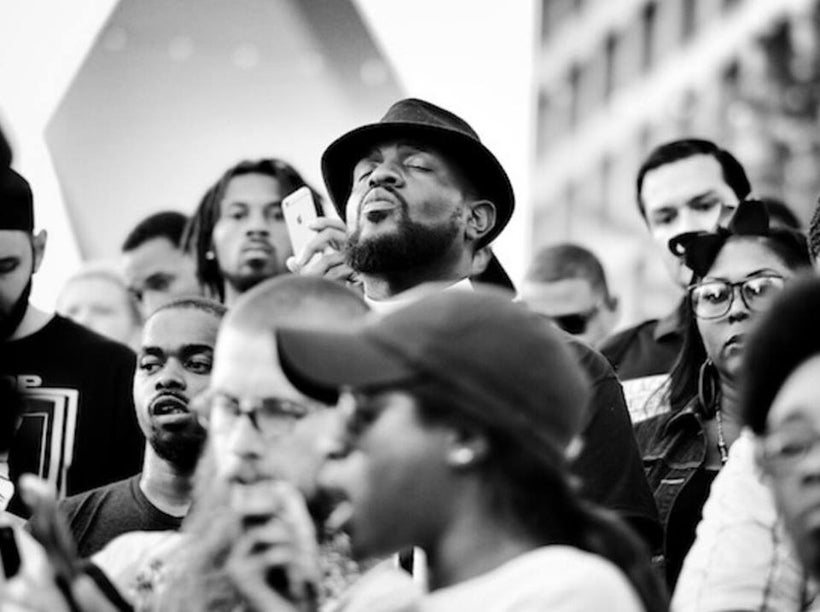 When I saw the look in her eyes, I knew something was terribly wrong.
            Two days prior, I received a call from Dr. Jeff Hood. His call went straight to my voicemail. When I saw his message pending, I already knew the reason for his call. The previous night, I had stayed up with my wife until the early hours of the morning, vexed by a video recording made viral on social media. The video depicted the final moments of Alton Sterling as he was fatally shot at point blank range by police officers in Baton Rouge. We watched the video again and again, seeking a sign that would justify the brutality we had just witnessed. We could find none. 
            Dr. Hood's call was not unusual or unexpected. Unfortunately, he had planned many solidarity rallies in response to acts of police brutality in recent years. We had previously stood together to speak out against this injustice.
            I returned his call and we spoke.  It was clear he was not expecting a large crowd, maybe 40 or 50 people. He believed there needed to be a show of solidarity in Dallas that the people of Baton Rouge not feel as though they were standing alone. I agreed, and I accepted his invitation to speak. I anticipated this would be my final public speaking appearance before heading to Philadelphia to join the 200th anniversary celebration of the African Methodist Episcopal Church already in progress.
            However, the next evening, my wife and I again found ourselves viewing yet another gruesome act of brutality. This time, the location was the State of Minnesota. This time, the victim was Philando Castile. This time, the brutality was not just recorded but live-streamed to the world by his girlfriend. It was all too much to bear. Twice, and in as many days, all we could do was watch as another young Black man took his final breath, mortally wounded without just cause by the police.
            My wife and I were not the only ones deeply moved by these acts of brutality. When we arrived that Thursday evening to the Belo Garden Park in Downtown Dallas, hundreds, not dozens, of people had already gathered. As the rally began, the evening's speakers and organizers ascended a small hill that provided a moving vantage point of the crowd. As I perused our large assembly, I was inspired by a picture of America: Black, White, Latino, Asian, Christian, Muslim, Jewish, middle-aged, Millennial, and children all standing side by side in 90 degree heat to declare that enough is enough.
            After the rally, we marched together through the streets of Downtown Dallas. Our great multitude made for a mighty witness against the scourge of police brutality. As we marched, Dallas police officers walked with us, guiding our route, directing traffic, ensuring our safety.
           We made a final stop at the Old Red Courthouse as the march reached its conclusion. It was requested that I come forward and address the multitude concerning the brutality that had unfolded there in 1910 when a black man was apprehended by a lynch mob, thrown out a second floor window, and dragged half a mile by a noose around his neck to the corner of Main and Akard Streets. There, he was hung before an estimated crowd of 4,000. I told the multitude that Dallas has a long legacy of hate, but that we were the generation that would make a difference. To this declaration the multitude roared their approval. I then invited everyone present to take a moment of silence for the many martyrs lost to police brutality.
            Our moment of silence was the final act of our gathering. Instructions were then given for how to proceed from the courthouse back down Commerce Street to the originating point of the rally. The multitude began to disperse and to walk casually in the direction of their vehicles.
            I walked with them for a moment, and then stepped to the side to ensure everyone was proceeding forward. As I stood there, I felt an overwhelming sense of pride. We had gathered together under the pretense of great and seemingly unyielding pain, but the liturgy of our peaceful demonstration had provided many some needed release. Individuals walked over and greeted me, thanking me for the words I shared that evening.
            I lifted my head to see my wife and a member of my ministerial staff walking together in the crowd. I invited them over thinking it best to stay together not to have to find each other later amid the crowd. We needed to depart soon anyway to pick up our children from their weekly dance practice at the church. I also saw Imam Omar Suleiman, a friend and brother beside whom I had stood at seemingly countless vigils and rallies over the past year addressing everything from ending gun violence to stopping Islamophobia. I invited him to come over and stand with me as well. I also wanted to know his thoughts on the total evening. 
            I took a brief glance back in the direction of the courthouse as the crowd continued to proceed down the road. A sudden movement caught my eye peripherally. I quickly turned my head to see a mass of humanity sprinting in my direction. When I saw the look in my wife's eyes, I knew something was terribly wrong.
            Instinctively, I sprinted with the multitude. I, my wife, and others in our immediate area took shelter behind columns at the George Allen Courthouse. It was then that I heard rapid gunfire amid screams and sirens. I could not tell who was shooting, how many were shooting, or at whom they were shooting. I only knew peace had been exchanged for sounds of war.
            Against my wife's wishes, I lifted my head from behind the pillar. I needed to see. I did not want to be a sitting duck if gunmen were advancing in our direction. I did not see anyone immediately headed our way, and when I looked to my right, I saw a clear path. I encouraged everyone to run and not to stop running until we made it several blocks to the Omni Hotel.   
           That following Tuesday, I sat in the symphony center choir loft just behind the main stage as President Barack Obama addressed the nation. Four White police officers and one Latino police officer had been slain that fateful Thursday night by a lone Black gunman. Seven other officers were also wounded as well as two civilians. According to police, the gunman stated that he had come to explicitly kill White police officers. Still, I considered his crimes as crimes against us all, crimes against humanity, the same as I felt for the crimes that had first brought us together that evening.
            From my exalted seat facing the audience, I watched as some of the wounded and recovering courageously entered into the room amid tremendous applause. I also witnessed the endless tears that flowed from the fallen's family members as they sat in the first few rows. I could not take my eyes off of one elderly father of one of the fallen who wept for almost the entirety of the service. My heart broke for him. Still, I also saw strength in the sea of officers that had come to pay their respects.
           The last several days had been a whirlwind for all of us. Still struggling to grasp the sudden tragedy that had unfolded that night, I was thrust into fulfilling media requests coming in constantly via phone, email, and social media from international, national, and local outlets. I stayed awake for almost 46 hours and canceled my travel to Philadelphia. There was no way that I could leave my city now. The memorial service provided me with my first opportunity to just sit and reflect.
            As the president spoke, he commiserated of having to speak at far too many memorials following mass shooting tragedies over the course of his presidency. He shared that he sometime struggled with the thought of whether or not Americans would ever find the character to open their hearts to each other and witness their "common humanity" and "shared dignity." Then President Obama offered inspiration from the pages of Scripture. He said, "…I am reminded of what the LORD tells Ezekiel. 'I will give you a new heart,' the LORD says, 'and put a new spirit in you. I will remove from you your heart of stone, and give you a heart of flesh.' That's what we must pray for, each of us. A new heart. Not a heart of stone, but a heart open to the fears and hopes and challenges of our fellow citizens."
            The president's words were profound. Undoubtedly, the racial hatred that has marred our nation is largely a matter of the heart. Only with new hearts - hearts enlightened and transformed by the loving hand of God - could our nation be fully united as one. Only with new hearts would we be able to see ourselves, not just as Americans, but as part of the human family. Only with new hearts would we see, as Martin Luther King, Jr. so powerfully stated, that "We are caught in an inescapable network of mutuality, tied in a single garment of destiny. Whatever affects one directly, affects all indirectly."
            That Thursday, exactly one week after the tragedy, I stood before a crowd assembled together in the newly-minted chapel of the newly constructed Dallas County Parkland Hospital. I had previously been afforded the opportunity of speaking at the dedication of that chapel, and for the hospital's annual Martin Luther King, Jr. Celebration after that. This time, I was here to provide words of strength and comfort at a service of reflection and hope. Parkland had received seven of the wounded officers the Thursday prior, and doctor's there pronounced dead the first two officers they received. A palatable pain was easily felt in the hospital.
            In seeking to offer words of hope and encouragement to all who had assembled, and to many others watching a stream of the service throughout the hospital, I searched myself deeply in order to find that which brought me hope in the wake of the tragedy. As I searched within, I envisioned myself standing again upon the hill looking upon the multitude that had gathered for justice.
            Once I found my hope, I spoke my hope. I said, "As we reflect upon all that has transpired in our city in recent days, as we reflect upon all that has transpired in this hospital in recent days, what hope can we find to sustain us and strengthen us for the road ahead? I must admit that at times like these, in the midst of these tensions, hope is sometimes hard to locate. However, here is the hope that I have found. While one person caused great pain last Thursday, he was greatly outnumbered. My hope rests in my confidence that there are more of us than of him, both in the world and in this hospital, persons committed to the preservation of life, yes even at the sacrifice and lying down of their own. And our commitment to the preservation of life remains. Dare I say that because of tragedy our commitment has been made stronger?"
             Amid the difficulties and disappointments that accompany our present struggle for justice, hope sometimes seems fleeting.  At times, long-fought victories may seem suddenly shattered. In the midst of the struggle, it can be easy to lose heart.
             During times of overwhelming pain and unyielding struggle, yes, even times such as these, it proves essential to change one's vantage point. Climb high upon the hill. Climb high upon the hill for a clear view. For upon the hill, we see that far more stand for the cause of peace and justice than those who seek to cause humanity harm. Upon the hill, our hope is made sure and our hearts are made new.  Upon the hill, we bear witness to a picture of Heaven while still standing upon the earth, those of every nation and tongue who shall one day gather before the throne of God.
            May we forever look to the hills, hold on to our hope, and seek new hearts. May the brutalities that separate us give way to the bonds of humanity that make us one. And may we continue to pursue justice until "justice flows like waters and righteousness like a mighty stream."
Calling all HuffPost superfans!
Sign up for membership to become a founding member and help shape HuffPost's next chapter
This post was published on the now-closed HuffPost Contributor platform. Contributors control their own work and posted freely to our site. If you need to flag this entry as abusive,
send us an email
.