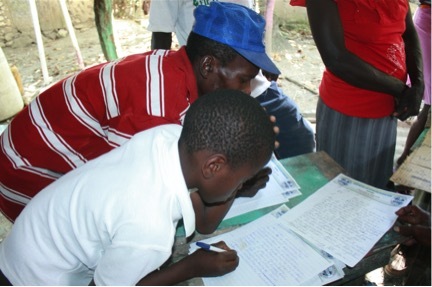 "It is with great sadness that I write you this letter to remind you that human rights are something that all people must respect no matter how powerful you are."
So reads the opening line of a letter from Viengeméne Ulisse, one of over 2,000 cholera victims who have handwritten letters to the UN Security Council to demand that the world body take action and provide justice and reparations for the suffering they have experienced due to cholera introduced by UN peacekeepers in 2010.
Viengeméne lives in Thomazeau, Haiti. In May of 2011, he suddenly fell ill with cholera and was hospitalized for eight days. "I learned that it was MINUSTAH that brought this disease to my country. In this sense, I ask the president of the United Nations and all of its allies to compensate us and bring justice and reparations," he writes.
UN peacekeepers brought cholera to Haiti in 2010 by discharging untreated human waste into Haiti's largest river. Haiti now has the world's worst cholera epidemic - over 9,000 people have died and over 760,000 have sought hospital care.
The victims are delivering their letters in connection with Human Rights Day. The UN celebrates Human Rights Day every December 10th, the anniversary of the signing of the Universal Declaration of Human Rights. Using slogans like "rights for all," it is an opportunity for the UN draw attention to the universality and equality that underpin the modern human rights system.
But to Haitians who have been employing every advocacy tool in the book to enforce their rights against the UN itself -- including holding press conferences, demonstrating, filing lawsuits, and now, writing letters -- these UN campaigns ring hollow.
"How does the UN have the moral standing to promote respect for human rights and dignity in Haiti when it is violating cholera victims' rights?" asks Mario Joseph, Managing Attorney of the Bureau des Avocats Internationaux, who has been championing the victims fight for justice for over four years.
The victims do not stand alone in their calls for rights to be upheld. A broad chorus of influential human rights leaders have joined their pleas. In October, on the five year anniversary of the UN's introduction of cholera, Amnesty International issued a statement imploring the UN that it "must not just wash its hands of the human suffering and pain that it has caused," and reminding the UN of its obligations to provide remedies under human rights law.
Many human rights leaders within the UN system itself have echoed the same call. Last year, four UN Special Rapporteurs sent an unprecedented allegation letter to the Secretary-General, setting forth allegations that the UN was violating human rights and asking the UN to justify its refusal to engage with victims' demand for remedies. The UN's 33-page response artfully sidestepped the question as to why victims had never received an apology or compensation for their harm
So far, the UN has not listened. But if it wants to show that human rights mean something, it will have to. As Amnesty concluded, "Failing to take action will only undermine the UN's credibility and responsibility as a promoter of human rights across the world."
The victims are far from giving up. When they arrived at the UN's gates in Port-au-Prince to deliver the letters, they were told to wait. "We can wait," responded Mario Joseph. "We've been waiting since 2010."
Louis Olice, who survived a cholera episode so severe that she lost consciousness, wrote in her letter, "I still believe the authorities of the United Nations will respond to the people."
Now, it's on the UN to turn words into action and show that "human rights for all" means Haitians too.
The letters can be read here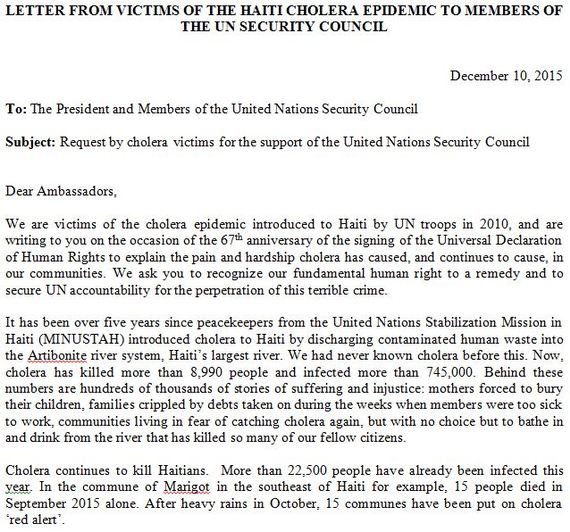 Support HuffPost
The Stakes Have Never Been Higher
Related
Popular in the Community