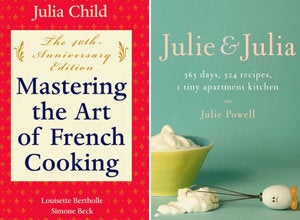 Call me picky, but this past weekend I was dumbfounded at the movie vision of a 1948 Paris resplendent with sumptuous food portrayed in Julie & Julia. That year much of Europe was suffering from starvation. In Paris there was an odd mix of lingering food rationing, a thriving black market, and government-encouraged luxury restaurants meant to jump-start the postwar tourist trade. Americans in Europe, including in Paris, were encouraged to bring food care packages from home, so as not to make matters worse for the Europeans. I will get to my non-buttery menu -- Sweated Lamb and Moroccan Oranges -- in a moment, but, first, further reflections on the film.
Was it all, for Julia Childs, a toss up between a variety of hobbies -- amateur hat making, bridge or, finally, lessons at Le Cordon Bleu? Did she, in spite of her advantages as an American government employee of shopping at the PX, take in the bleakness of the period? Did she take in why our government was pushing through in 1948 the Marshall Plan? (To feed Europe!) To move forward to a recovered France, Childs is great at describing the techniques of a complicated recipe, but the problem, as highlighted in the film, is that both Julia Childs and Julie Powell seemed to have started their culinary adventures out of boredom, perhaps having on their hands an excess of time. Her successful TV program came at a time when America was flush, suburban homes had fancy kitchens, and the feminist and anti-butter movements had not yet started. Julia Childs began her career in the publicity department of W. J. Sloan's elegant furniture store, and she and her husband were shrewd in understanding what homebound American woman wanted.
But French women, many of them doing double time as homemakers and job holders, are thrifty in their expenditure of energy. The sophisticated simplicity and frugality at the heart of French life, so much the opposite of boredom, speaks directly to our needs now. The real art of French cooking, as reflected in the art of French food shopping, is rooted in a felicitous juggling of family management. (Childs and Powell had helpmate husbands and no children to feed.) French women don't romantically just sniff at the perfect pungent melon; to paraphrase Marcel Duchamp's word invention, they also have a knack for buying the right "readymade". The French improve their meals and take short cuts with the right choice of charcuterie, and the right little jars from the épicerie. They would never consider baking their own bread, that's for the boulangerie, and fancy deserts come from the patisserie. On holidays the goose is frequently shipped off to the local baker's oven. Home cooking is for the intimate family; guests, more often than not, are entertained at a restaurant, be it modest or grand.

Now, for the butterless menu: Xavier Domingo started his writing career as a runty kid writing anti-Franco pieces from Paris, then later joined, as I did, the staff of Cambio 16 in Madrid. In his second incarnation Xavier became one of Spain's top food critics; he urged me to salt the salad, not the olive oil. "Americans put too many seasonings in the oil, which does nothing for the greens." So, one might start a meal Spanish style with the salad first. Sprinkle coarse salt on the greens, add good extra virgin olive oil, and for my taste, a bit of squeezed lemon instead of vinegar.
The French, the Spanish and Moroccans, all countries I've lived in, take their lamb seriously; though they have the advantage of having terrific lamb, our Colorado lamb is first-rate. The inns of Castile are famous for their talented asadores, the men who roast the lamb. In the special roasting oven, the tostón, the lamb is placed above a flame so low created by special tiles and wood, that it is literally sweated to delicate perfection. For those of us eating the lamb at home there are many variations of what I call sweated lamb. (In reality, poached lamb.) My favorite is from a book I filched years ago from my mother: June Platt's Party Cookbook. (Platt was one of those artistic 1930s American women like M. F. K. Fisher who fell in love with France.) You need one tool: an old white linen napkin, or buy a remnant of linen. No, cheese cloth or a piece of sheet won't do.
Way back then, Platt's Parisian friend, Madame Brissaud, insisted that the napkin be boiled to prevent shrinkage and germs. Well, we have washing machines for that purpose. Buy a leg of lamb for eight. Have the butcher trim off all the fat and skin, or do it yourself, and get an exact weight of the trimmed lamb. Wrap and tightly sew up the lamb in the linen napkin, as though you are an Egyptian swathing a mummy. Boil water in a pan big enough to cover the lamb and when the water is boiling, add ½ cup of ground white pepper, 1 tablespoon of salt, 12 juniper berries, and 10 cloves of garlic. Put in the lamb and immediately lower the heat to a simmer. Simmer gently. Platt warns that you must time it 15 minutes to the pound, not a second more, not a second less. Remove and carve as you would a leg of lamb. Lamb made this way should be remarkably succulent, and great for second day leftovers. The Spanish add no sauce, the French have a fondness for béarnaise. On a summer day American style green mint sauce is also refreshing.
While the lamb is sweating, prepare seasonable vegetables: the lamb works well with baby potatoes. I boil the potatoes, making sure that they aren't overdone or watery, and drain. Then, in the same hot pot I used to cook them in, I add a thin stream of olive oil, coarse salt, pepper and a bit of rosemary. When the olive oil sizzles, I dump the potatoes back in, cover the pot, and quickly toss it up and down as though I am popping pop corn. The hot oil on the warm potatoes makes them extra delicious.
My favorite but nameless Moroccan desert consists of rounds of oranges (when they are in season), a smattering of cinnamon, a bit of orange and lemon zest, and a small amount of orange juice. Pure ambrosia! And it's amazingly healthy. A bowl of chocolate coffee beans works well with this. And you are set.


Popular in the Community