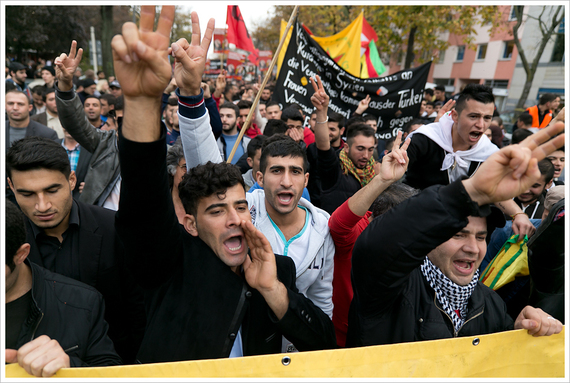 Young people in Berlin demonstrate against ISIS. Photo credit: Montecruz Foto
The dark eyes of a young African man met mine the other day for a fleeting moment. Not in person. He was on the news.
Boko Haram's latest malfeasance was being covered, and it seemed sadly normal. What got me about his stare was that he seemed sad, lost, and in shock. It was like he did not want to be there. But even if he was a volunteer, I imagine the reality of killing, maiming and raping doesn't measure up to the come-live-in-paradise advertising.
This International Youth Day, I wish I could talk to all the young people attracted to violent extremism--men and women alike--and find out what they really want. I can't. So I did the next best thing I could.
In partnership with the Center for Strategic and International Studies and the International Youth Foundation, my colleague and I collected every declaration, statement, and call to action that young people have issued at the regional and global levels over the last six years. We also looked at 11 polls of youth from every corner of the globe.
What we found surprised us. Young people certainly value education and economic opportunity as expected. However, today's youth are clear-eyed and unromantic about the regional and national insecurity, as well as corruption and poor governance that are stealing their futures.
There is a startling consensus among people under 30--who make up 50 percent of the earth's population--about the direction we former-youth should be going. In short, young people have four major priorities:
Enterprise development. They want jobs, but they don't expect the world to just hand it to them. Their top priority is entrepreneurship--training, financing, and easing burdens on new businesses. Young people are ready to not only make their own jobs but also generate new jobs for others.
21st Century Education. In many countries, the education system still operates in the 19th century, and does so very poorly. Major education reform is sorely needed, but in the meantime young people are creating new ways to learn (and teach others) the skills needed by employers in a service and knowledge economy.
An end to corruption and poor governance. Whether it was education, health, climate change or human rights, young people consistently recognized the acidic effects that corruption and poor governance have in every area of life. It is not lost on them that many in their generation are turning to violence--jihadist or not--because of daily injustices and governments that enrich few and impoverish many.
Security. Rather than being the source of insecurity, conflict and instability, young people from every continent deeply desire peace. They recognize that economic opportunities vanish in the chaos of civil strife. Most importantly, they know what will work in combating violent extremism among their own generation and they are ready to engage. Hint: see the above.
These findings build on the Global Youth Wellbeing Index, released last year by CSIS and IYF, in which youth perception research revealed that despite many obstacles young people still feel that they can contribute and succeed if supported.
This International Youth Day, we would be wise to heed this clear youth consensus. We can partner with and invest in them now, or we can spend far more to deal with our neglect later.
Calling all HuffPost superfans!
Sign up for membership to become a founding member and help shape HuffPost's next chapter