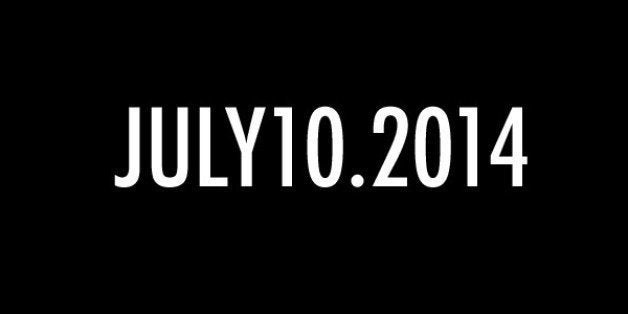 On Kawara, the 81-year-old Japanese painter and conceptual artist whose fascination with human mortality was legend, has died, The Huffington Post has learned.
The news -- first circulated on Twitter -- was confirmed by a representative of the David Zwirner Gallery. The gallery has represented the artist since 1999.
Born in Japan, Kawara first exhibited in Tokyo in the early 1950s. Though he became known for his riddle-like abstractions, he started out quite differently. He was a teenager during the bombings of Hiroshima and Nagasaki, and his early work -- much of which he destroyed -- reflected the grotesque imagery of that time, incorporating drawings of amputees and body parts.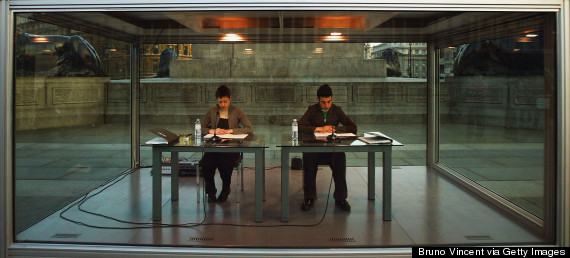 Onlookers marvel at the 'Reading One Million Years' art installation by Japanist artist On Kawara on March 30, 2004 in Trafalgar Square, London. For seven hours a day from 8am yesterday, several pairs of men and women will sit in this box and read from two printed lists of years from 998,031BC to AD1969 - the year Kawara conceived the idea - and AD1980 to AD 1,001,980. Working flat out, it is predicted the British team will only read around 217,000 years. (Photo by Bruno Vincent/Getty Images, Caption by Getty)
Kawara's later work concerned time and space in relation to human existence. His most famous project, the Today Series, is designed to end the day he does. The series of conceptual paintings is guided by rules, invented by Kawara. Each canvas is marked only with the date of creation, written in the language and conventions of the country in which it was painted. The first in the series was painted in New York, the city Kawara eventually called home.
A single canvas took the artist a full day to complete, and always included four or five coats of a single brand of paint. The lettering, always hand-painted, is in white and placed in a consistent way, whatever the canvas size.
As in much of Kawara's later work, the series was both humanist and clinical. While the paintings were constructed according to preset guidelines, they could also stir unique feelings in a viewer. An essay at the website of Phaidon Press, a publisher of Kawara's work, compares the trick to a Zen koan question, "a puzzle without a solution":
"The date paintings are clinically objective until you happen upon one that depicts the date of your wedding or the birth of your child, at which point it suddenly turns personal and evocative."
Equally, the emphasis is on the state of Kawara's existence at the time of painting, and on the nature of existence more generally. Painted dates signify a day Kawara was alive. Days without a painting attached present a riddle: What was he exactly?
Writing in a catalogue for an exhibit at David Zwirner Gallery last year, the Japanese author Lei Yamabe calls this unknown state "the flickering between life and death."
"The series will be complete when Kawara's body ceases to exist," she writes, "when superposition finally collapses completely and Kawara has entered the irreversible phase of 'death.'"
Related
Popular in the Community