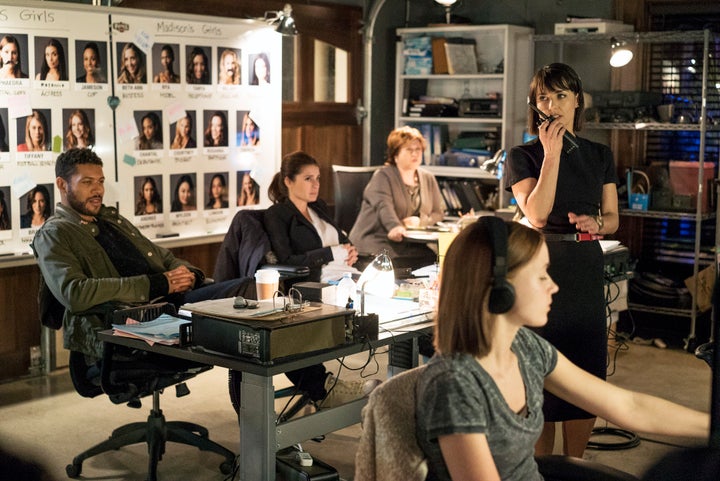 On Season 1 of "UnREAL," our first introduction to Rachel Goldberg, a producer for the fictional reality series "Everlasting" played by Shiri Appleby, shows her lying on the floor of a limo, just out of the cameraman's shot. She's brandishing a walkie-talkie and wearing a T-shirt that declares: "This is what a feminist looks like." With this limo ride, Rachel re-enters the world of reality TV, which, for her, is equal parts seductive and destructive. She comes back humbly, donned in jeans, sneakers and a nearly ever-present hoodie-and-jacket combo -- a woman ready to work and redeem herself in the eyes of her coworkers.
In Season 2, which premiered June 6, Rachel returns with a different kind of redemption on the agenda. Now she's No. 2 to former executive producer Quinn (Constance Zimmer), who's been promoted to the top spot, and she needs to look the part. 
"Hey, did you raid Quinn's wardrobe?" Rachel's on-again, off-again flame Jeremy asks her in the season premiere. Considering the all-black, sleek blazer, pants and boots she's got on, yeah, that's a fair assumption. 
There's two worlds being portrayed here: Behind the camera and in front of the camera.

Cynthia Summers, "UnREAL" costume designer
"Her vast influence for pretty much everything is Quinn," Cynthia Summers, costume designer on "UnREAL," told The Huffington Post in a recent interview. "It's that frenemy relationship that they have."
Rachel takes her new job title and turns to the closest reference available for inspiration. 
"She comes back on a high, if you will, personally. I think we really needed to reflect that. She comes back also needing to kind of redeem herself to the crew and be able to command the floor, so she's gotta look the part," said Summers.
Sure, Rachel's new executive-producer swagger helps with that, but her on-point, put-together wardrobe underlines that message with every authoritative step. As a viewer, Rachel's clothes make it clear that she's coming back to set as a different person -- but it also makes you wonder whether she's leaning on her new wardrobe in order to fake it until she makes it, in a sense.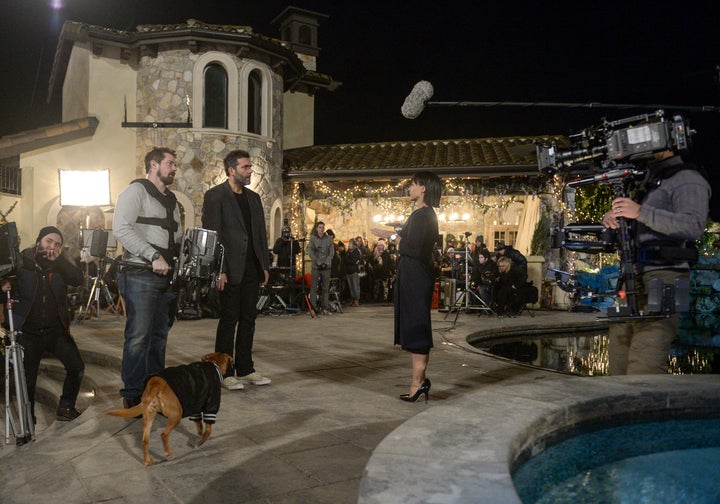 And that wardrobe is still practical, even if she's ditched the Vans and Converses of her past for Valentino Rockstud boots. "They have a heel, but it's not too high," explained Summers. "She can still march around the set and be on the move all the time. They're also fashionable, and they also show that she's got a bump in pay. She's got a pay raise as well as her status move, so she's gone out and spent the money." The rigors of a TV-set workplace, regardless of pay raise, still demand some practicality. 
Quinn, said Summers, "is not supposed to be on her feet as much this season," considering her higher status, so the heel, which inevitably connotes feelings of sexiness and power, is fair game. "There was a little kick-back about heels on her, that we were really careful with ... women, in general, have different ideas on comfort and style at work. We just had to make sure we were facilitating what the network wanted but also what Constance wanted for her character," said Summers. "A lot of women, you give them a three-inch heel and everybody feels a little more empowered, I think." Quinn's Victoria Beckham dresses complete the look: "They're easy to put on, they're sexy, but they're also appropriate for work. They're also very commanding. She strikes a very formidable, commanding physique when she's wearing that," said Summers.
The leading women aren't the only ones coming back from Season 1 with slightly elevated looks -- Chet (Craig Bierko), creator of the fictional show who was ousted in the finale, comes back to Season 2 lean and ready to fight, having spent some time in Patagonia on a journey of self-discovery. "I loved his wardrobe last season," said Summers. "I thought it was really horrible, in a great way. It was just great to watch him. He was just so slimy and awful!" Indeed, Chet has returned to the shady world of "UnREAL" sans sweatpants, ready to jostle for power once more.
Whereas it was easy to imagine Quinn of Season 1 controlling Chet with some subtle manipulation, at the onset of Season 2, it's less clear. "These two come back wanting to own the show," said Summers. "They come back, you know, with whatever way they've done it, as a character. They've gone out and revamped themselves."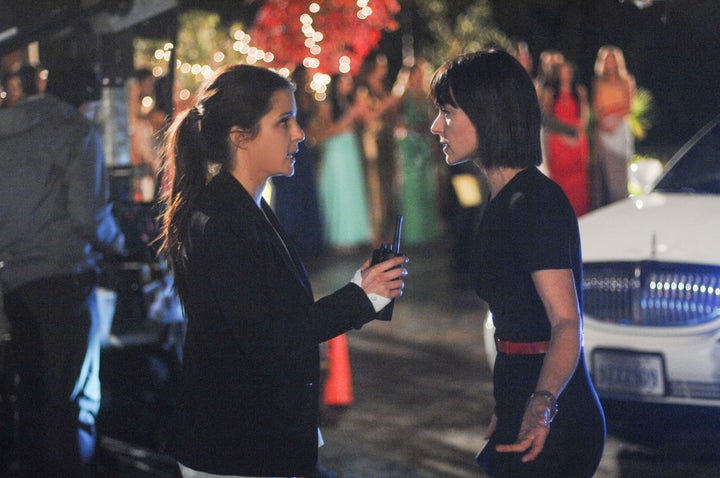 One of the most striking motifs uniting the behind-the-camera crew, however, is their commitment to their monochrome closets. "All three of them never wear color ... There's two worlds being portrayed here: Behind the camera and in front of the camera. Everything in front of the camera is sparkly, and colorful, and twinkly lights and gowns and beauty, and, you know, love. So everything under the cameras is always pretty and something you want to aspire to."
Naturally, the highly produced, brightly colored final product -- a show about finding love! -- is a foil to the dark extremes necessary behind the scenes. "Behind the camera, everything is monochromatic, everything is dark, everything is earth tones," said Summers. "[It] reflects they day-to-day grind of doing reality TV, 14-to-15-hour days and what that means, and just having to be super functional and invisible in a way, as a crew."
"UnREAL" airs Mondays at 10 p.m. ET on Lifetime.
Calling all HuffPost superfans!
Sign up for membership to become a founding member and help shape HuffPost's next chapter
BEFORE YOU GO
PHOTO GALLERY
Tweets About "The Bachelorette" Season 12, Episode 3