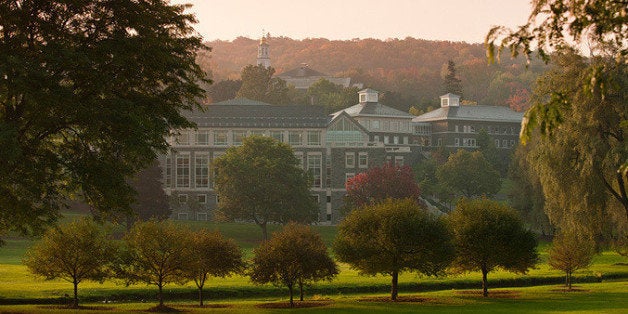 Last year, students at my college staged a 100-hour sit-in to call for a more inclusive campus community. After sitting for hours in the lobby of the main administration building, listening to stories of students feeling isolated and marginalized, I knew we had to do things differently.
Where to begin? We could draw on our own extensive research about what are known in higher education as "campus climate" challenges. For example, we had conducted a campus-wide survey and found great encouragement for changing the student residential experience. We learned of the desire to break down barriers where first-year and sophomore students lived "up the hill," and most juniors and seniors lived "down the hill."
A group of professors, staff members, students, and alumni later met to connect these recommendations to a residential program that might begin to make a positive difference for all students. A plan we call "Living the Liberal Arts" emerged as the framework that would put students at the heart of these changes. The goal is to help all students feel they belong, and experience stronger academic and co-curricular connections, from the very first day they arrive on campus.
The biggest change to date: Beginning with 200 members of the Class of 2019 who moved in in August, we are rolling out a Residential Commons program. These students have a ready-made group of staff, student-leader, and faculty affiliates who will participate in naming the space, developing traditions, selecting a mascot, and choosing unifying colors and symbols. They'll establish intramural teams, plan social outings, and arrange for gatherings throughout the year. And while this group of first-year students will live "up the hill" in two connected residence halls, they will also be affiliated with a house "down the hill," as part of the same commons with sophomores, juniors, and seniors.
To reinforce the effort to build community and a sense of belonging, events will take place in both campus locations, and we are also connecting academic and co-curricular life in more meaningful ways. Each commons residence has a classroom, where first-year seminars will be taught. Also, each commons will have a sophomore residential seminar embedded into the community. Every Friday afternoon, the faculty directors of the first commons are hosting a tea for members of the community, and weekly dinners featuring scholarly topics are hosted in the common's house on Broad Street for students, faculty, and alumni guests.
We've also renovated living spaces. We wanted to create welcoming gathering areas for student-led activities, so there are new kitchens for communal cooking, new televisions, fresh carpet, and of course paint. Additional renovations and new construction are planned for each year of the five-year Residential Commons rollout.
The Residential Commons concept isn't new, and many students find their place in a club or group that becomes part of their social foundation. What is new is the inclusivity of the program, with faculty, students, and staff participating.
In a traditional residential system, that effort is seldom deliberate. It's very transitory. Maybe somebody knows your name, maybe they don't. Students move in and move out. We learned that we needed to do more. We want each student to be part of a community with an immediate sense of place, and a home to return to as graduates.
By 2020, every one of our first-year students will have started their college experience in one of four Residential Commons.
Professor Rebecca Shiner, co-leader of our first commons, told me about students' responses to the question, "Why are you excited to be part of the commons?" The responses included: "Intellectual community," "Aspire to help out younger class years," "Direct connection to the Class of 2019," "Community and friendship," "Free shirts and food," and my favorite, "Leaving a legacy."
I am looking forward to the traditions that they will add to the history of this almost 200 year-old college. The reality is that higher education -- especially on a residential campus -- was never intended to be confined to the classroom.
Learning happens everywhere: in the residence hall, on an athletic team, in student organizations, and especially in the relationships that students develop with professors, staff members, and other peers. Students are looking for a home away from home and an enriching experience. What better way to help than to provide the best tools they need to build that community, beginning with where they live?
Calling all HuffPost superfans!
Sign up for membership to become a founding member and help shape HuffPost's next chapter