Some people hate them. They want them to disappear. They try to put gaps in them.
Some people love them. Some are knocked out by them -- the American thighs especially, I hear.
But, most of us are somewhere in the middle. I've had a love/hate thing going on with my thighs for most of my 34 years now.
When I was in the seventh grade, a friend made a comment about my lower half, calling me "little big legs." And though he meant it as a compliment, I always felt that I should be doing things to whittle down the flesh of my legs. And, even though songs like "All About that Bass" and coverage of women who totally own their voluptuous lower halves (like Queen Bey or Kim Kardashian) have made me temporarily feel pride in my build, those body-shaming voices have been known to creep in and make me stay longer in "chair pose" during yoga.
But becoming a mama has really added new perspective to my thigh conundrum.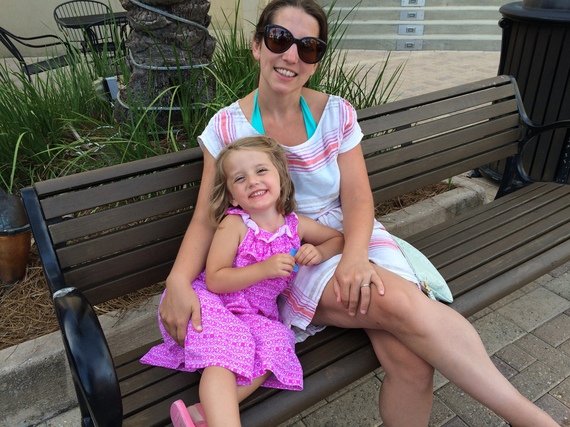 Babies love flesh. My daughter searches for the softest parts of me when she's sick or she needs a hug or reassurance. I love her cheek on my breast, her head pressed against my tummy on the couch. The way she gets cold in her bed at night and begs for me to come in so that she can put her little feet in the folds of my legs to warm her toes. Flesh is warmth, and touch is so good and so necessary in this life, right?
It's paradoxical because babies change our bodies in ways we never knew were possible. But somehow, being a mother to a small child quiets those body-shaming voices like nothing ever has. That little voice reassuring me is so beautiful, so life-affirming. When my daughter runs her soft hands over the soft places of my arm, folds herself into me and whispers, "You feel so warm, Mama. You feel like you," well, my goodness! How could I deny her this self? This body? Why do I try to deny myself?