For nearly twenty-five years, Martin Luther King Jr. Day has been celebrated as a national day of service – a day for all of us to come together to address the most pressing issues our communities face. As King asserts, "Life's most persistent and urgent question is, 'What are you doing for others?'"
On this national day of service, I encourage you to learn more about the Every Student Succeeds Act. This two-year-old national law legislates our country's commitment to equity and learning for students, and it gives all of us – as parents, business leaders, and community members – an opportunity to develop a renewed, forward-thinking vision of success for our children. At its heart, the law asks What does success in school look like? and simultaneously grants states and districts the authority, with the help of teachers, families, and the rest of the public, to answer that question.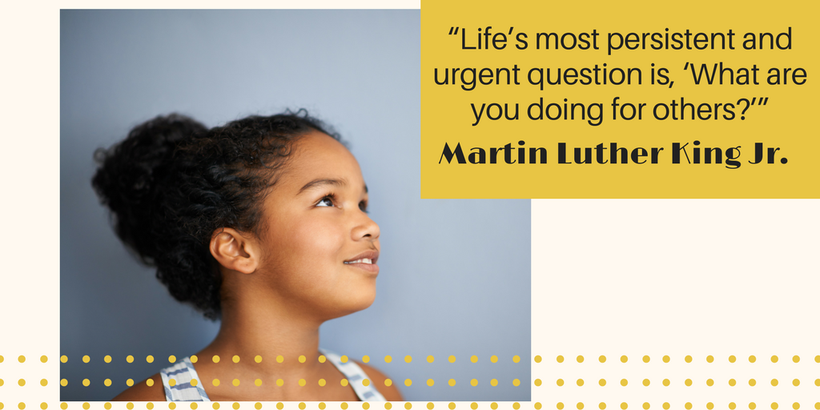 So what can you do today to ensure that every student succeeds?
1. Check out your state's plan.
King writes that "Everybody can be great… because everybody can serve." Though policy might seem intimidating, the good news is that there are tons of resources to help you understand the most essential parts of the law and how it affects students and schools. The appropriately named UnderstandingESSA.org, with its updates and news from a variety of sources, is a hub for anyone hoping to learn about how states are implementing the law. Additionally, CheckStatePlans.org is an excellent resource to find out if your state is setting a high bar for student learning, focusing on closing achievement gaps, ensuring that there is access to meaningful data, and developing plan to support struggling schools.
2. Share a vision of success with your district or state.
One of the most exciting parts of ESSA is the opportunity to envision success for all students, develop a plan for making that happen, and work together to implement the plan. While states have already developed plans for the law, they are only just beginning the hard work of implementing those plans. This is a perfect chance to exercise your civic right and duty to be involved. Local school boards have regular public meetings to make decisions about student learning, and their state-level counterparts often solicit feedback from people just like you. The more people who are involved in these important decisions, the more we can ensure that education systems incorporate and honor each community's view of what students should know and be able to do as successful members of society.
3. Contribute to your child's or community's school in meaningful ways.
Martin Luther King Jr. Day is celebrated as a day "on," not a day off. I encourage you to make it a day to plan how you'll start or continue making meaningful contributions to your local public schools. Whether it's volunteering in person, tutoring after school, leading a fundraiser, or donating supplies, there are a myriad of ways you can support your local schools with your time or money. In "Letter from Birmingham Jail," King writes that "we are caught in an inescapable network of mutuality, tied in a single garment of destiny. Whatever affects one directly, affects all indirectly." That means that if public schools struggle, an entire community struggles, but as they succeed, so do we.
Today gives us a chance to pause and ask ourselves what we want for the children in our communities, and how we can play a role in making sure every student succeeds.
REAL LIFE. REAL NEWS. REAL VOICES.
Help us tell more of the stories that matter from voices that too often remain unheard.
This post was published on the now-closed HuffPost Contributor platform. Contributors control their own work and posted freely to our site. If you need to flag this entry as abusive,
send us an email
.