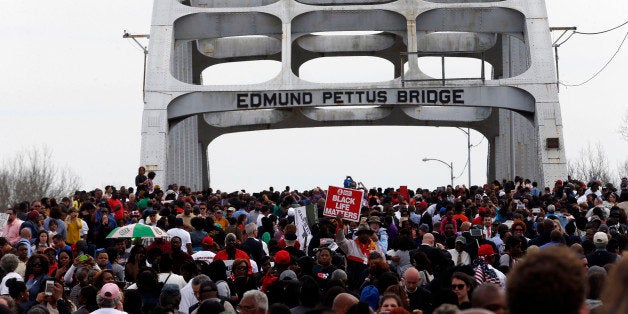 When I was growing up in the Philadelphia suburbs in the 1980s, one of my elderly neighbors, Miss Dot, an African American woman who grew up (and spent part of her adult years) in the segregated South, used to tell the neighborhood kids how good we had it.
We used to listen to Miss Dot's words with respect, but weren't feeling them, especially since my friends and I were living in the moment. And at that moment, things seemingly sucked: apartheid in South Africa, the AIDS and crack epidemics in America, and several years later, the L.A. riots following the acquittal of four white police officers who nearly beat a black motorist to death.
Today, I'm finally feeling Miss Dot's words. In the past 30 years, I have seen things I never thought I'd see in my lifetime and have come to embrace views I never thought I would. In the 1990s, we used to joke about dying before we'd see a Black president. I used to be a homophobe. Now, we are in the final days of America's first Black president, whose eight years in office have transformed the country, and in my personal life, I've become a passionate advocate for LGBTQIA equality.
When the Rev. Martin Luther King Jr. became the most prominent face in the civil rights movement, he knew the change he was pushing for might not occur in his lifetime. It didn't deter him from pushing for that progress he believed would make America inch closer towards the dream of becoming a more perfect union.
As American society evolves, it's difficult for some of us to see the power of change and appreciate the real progress that has been achieved. Today, we have taken steps to saving the planet from global warming, worked towards addressing systemic inequalities, and ensuring healthcare for all. Regardless of what happens at a political level, the reality is that human progress cannot be denied, nor can it be undone. What we see as short term obstacles and pain can lead us toward a greater good. Even if we disagree on how to go about achieving that greater good, the fact remains that we are closer now than we were even 10 years ago to achieving consensus and progress on racial, gender, and sexual equality, universal access to healthcare, and environmental stewardship.
President Obama's farewell speech eloquently touched on the substance of that argument, but I think many of us still feel like we're not there yet in terms of appreciating his words. For me, I've struggled deeply with the ramifications of what happened two months ago (and what could happen over the next four years), but I also know that I'm still in a much better place than I was growing up and being called the n-word and dothead. I know I have evolved and will continue to evolve, just as I have in changing from a homophobic misogynist to a feminist and straight ally.
All of us evolve in different ways, and societies change, even if progress can't come soon enough for many. We must continue striving for a better America, and be prepared to accept that the change we wish to see might not come in our lifetimes, or in ways different than what we predict. King knew that, and as he pushed for equality for all, he evolved in ways he likely never saw coming. Nelson Mandela transformed from a militant to a pacifist, and after more than two decades in solitary confinement, became a symbol of reconciliation. Before he became the Mahatma and the global paragon of ahimsa, or non-violence, Mohandas Gandhi was a lawyer with an affinity for well-tailored clothes. These icons evolved on many issues until their deaths, and in that vein, we should move forward with open eyes, ears, minds, and hearts.
Following the election, many commentators have noted the return of the "Archie Bunker" American, the angry white male voter who is suspicious of and angry at change. But one thing many people forget about the fictional TV character is the way he evolved over the years All in the Family and Archie Bunker's Place aired, becoming (slowly) more open to new ideas and diverse faces. While a popular culture reference may hardly be comforting, all of us have seen the power and capacity of our fellow human beings to change.
Too often, we call for open dialogue, when in reality we become missionaries of our views and entrenched in our desire to persuade those who disagree with us to come to our side. That defeats the purpose of dialogue and mutual respect.
Let's remember that it took King and the Selma freedom marchers three times before they were able to cross the Edmund Pettus Bridge. As uncertainty, anxiety, and polarization hang over us in these coming days, months, and years, let's never forget that we will one day cross that bridge.
REAL LIFE. REAL NEWS. REAL VOICES.
Help us tell more of the stories that matter from voices that too often remain unheard.