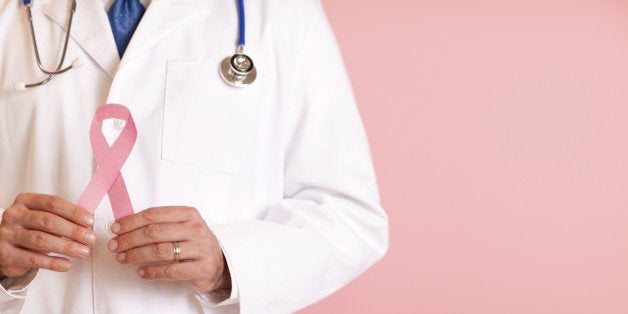 When President Obama announced his Precision Medicine Initiative, it was a new concept to many, but not to those of us involved in cancer research. To us, the president's call was a signal of a new commitment with the potential to advance the progress that's been made in understanding cancer into an era of truly personalized cancer care. One of the most promising frontiers for precision medicine is research in metastatic breast cancer.
The Breast Cancer Research Foundation has long supported research into ways we can improve diagnosis, individual therapies and - ultimately - prevention. The next step is to address the molecular and cellular interactions that make breast cancer a serious and potentially metastatic disease. To that end, BCRF has dedicated $31 million to date towards the Evelyn H. Lauder Founders Fund, an international, multi-institutional collaboration focused on dissecting the molecular basis of metastasis with the goal of accelerating discoveries that will improve outcomes for people living with metastatic breast cancer. In addition, studies in metastatic breast cancer make up approximately one quarter of BCRF's new grants for 2015-16, an investment of more than $14.5 million.
The key to achieving personalized medicine for metastatic breast cancer is in understanding how the metastatic tumor differs from the primary breast cancer, especially when the metastasis occurs after the initial breast cancer was successfully treated. Can we predict which patient is most likely to have a recurrence? If so, we can we prevent it before it happens? These are questions scientists, physicians and patients alike want answered and which BCRF researchers have been painstakingly pursuing for years with exciting results.
The so-called "liquid biopsy" has emerged as a promising non-invasive technology that allows scientists to detect individual tumor cells, as well as pieces of tumor cells (DNA, proteins or other tumor-derived cellular materials) in a sample of blood. BCRF researchers Daniel Haber (Massachusetts General Hospital), James Hicks (University of Southern California and Cold Spring Harbor), Peter Kuhn (University of Southern California), Ben Park (Johns Hopkins University), Michael Wigler (Cold Spring Harbor Laboratories), and their colleagues have been at the vanguard in the development and refinement of the liquid biopsy technology. Their collective efforts are paving the way for the identification of biomarkers that will someday be used to better assess risk and lead to better, more precise, therapies.
In another exciting development, BCRF researcher, Sofia Merajver and colleagues at the University of Michigan have developed an inexpensive device that allows researchers to study the breast cancer cells from an individual patient to determine if the cells are likely to spread to other parts of the body such as the brain, bones, liver or lungs. By placing live cancer cells from breast cancer patients inside the devices, they can study which cells are able to spread to distant sites, even before a tumor would be clinically detectable. These laboratory tools may someday help guide therapies to prevent metastases in women with aggressive breast cancers in the US and worldwide, particularly in low-resource settings where health care resources are scarce.
A major effort of the Founder's Fund is the development of laboratory models called PDX that precisely mimic an individual patient's cancer. The research team spearheaded by BCRF grantee Matthew Ellis at Baylor College of Medicine includes clinical and laboratory scientists and information technology experts from Baylor, Memorial Sloan Kettering Cancer Center, University of Utah Huntsman Cancer Institute, and Washington University in St. Louis. The team will use PDX models to pinpoint the mechanisms whereby tumors spread from the breast to cause a lethal systemic disease. The study will also generate a sustainable PDX resource for the research community for therapeutic and biological studies in metastatic breast cancer.
It will take collaboration across many different disciplines to achieve the promise of the President's Precision Medicine Initiative. While there has been tremendous progress, significant barriers remain that only research can break through. What we learn from research in one area may have great application to many others. In order for precision medicine to flourish, it is vitally important that the American public demand progress and funding of cancer research at medical institutions and universities throughout the United States. Millions of women and men impacted by breast cancer depend on it.
Related
Popular in the Community