For the past two decades as a mother, I have thought of Mother's Day as an opportunity for my four kids to show their love and appreciation for me with a homemade card or a flower planted in a ceramic pot that they made in art class at school (or any other cheap gift).
But this Mother's Day, with my 20-year-old daughter in a serious relationship with an awesome young man, my thoughts about Mother's Day have expanded. What would I like to see from the man who adores my daughter and is probably looking to get the stamp of approval from her overly-involved mother? What sorts of expectations do I have about how I want to be treated by my son-in-laws to be?
My own husband of 22 years certainly knows how to lay on the charm and with many gestures, including thoughtful phone calls and footing the dinner bill every now and then, he has earned the respect and love of my own mother.
While most of our own mothers can be won over with a big hug, for her mother, you will most likely have to work a little harder. Her protective instincts will be kicked in to high gear, making sure you are a trustworthy mate for her precious offspring.
If you really want to impress her mother, and ultimately solidify a relationship that could really work in your favor (Think: Who is your sweetheart going to call when you two get in a monster fight?), the following is a list of suggestions for you. Pick one, two or several of these that speak to you (or help inspire you to come up with your own unique Mother's Day ideas) and give them a try on Mother's Day and every day. Her mother will continue to sing your praises!
Make a charitable donation in her mother's honor. Find out from your girlfriend or wife what charity pulls at her mother's heartstrings and make a donation on her behalf. You can let her know in a Mother's Day card that the donation has been made, and you can also request that the organization send her an acknowledgment of the gift. What a great way for you to show her what a kind-hearted, generous and thoughtful guy you are.
I can't speak for all moms, but for me, and most of the moms I know, nothing makes us happier than being with our family. If you live in the same city, carve out time for you and your love interest to spend with her family. Say yes to a family meal, which potentially could involve juggling a meal shared with your own family. But if possible, try to do both. Family time is probably one of the best gifts you can give to her mom (and your own).
8. Give Her One Of Her Favorites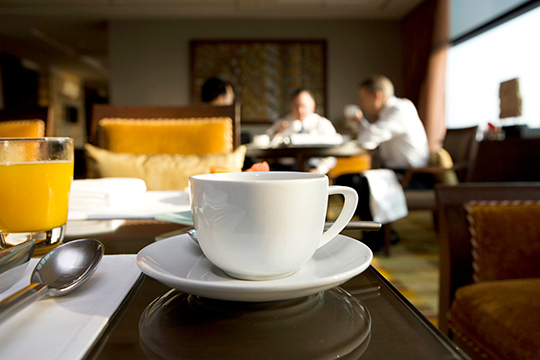 Photo: Getty Images

Find out what a few of her mother's simple pleasures are and enjoy the smile on her face when you deliver one. If the love of my daughter's life showed up at my door with a Starbucks decaf soy cappuccino on the morning of Mother's Day (or any morning for that matter), I would give him my blessing on the spot. Done. No other questions asked. If she is not a coffee drinker, showing up to Mother's Day dinner with her favorite dessert or bottle of wine is a sure way to win her heart. It's an inexpensive gift that can go a long way to pleasing her.
Calling all HuffPost superfans!
Sign up for membership to become a founding member and help shape HuffPost's next chapter