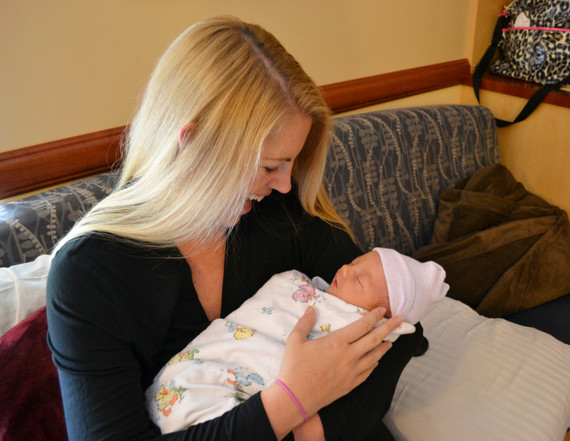 I feel like I should have something poetic or even profound to say on my first Mother's Day. But in honesty, I am overburdened with too many words, too many thoughts, too many emotions to thread them together in a coherent message. The best way I seem to express myself these days are through soft tears that water up my eyes when I take a time out to think about the past 8 months of my life.
Perhaps that is motherhood's way of keeping you sane. You are so busy with all of the changes - the diaper changes, the laundry changes, the dishwasher changes, the growing baby that changes daily that you don't have enough time to reflect on how you have changed.
The daily life as a mother is so heavy. I'm constantly balancing life as a mother, as a wife, as a daughter, as a friend, as an employee, and as a woman. Every day I feel overwhelmed. There have been many times where I've questioned my ability to be a good mother, many times when I just wanted to give up and stay in bed all day or take the longest shower of my life while the baby screamed in the other room.
But I did what mothers have been doing for centuries. I took a big breath and kept on going.
Kept waking up every three hours. Changed a diaper 5 minutes after I just changed the last. I sacrificed showers and dinners with friends and time with my husband to care for a baby who seemed to do nothing but eat, cry, and poop.
The magic of motherhood sneaks up to you in those mundane moments. It happens during that 4 a.m. feeding when you can't keep your eyes open and you think you will never sleep again, but then the baby smiles at you for the very first time.
It happens when you're changing your 10th diaper for the day but then the baby rolls over and giggles at you.
It happens when you're glued to the couch pumping more milk for when you will be apart while working and the baby starts to crawl and looks up at you with so much pride and excitement.
It happens when you are lying awake in bed full of anxiety but then get a whiff of the little newborn, heavy in sleep, lying on your chest and just feel so alive.
Motherhood is not for the faint of heart. Remember, love is all around, even in the middle of the night when you feel nothing but alone.
Just keep moving, the love will surprise you when you least expect it, coming at you full force, fueling up your heart for another day, surprising you and changing you in the most profound way.