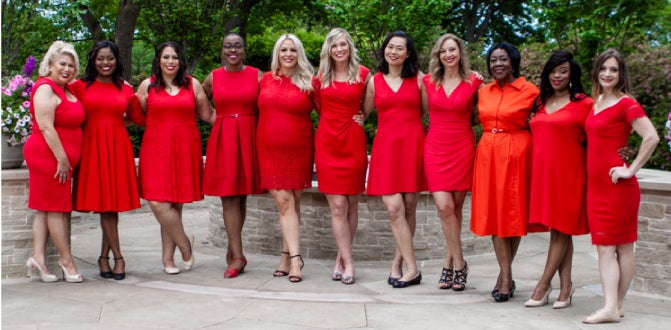 Today is National Wear Red Day, an opportunity to splash this vibrant color into your wardrobe as a declaration of your support for women with heart disease and stroke.
Doing so will link you in solidarity with Americans everywhere, including TV personalities across the networks and around the country. The tribute even extends to buildings and landmarks that will be bathed in red light.
We hope each glimpse is a reminder of the toll that heart disease takes, not just on the victims but also on the survivors left without a mother or a daughter, a wife or a friend, a colleague or a neighbor, or any other key roles in our lives.
The American Heart Association has led the fight against this problem for more than 90 years. In 2004, we launched Go Red For Women to spotlight the fact that heart disease is the No. 1 killer of women, claiming more lives than all forms of cancer combined.
Helena Foulkes is the inaugural National Chair of Go Red For Women and the president of CVS Pharmacy. It's my pleasure to turn this spot over to her to provide some practical advice on both health and life.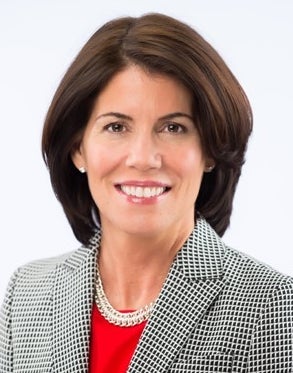 If you asked anyone to describe the profile of a patient who has had a heart attack, most likely you'd hear about an older man, clutching his chest and wincing. That's certainly true for me as I lost my grandfather to a heart attack when I was 7 years old.
What we're less likely to picture, however, is a younger woman — maybe in her 30s or 40s — with shortness of breath, fatigue, and complaining about an ache in her arm but deciding not to go to the doctor because she doesn't have chest pain.
At CVS Health, heart is at the center of everything we do. Our 240,000 colleagues put heart into every prescription we fill, every preventive screening and check-up we conduct, and every specialty and long-term care therapy we deliver to the 100 million patients we touch each year. I guess you could say that heart is part of our DNA, and inspires us to fulfill our purpose of helping people on their path to better health.
That's why CVS Health is pleased to be joining the American Heart Association in the fight against heart disease in women, and why I am so honored to serve as the inaugural National Chair for the organization's Go Red For Women movement.
In preparation for this responsibility, I've learned a lot about what we all can do to take control of our heart health. For instance:
Know Your Numbers. Many women do not realize that most regular cardiovascular screenings tests should begin at age 20, and that knowing your personal health numbers helps you and your healthcare provider better determine your risk for heart disease and stroke. Five numbers that all women should know to take control of their heart health are total cholesterol, HDL (good) cholesterol, blood pressure, blood sugar and body mass index (BMI). It's time we all know our numbers, and make sure those we love know theirs.
As part of our support of Go Red For Women, CVS Health is offering free heart health screenings at our network of more than 1,100 MinuteClinic locations on Valentine's Day. By making this important screening more accessible, we hope many more women will make this all- important appointment for their heart.
Take Action. It's not enough to simply know our personal health numbers. We should also talk with our health care providers to learn what risk factors we can control, and make any necessary changes to our lifestyle to improve our numbers and heart health. With knowledge and lifestyle changes, 80 percent of cardiovascular diseases may be preventable.
Manage Your Medications As Prescribed. Another way to reduce our risk of heart disease is by taking our medicines as prescribed. Medication non-adherence is a major problem, costing tens of thousands of lives and nearly $300 billion in healthcare costs each year. At CVS Health, we've built programs such as Pharmacy Advisor and ScriptSync that can help people take their medicines as prescribed.
Give the Gift of Heart. We all know family, friends and neighbors who have been touched by heart disease and stroke and want to support the work of the American Heart Association. We've committed to donate $10 million to help fund lifesaving cardiovascular research and education, and we are making it easy for our customers to give the gift of heart health while they shop at CVS Pharmacy. Throughout the month of February, just donate $1, $3 or more at checkout or online, and just like that you've joined the fight against heart disease and stroke by "going red."
CVS Health and the American Heart Association share a deep commitment to making a meaningful health impact in the communities we serve. And we couldn't be more energized and excited about the work we can do. Together, we can paint a different picture of cardiovascular disease and fund the necessary research to help women on their path to a healthier heart.