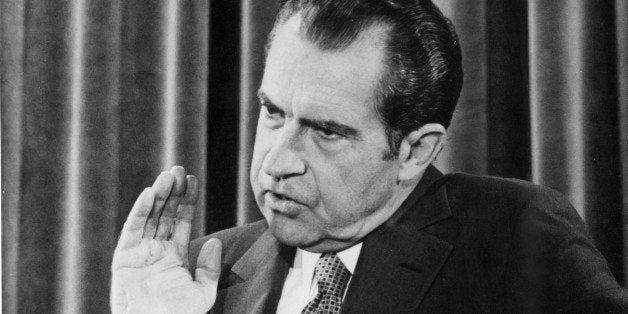 In reading Evan Thomas's Being Nixon, I was struck by this quote from Henry Kissinger about our 37th president: "Can you imagine what this man would have been like if somebody had loved him?"
As Thomas explains, Nixon's father was a combative, bullying disciplinarian; his mother, a sweet-tempered but emotionally remote woman who withheld outward displays of affection.
"Nixon was caught between two parents," Thomas writes, "trying to please both. So he sought love from one, then the other; one wonders if he ever really found it from either."
Of course, if Nixon had been loved perhaps he would've lacked the stubborn perseverance, optimistic resolve and grinding discipline that allowed him to achieve so much. Then again, love might've saved him from the anxiety, self-doubt and oversensitivity that led to his ultimately losing it all.
One thing is clear: Loving our children does not guarantee their success, nor does it fend off any future failures. It doesn't assure their mental health, nor their physical well-being. It won't forestall every fear and soothe every insecurity, nor will it protect them from life's many left hooks.
But, as the father of three grown children, I would argue that by loving our kids, and loving them unconditionally, we're giving them an enormous advantage. That love is a private gift that stands entirely outside of money, position and power. Even in combination (as in the case of Nixon), all three of them can't match or replace what love supplies. It is an unspoken promise that we will be there for them in the morning and the next morning and the morning after that.
When we show our children that they are capable of being loved no matter what they do or how they approach their lives, we free them to live boldly, take chances and be true to themselves, regardless of what others think. By loving them we are saying that there is no life they cannot live, no dream they cannot hold and no world they cannot be a part of.
We're also saying that they can be entirely other from us; that exceeding our accomplishments, or status, is actually irrelevant to our approval and affection; that they can define their identity and self-worth in terms that could be utterly foreign to our values, and that as long as the child is safe and happy, we have space in our hearts to be happy with them
I have no doubt that my parents loved me, though I never told them this, and I wish I had. A couple of instances of that love come readily to mind.
When I was 16, I was working on Saturdays for a general contractor. I wanted to impress him because I happened to be dating his daughter at the time. On one particularly hot, hazy July day, I found myself in an isolated, undesirable part of Jersey City, where my job was to re-cement a crumbling brick wall in front of a dubious looking community center. It was straightforward but tedious work, and the 90-degree temperature didn't help.
A few hours into this, my father, a highly skilled bricklayer, drove up with the tools of his trade in a cloth satchel: trowel, brick, hammer, jointer, chisel, level.
"Let me see what's what here," he said, his voice as flat as a blacktop highway. He was not a very communicative man. But he proceeded to make fast work of this mini-project of mine. Watching him patch that wall with such ease and grace, with an ever-present Chesterfield hanging from his mouth, was like watching McEnroe in his prime hitting groundstrokes with a backhand.
I don't think it really dawned on me at the time, but is there a better expression of fatherly love than this?
A few years later, I was, at the insistence of my mother, reluctantly preparing to go off to college. It was the summer of 1966. My best friend had just volunteered for the Marine Corps and I wanted to join him. (Months later while I was finishing a term paper on The Faerie Queene, my friend was part of a bloody search and destroy mission in Quang Nam Province.)
In any event, as fall approached, my main concern was not how I was going to survive Camp Lejeune and then Vietnam, but life without a car.
I never considered us poor because we always had enough food in the house, but we were not a family of many possessions and a car was an extravagance beyond reach. A bricklayer's income was modest and the work was often confined to fair weather; snow, freezing temperatures or a good rain would keep the men idle, so paychecks varied season to season. To help out, my mother took on a part-time job as a secretary at a local car dealership.
When I arrived home late from work one afternoon at the end of August, there was a 1963 cream-colored Chevy convertible in front of our house. It was a thing of beauty. While I continued to stare at it, my mother came bounding down the front steps and asked in breathless enthusiasm, "Do you like your new car?"
She had made an arrangement with the owner of the dealership to use a portion of her salary each week to pay for that car. And she thought a convertible would be "just right" for me. "You're starting a new life in college and you needed something special," she explained with her easy and engaging smile.
I still get choked up whenever I think of that gift and what she and my father sacrificed to provide it.
These and many other silent expressions of love have certainly shaped my life and made me the person I am. They are responsible, in large part, for whatever personal and professional successes I have achieved. I was fortunate enough to marry a great woman. I have a beautiful and healthy family. I continue to have a challenging and fulfilling career. I have remarkable and loyal friends and more supportive colleagues than I can count.
Love has everything to do with it.