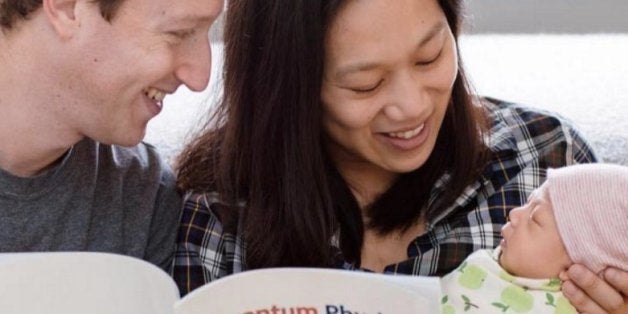 With Father's Day coming up, I'm going to celebrate my dad, my husband, and especially Mark Zuckerberg.
Why Mark Zuckerberg? Because he and Priscilla are friends, but also because he was the subject of a fascinating conversation my daughter Jenn and I had recently with a group of experts about changing perceptions of fatherhood in America. Specifically, we were talking about paid family and medical leave, and I mentioned how wowed I was by Mark's decision to take 2 months off of being CEO of Facebook to care for his newborn daughter. I admire him for choosing to step away from work at this critical time in Max's life, and I think he's set a great example for other fathers who are thinking about the role they can and should play in caregiving. My daughter and some of the younger people around the table agreed with me, but they also wondered if Mark considered taking off the entire 4 months to which he's entitled under the forward-thinking leave policy at Facebook. While we were debating the optimal length of Mark's leave, one of the older experts at the table said, "I'm just happy we're having this conversation at all!"
Clearly, this is a conversation that breaks down along generational lines. Even a few years ago, a conversation about the role of fathers in caregiving -- how to make it more meaningful and easier -- would have been difficult to imagine. But today's fathers are rethinking their roles and trying to balance their family obligations in new ways.

"Today's fathers are rethinking their roles and trying to balance their family obligations in new ways."

The "State of America's Fathers" report, which just came out, puts some hard numbers behind our conversation about a dad's time off. According to the data, perceptions of fatherhood are changing fast, and that's a very good thing.
In the last 50 years, fathers have increased the amount of time they spend with their kids during the day by 65 percent.
But that number is still less than half the amount of time mothers spend with their kids.
In the 1970s, according to census data, there were 6 stay-at-home fathers--in the entire country! Today there are almost 2 million.
These stay-at-home dads face a lot of social stigma, and almost half of them are living in poverty.
Stay-at-home dads show the same brain-hormone changes as stay-at-home moms, which suggests that the idea that mothers are biologically "better" at taking care of kids is a myth.
When dads take on at least 40 percent of the responsibility for childcare, kids show better cognitive achievement, higher test scores, fewer psychological and behavioral problems, and stronger self-esteem.
Women whose partners are more involved in childcare are healthier, happier, and more satisfied in their relationships.
Men engaged in their kids' care are more likely to be satisfied with their lives and at lower risk for depression and drug abuse.
In short, when dads spend more time taking care of their kids, everybody benefits: kids, moms, dads, and American society.
The conversation about fatherhood has come a long way. The next step is helping men be the kind of fathers they aspire to be. And we can start by promoting strong paid family and medical leave policies that apply to fathers as well as mothers.
So happy Father's Day to my dad, my husband, Mark Zuckerberg, and all the other dads out there. I hope the coming years will bring changes that give mothers and fathers more power to make choices about how they participate in family life and raise their children. The well-being of our communities depends on it.
Melinda Gates is an American businesswoman and philanthropist. She is co-founder of the Bill & Melinda Gates Foundation.