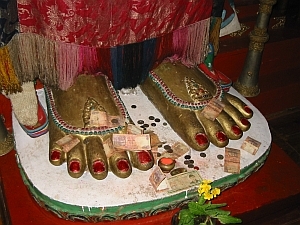 In my early 20s, I went on pilgrimage in India with my Tibetan grandmother and uncle. We traveled to the places where the Buddha walked, driving mile after hot dusty mile through the vast countryside, my uncle regaling us with stories of dacoit bandits lurking in the gulleys alongside the road, poised to leap out and cut travelers to ribbons. There were hot, dusty train rides, with dive-bombing mosquitoes and lunches of rubbery chicken that converted me to vegetarianism until I left India; holy sites where instead of communing with a higher power I spent my time fighting off beggars, touts, and self-appointed tour guides.
Accustomed to taking pilgrimages, my grandmother and uncle enjoyed the journey. But the pleasure principle of the trip escaped me. Though an Indian pilgrimage had looked romantic from the vantage point of my paper-strewn desk at college, the reality of walking in the steps of the Buddha diverged wildly from the dream. Yet maybe, in a perverse way, the pleasure principle wasn't lost on me. After all, pilgrimages weren't meant to be fun; a journey that didn't involve suffering was mere tourism. Still, without the correct attitude, could the true benefits of pilgrimage be realized? (I hated to think my suffering might be in vain.) Years later, a Tibetan monk told me something that would have eased my worry: even if you had no faith, you could gain merit from making one circumambulation of a temple, like an ant floating around a stupa on a piece of dung in a flood.
I don't know if I earned any merit on that trip, but I've ruminated a lot since then on pilgrimage, maybe because pilgrimage is part of my family tradition. My Tibetan great-grandfather went on pilgrimage every year to India's holy places, setting off from Darjeeling in the pre-dawn hours with bedding, pots and pans, a churner to make butter tea. He used to take groups of Buddhists to holy Tso Pema, the lake in northern India where the saint Guru Rinpoche is believed to have appeared from within a lotus flower. On the surface of the lake is an island of reeds. "If you are a good religious person," my grandmother used to tell me, "the island moves towards the direction of your arrival to greet you." She said the island always floated towards my great-grandfather as he approached with his party. And in 1923, when my grandmother and great-grandfather were in Tibet, they joined the river of pilgrims circumambulating the sacred 7th-century Jokhang Temple in Lhasa. Inside the temple, they prayed before the bejeweled statue of the Buddha, their faces lit by flickering butter lamps. "You must thank the Buddha for bringing you into the world," my great-grandfather told my grandmother. "After having four sons I asked him to please now give me a daughter and you were born."
We are drawn to places by our dreams, the dreams of our ancestors, and the collective dreaming of people through the centuries. These places are made special for us by what happened there, whether in our personal history or the larger history of the world. When I was in Paris a couple of years ago, I rode my bicycle over to the Left Bank one sunny afternoon, in search of the apartment on rue Monsieur le Prince where my father lived when he was a philosophy student at the Sorbonne. I lingered across the street from the building, watching people go in and out of the massive green doors, imagining my father doing the same on his way to and from class. I studied the window of the second-floor apartment that had been his, imagined him reading Descartes and Montaigne far into the night. That evening I called him in California and we had a long talk, about Paris and a lot of other things. Raised in a small New Jersey town, my father had reveled in the intellectual ferment of Paris in the 50s -- it was the age of Sartre and Camus, Beckett and Baldwin--and, to make matters even more delightful, he'd fallen in love with a French girl he met at a party on the Seine. He died suddenly in the fall, so it would be the last time we spoke. I'm grateful for that conversation, for the chance to know more about what Paris meant to him and better understand why I've always been so drawn to that lovely city, both as his daughter and as a writer.
At the end of the pilgrimage I took in India I breathed a sigh of relief, sure that when the Buddha proclaimed All life is suffering, he was referring to dacoits and rubbery chicken and self-appointed tour guides. But now I'd like to travel again to the places he made holy; return to Bodh Gaya, where he reached enlightenment under the bodhi tree. I'd like to sit under the tree's heart-shaped leaves and ancient branches, smell the incense and butter lamps and flower offerings, listen to the monks chanting sutras. I want to reflect on what happened there for the Buddha and for all who have come since, on what might happen for me. In Tibetan, "pilgrimage" is neykhor, which means to circle a sacred place. This, I think, is what we do in life, circling the places we -- and others before us -- have traveled to, finding meaning both in the journey and contemplation of the journey, whether it's circumambulating the Jokhang in Lhasa, sitting under the bodhi tree in Bodh Gaya, or cycling over to a Left Bank street on a summer afternoon in Paris.
See "Flowers Would Fall from the Sky Like Rain," my story related to Indian pilgrimage, in the new Asia Literary Review.