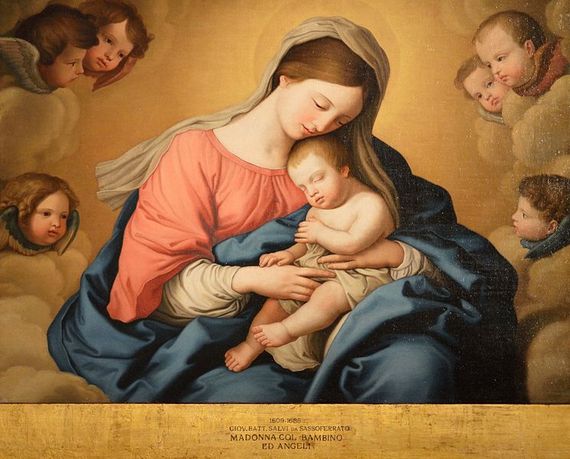 Last week, Boston Globe columnist Shirley Leung proposed that yes, women can, in fact, have it all.
Just as soon as men get pregnant.
Leung argues that even though today, more women graduate from college than men (and charge headfirst into promising careers), "all the gains women achieve at the beginning of their careers evaporate as they get older." And why? Because we bear the burden of carrying, delivering, and primarily caring for society's next generation.
As Leung points out, in March, mobile-phone firm Vodafone announced that women working for the company are entitled to at least 16 weeks paid maternity leave, and upon returning to work can opt for a reduced work schedule at full pay for six months. A huge victory for women in the workforce, right? Leung is not so sure and neither am I. We're still accepting that it's the woman's responsibility to break from her full-time career to care for her child.
"For sure, paid leave and flexible schedules are generous perks that not a lot of companies offer," Leung writes. "But by focusing on mothers, Vodafone continued to put the burden of child care on women. Here's what would have been better: Vodafone extending the same deal to new fathers and calling it parental leave."
Interestingly enough, this essay came right on the heels of my fiancé, Alex, and I having the exact same conversation. The catalyst, however, wasn't equality in the workplace (although we organically got to it as the discussion progressed) it was the terms of pregnancy itself, and birth control.
Faced with the realities of turning 30 and tying the knot, it seems I've been having an ongoing dialogue with myself regarding pregnancy and childbirth: I want kids, but I don't want to be solely responsible for incubating them, and, well, forcing them out of my body -- destroying my flesh, and, let's be honest about something here: quite possibly leading my husband to eventually stray to some younger, tighter woman in the process -- all the while putting not just my career but my self as a whole on hold until further notice. And so I fantasize. I fantasize about a futuristic society where babies gestate in see-through pods on the walls of our homes until a timer goes off and they're done, like a pot roast, ready to come out of the oven.
I hypothesized to Alex that if men bore the burden of pregnancy and child birth, this would already be a reality, to which he, of course, disagreed. But think about it. Last month Kansas Governor Sam Brownback banned second-trimester abortions. (For the record, Brownback's bodily contribution to the birth of his five children included only orgasming.) Conservatives everywhere are (still) bitching and moaning about health insurance covering birth control. Just look, for example, to Hobby Lobby, which, made headlines last year after dropping the morning after pill and IUDs from women's health plans while retaining coverage for Viagra and vasectomies. If men could get pregnant there would be no public discussion about a fetus's right to life. No one would argue that a tadpole has more rights than a fully-fledged breathing adult. You can guarantee that.
And so for the same reason that there is no male birth control pill, there will be no incubation system freeing women's bodies from what I can only describe as a biological curse. (I mean, Christians even wrote it into the first book of the Bible the way Greek mythology explains rain.) And as long as we are slaves to our biological makeup, there will be no "having it all." Unless, of course, there is a shift in the perceptions of men and women everywhere towards child-raising as a 100 percent joint responsibility. And as long as we're still talking about maternity leave and mothers' rights, then we're not even close.
Popular in the Community