Rachel Rampleman introduced me to the NYC-based, all-ladies Mötley Crüe tribute band, Girls Girls Girls one Saturday night in early 2014 during a visit to her Brooklyn studio. The band was getting ready to play their last show at the Bowery Ballroom and I was invited to witness the final act. A friend recently called Mötley Crüe "butt rock," which he told me was coined by a Seattle grunge guy in the 90s, a term I found particularly apropos. Despite that fact that I wasn't even remotely interested in Mötley Crüe, Rampleman was clearly onto something and so I was all in.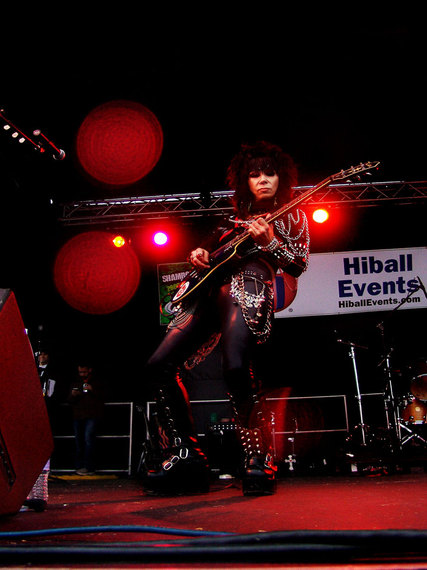 Mistress Mars (aka Denise Mercedes) in San Francisco from the photo series Girls Girls Girls, 2007-2014
Rampleman brings an omnipresent eye of the observer to the Girls Girls Girls' life cycle. With the diligence of a scientist or a collector, Rampleman marks the group's performances and eccentric activities, like working the tailgate parties of the original band, spanning from 2007 when they first performed until 2014 when they broke up over artistic differences involving Jack Daniels. She also documents the nuances of the individual women in Girls Girls Girls, who have cover lives like superheroes ranging from guitar legend to broker to hair stylist. In Rampleman's video Girls Girls Girls; New Jersey Crüefest Tailgate Party (2012), the women of Girls Girls Girls bounce back-and-forth between roles of legendary bandmates, just like musicians in a non-tribute band. Their bizarre-o world parallels a peculiar moment now inert in music history -- when men got dressed up like sexy ladies with big hair and tight pants and sang some of the most misogynistic songs ever written. Rampleman observes it all, present like an invisible member of the band, the narrator, the holder of the fan space for the rockers and the audience. Though Girls Girls Girls' audience is fewer in number, they are more targeted and more committed, together keeping a vestige alive of a movement whose heyday ended over 25 years ago.
Multiple terabytes of footage bring numerous idiosyncrasies to ponder, conceptually and phenomenologically. What is going on with Girls Girls Girls, a band of women who solely perform the songs of one of the most womanizing bands of all time? Off stage, these ladies face blatant sexism, racism, and ageism at every turn and yet they participate in all the above through their reenactments. There's a schizophrenia to the highs and lows the women experience -- from their personal connections to countless strangers through super fandom and their own star quality, to the dismissive rejection by fans who discard their flyers into piles of refuse in parking lots. They endure and subject themselves to the same conversations over and over, just like the same songs over and over. One Girls Girls Girls fan said in a Village Voice article about tribute bands, "Having young girls cover fuckin' old men is awesome." But why is that awesome? Rampleman delves into the fuzzy contradictions of Girls Girls Girls in a quite enthralling and, at first glance, subtly feminist exploration under a surface of a behind-the-scenes, reality TV aesthetic.
Studying Girls Girls Girls with the eye of an art director and a fan, Rampleman shapes the intricacies, nuanced manners and wow factors of each performer over myriad hours of on-the-road and snapshot footage. Instead of editing the video into feature length-films, Rampleman focuses on a shared passion and repossession of a thankfully bygone moment by those whom the original band idealized and marginalized, finding ownership of a movement that held her gender below a glass ceiling. What does it mean to love something that excludes you? Not unlike other marginalized populations who take on a powerful stance repossessing language, Girls Girls Girls take on the hair metal movement's brags of all the women they went through like sweaty t-shirts tossed after a show by diving deeper into a love of the atmosphere of freedom, limitlessness and forever-youngness that came with that machismo. As an outsider, it's a little bewildering and bizarre to witness that love of the oppressive hair-metal movement, smelling oddly like Stockholm syndrome, but it is clear that all involved wholeheartedly participate, revealing something powerful beyond the underlying ostracizing message of the lyrics.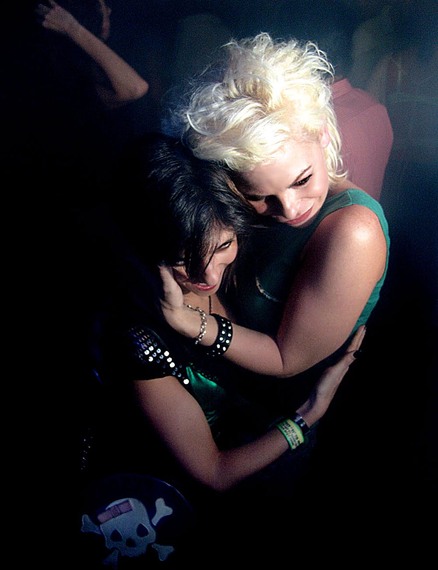 New York, NY, Robin (Vixen Neil) and Patty (Nikita Seis) Watch Tommy Lee of the Original Mötley Crüe DJ at Rebel from the photo series Girls Girls Girls, 2007
I found myself out of place, being unfamiliar with the original band, and enthralled by the female performers and their audience at every beat. These women are rock stars. They deliver charisma, armed with an endless ability to slam drinks. The lead singer, Vixen Neil (aka Robin Goodwin,) brings a voice that doesn't quit. The back-up singers dance with more enthusiasm than the original Crüe back up singers; after all they are super fans. The guitarist, Mistress Mars (aka Denise Mercedes), drips in gold and studded necklaces like chains on her motorcycle pants. Mercedes played with The Stimulators at Max's and CBGB's and has been rocking since 1978, a moment many Crüe fans were born. She mesmerized me in the way only a skilled master can. These musicians have decades of rocking and performing under their collective belts. The womanizing men are relegated to relic status as Girls Girls Girls come together to "pay tribute" to a rebellious spirit through the most male-chauvinistic band in hair metal history. Maybe that's the ultimate rebellion, rendering misogyny toothless and transformed into girl power.
I walked away awed by Girls Girls Girls' commitment and ability to put on a powerful show, but couldn't escape the nagging reality that those songs belittle women and humanity. Through Rampleman's eye, I find a deeper appreciation for what Girls Girls Girls achieve: transforming those demeaning songs into a wearable style, put on to access a boundless spirit and a love of reclaiming a moment. The re-appropriated use of language is the power and magic of it.
A fantastic zine-style art book featuring Rampleman's work and texts by Godart Bakkers, Charlotte Van Euylaere, An Paenhuysen, Jennifer & Kevin McCoy, Crystal Curtis among other notable contributors and designed by Joel Brenden of Linoleum Press is available for purchase.
Supplemental texts will also be available on Rachel Rampleman's site. Girls Girls Girls is currently broken up, but they live on online at Girls Girls Girls on Facebook.
Related
Popular in the Community