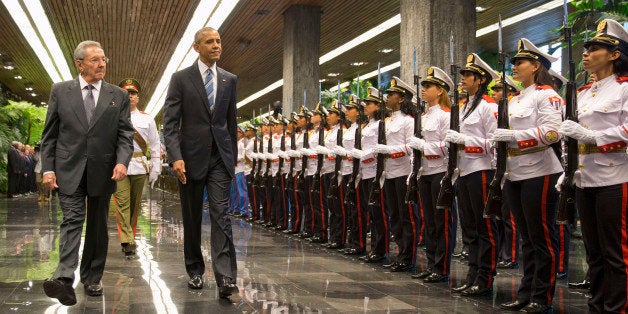 Joining President Obama's historic visit to Cuba, it's gratifying to see something I played a role in initiating almost 40 years ago: the resumption of diplomatic relations between our two nations. As a businessman promoting U.S. exports around the world, I've seen how exposure to the American people, our creativity, entrepreneurship and fundamental freedoms, moves other nations to demand internal reform and more freedoms for themselves.
Yesterday I flew to Cuba with President Obama, fellow Minnesotans Senator Amy Klobuchar and Congressman Tom Emmer, and a bipartisan delegation of my colleagues as part of the first visit to that nation by a U.S. President in 88 years. Cuba needs to rebuild, and over the next two days, we will be meeting with Cuban President Raul Castro and other top officials to discuss further normalization of trade and diplomatic relations, lifting the failed Cold War trade embargo and expanding U.S. export opportunities significant for Minnesota's iron ore mining, timber, high technology and agricultural industries.
In fact, I have been calling for a resumption of trade and diplomatic relations with Cuba ever since I initiated the first steps toward normalization in 1977 with approval from President Carter and the State Department to negotiate with Fidel Castro for the successful release of the last five American political prisoners jailed since the ill-fated Bay of Pigs invasion in 1961. As a gesture that would be well-received and reciprocated with no "quid pro cos," then President Castro and I also negotiated a goodwill exchange program between the University of Minnesota and Havana schools of agriculture. The agreement was viewed in many circles as an important step toward reconciliation between our two nations, moving us toward normal diplomatic relations.
Castro being a well-known night person, our talks started at midnight and lasted until 6:00 a.m. After agreeing to the prisoner release, Castro predicted it would take decades for the U.S. and Cuba to resume normal diplomatic relations. I thought him overly pessimistic at the time, but he proved to be correct. Later that day, I visited the prisoners and had the joy of telling them that after 17 years of confinement, they would be coming home. I'll never forget their joy.
Will this trip help push Cuba toward becoming a more open and democratic society? Again, I believe it will. America is always at its best when we lead by our example as the world's most successful democracy. In the years to come, I look forward to seeing our two nations working more closely together for the betterment of all.
Calling all HuffPost superfans!
Sign up for membership to become a founding member and help shape HuffPost's next chapter