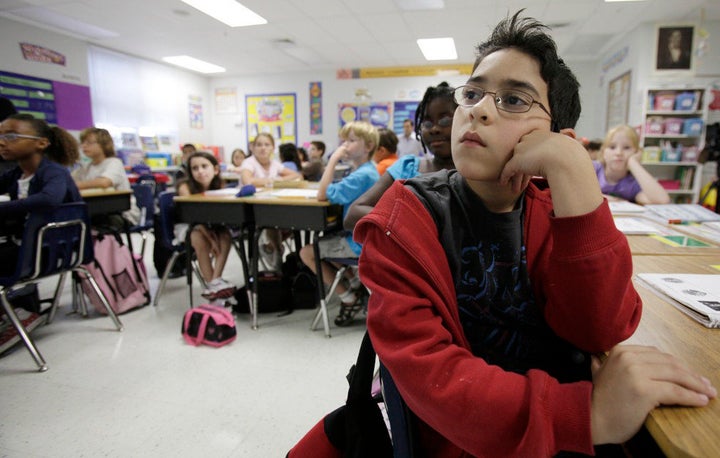 In the far northwest corner of Massachusetts, you will find Orange -- a small community in the heart of a region best described as the "Appalachia of New England," due to rampant poverty and rural isolation.
When Paul Burnim took over as Orange's Superintendent of Public Schools in 2003, he had a staff of 88. Eight years later and, under the glowering specter of economic woe, the school district struggles to support its 800 plus students with 66 employees.
"You have a situation where you see increasing need and reducing resources," Burnim says.
In a school district where 62 percent of children receive free or reduced lunch, 15 percent are homeless and another 6 percent are in foster care, not addressing the need isn't an option.
Despite the successive budget cuts, Burnim knew he had to find someone to make sure the children in need were connected to his schools. "We needed someone who could deal with issues and barriers that hinder a child's success in school," he says.
So, in 2006, he took advantage of forward thinking grants offered by the state child welfare administration and public education, to hire that someone. Joanne Woodcock is now the first school-to-home liaison. Five years later, and Woodcock has dealt with the myriad problems affecting Orange's students and their families.
When one of the little boys in the district elementary school was removed from his family and moved to a foster home far from school, Woodcock made sure a van was hired to get him to school everyday. "For him school is the only stable place in his life," she says.
In meetings with the Department of Children and Families (DCF), now charged with the young boy's care, Woodcock and his social worker determine what is in the youngster's best interest. As part of a coordinated effort with DCF, she has set up family visitation in the school with the goal of reunifying a family fractured by poverty and employment instability.
However hard and lonely it may be for the little boy, people are now focused on making it better. I tell this story because of its aching beauty.
The beauty comes from Superintendent Burnim's everyday struggle to create a trauma-sensitive school environment, that serves the children of hurting families in an economically depressed region, while dealing with a dwindling budget and overstretched staff. The beauty comes in Joanne Woodcock's conviction to ensure children and families -- both biological and foster -- have access to the community hubs that our schools can be. Her conviction to maintain relationships and steady communication with workers in the foster care system, insures that everyone will be intent on serving the best interests of children.
But, this is not how it is everywhere. As the director of Fostering Media Connections, I have traveled the nation as a journalist and advocate studying the foster care system. I have been to the rough streets of Baltimore, the green expanses of rural Washington, and the urban sprawl of Los Angeles County.
Everywhere I have gone, I have seen bright spots of incredible change. Educational advocates in Washington, make sure that 95 percent of the foster youth they work with graduate from high school.
Former foster youth exceed national college persistence rates because of an innovative system of post-secondary supports found in many of California's colleges and universities.
The director of the beleaguered Baltimore Department of Social Services works with her counterpart at equally overwhelmed Baltimore City Public Schools to ensure that foster youth have lower rates of absenteeism than their peers.
In every place I have been, I have seen glimmers of the latent potential found in our nation's foster children. I have also come to understand education as the linchpin to seeing that potential unleashed. We are a society, however, that does a poor job of tapping that incredible resource.
As little as two percent of Americans have experienced foster care, but statistics show that as much as half our homeless population have been involved with the system.
If there was ever a beachhead in the long forgotten War on Poverty, creating a pipeline for the educational equality of children experiencing foster care is it.
We have mustered a diverse set of stakeholders to dig into the practical and political changes that must be overcome to level the educational playing field for all students -- including those experiencing foster care.
The program will include Harvard Law School Dean, Martha Minow, Senators Mary Landrieu and Chuck Grassley, who were brought in from Washington DC, and clips from Waiting For Superman, as part of the film's impressive nationwide social action campaign.
In addition, we are anxious to hear from Mitchell D. Chester, Commissioner of Massachusetts' Department of Elementary and Secondary Education, Gail Garinger, Child Advocate for the Commonwealth, Angelo McClain, Commissioner of the Department of Children and Families, former foster child, actress and best-selling author, Victoria Rowell, Susan Cole, Director of the Education Law Clinic of the Trauma Learning Policy Initiative at Harvard Law School, and current foster youth Sixto Cancel.
Our deepest gratitude goes to the Huffington Post for streaming this important conversation live and to the Einhorn Family Charitable Trust for making this event possible.
As national attention focused on educational reform and the likely overhaul of No Child Left Behind right now is an ideal time to widen the discourse to include those children in foster care.
For those on the front line, like Burnim and Woodcock, this is a moment to say thank you and that we support the change you fight to make.
Watch the live stream here at 5 p.m. EST on May 24:
Calling all HuffPost superfans!
Sign up for membership to become a founding member and help shape HuffPost's next chapter