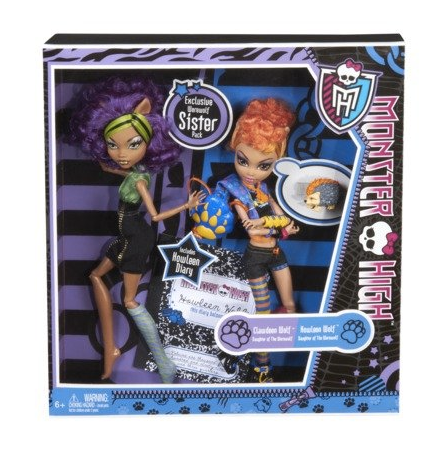 The night before the Halloween school dance, my 7-year-old daughter decides that her costume will only be complete if she paints her face brown.
Howleen Wolf is a confident cool character from the series "Monster High." We've ordered the costume and got the wig. The face paint is the last step.
"We'll see," I tell her, hesitating and then change the subject. Her older brother, going as The Joker, will be painting his face white. Her best friend, going as Howleen's sister, Clawdeen Wolf, is biracial and we don't know what her makeup plan will be. I imagine this could turn into a fight the following day, but I don't want my daughter putting brown makeup on her white face.
"Is this really blackface?" my husband asks later that evening, as we fret about it. "All she thinks of is that Howleen's a werewolf."
Though a white child was wearing the costume in the advertisement, the cartoon character my daughter loves is clearly black. While I know that my daughter doesn't intend to offend, it doesn't sit right with me. How could I explain my discomfort to her? Maybe because I couldn't articulate my objection, I was being too sensitive. After all, she thought of it as "wolf-face."
In the beginning of my parenthood, I took my infant son to the local library in Crown Heights, Brooklyn for a weekly reading program. As our children played, I chatted with mothers in abayas and headscarves as well as West-Indian moms, and women from various religious Jewish sects that I didn't know existed.
Raising my children in the city, I told myself, would expose them to everyone and prevent them from discriminating against anyone.
Sometimes my kids seem to regard skin color as just another trait like freckles or dimples. Recently they asked us if our friends would tell their preschooler that he was adopted. We explained that it would be pretty clear, and they were confused. The child is African-American and his parents are white.
I told the child's father this as a funny anecdote. He sighed and told me that his son was becoming aware of the difference in his looks and it was bothering him.
It dawned on me for foolishly the first time that my white children have the privilege to be color-blind and this young person of color does not.
As my kids learn about slavery and civil rights in school, the discussion of race is beginning slowly and sensitively in our house. One night my son asked me why some schools are still segregated. While I can tell him that legally they no longer are, he looks around at various school groups he sees in New York City and thinks otherwise.
I skipped over the line of dialogue "The only good Indian is a dead Indian" in the "Little House on the Prairie" book I'm reading aloud. But then we had a long and heated discussion as a family about how what the government was doing at that time was basically stealing land from the rightful owners.
Talking about race is a conversation I'm sure we'll be having forever and one that I don't always know if I am the right person to lead.
"If you want to enjoy our culture and our lifestyle, bond with us, dance with us, have fun with us, twerk with us, rap with us, then you should also want to know what affects us, what is bothering us, what we feel is unfair to us. You shouldn't not want to know that," Nikki Minaj has said.
And when I think about that, I know I am not being overly sensitive. If I'm wondering if this is blackface, it probably is.
My daughter's request came from a place of innocence. In her mind, she was changing her hair color for this costume, so why should skin color be any different? She has no idea about "Amos 'n' Andy" or the stereotypes proliferated by minstrel shows. At this age, there is a lot that she does not understand. She just wants an authentic were-punk Halloween costume.
She may mean no harm, but still cause harm. What she doesn't understand, we do, and as her parents we have to make that choice accordingly.
And so we told her no. Strangely, there was no fight. We settled on lots of eye-makeup, blush and lipstick ― the trappings of a grown woman on a little girl. I have my own issues with that, but it's easier for me to unpack them.
At the Halloween party, the scene is similar to most of our experiences in this community. It's a large diverse group coming together to have fun, living in the moment as kids do, and getting lost in their imaginations with seemingly no care in the world.
My daughter and her best friend howl and giggle as they dance all night. Just like two werewolves would.
Ariella Papa writes realistic fiction about women. Her newest book is "Momfrenemies," a sequel to the bestselling "Momfriends."