The four artists included in this edition of "On Seeing" each address ecology and our deepening environmental concerns. Their approaches vary from temporary sculptures and installations dependent on the cycles and processes of nature to patient documentations of the intersection between humans and our environment. Each has developed a powerful body of work that poses questions while drawing both functional and metaphorical connections to the natural world.
(Commentary follows slideshow)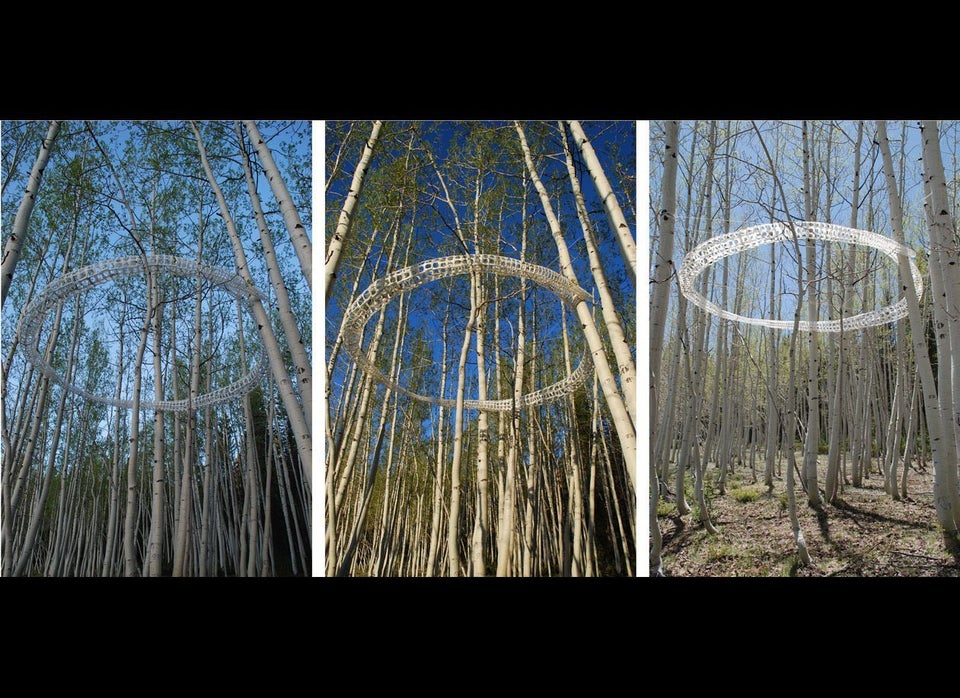 On Seeing: Art and Ecology
From the first time I learned of John Grade's work, he seems to have continually developed new and fascinating projects bridging his art practice and commitment to preservation and the environment. Those pictured here include Host, one of many of Grade's works that is in part sculpted by the environment (in this case, local birds), and The Elephant Bed, graceful forms made, as is typical of Grade's process, from biodegradable materials; at the end of this exhibition at Fabrica in Brighton, UK, the works were carried through the streets and deposited in the English Channel. Working in collaboration with nature, Grade's sculptures are elegantly engineered to function in, and often for, the specific ecosystem for which they are made.
With a similarly empathic approach, Sant Khalsa combines a sense of devotion with a steady and meticulous process in her photographic portfolios. Simultaneously beautiful and rigorous, each one functions as an archive of vital but contradictory intersections between built and natural environments. For Western Waters, Khalsa photographed nearly 200 stores hawking the most essential commodity: water. In a statement about the project, the artist noted, "plastic bottles have replaced earthen vessels." Paving Paradise (currently the subject of an exhibition, "River Run" at UCR's California Museum of Photography) lovingly and painstakingly documents transformations in the 96-mile Santa Ana River over the past 20 years.
Buster Simpson's sculptures and installations have long demonstrated a propensity for working with local environments to nurture sustainability, eliminate waste, and build awareness. Included are images from Portable Landscapes, a project inspired by the discovery of a self-generating landscape on the roof of a local Skyway Luggage Factory. Recognizing that this could provide seed stock for greening neighborhood roofs, Simpson replanted segments into suitcases, placing these in local communities with the hope that the plants be adopted. Confluence, a temporary sculpture created at the National Botanic Garden of Wales, created a gathering place informed by and integrated with the local watershed environment.
From 2005 - 2009, Samantha Fields also ventured into the landscape, documenting occurrences of extreme weather and using the resulting photographs as the basis for realistic oil paintings that seem to reverberate with the immensity of nature's power. She has traveled to sites throughout the Western US to photograph enormous storms and raging wildfires, then transformed the images into paintings. More recently, Fields has undertaken a body of work that reflects on the experience of being in nature and the ways it does and does not meet our often idealistic, even demanding, expectations; rather than gazing at nature from afar, these haunting and atmospheric paintings provide a record of lived experience from up-close.
Artists Included: John Grade, Sant Khalsa, Buster Simpson, and Samantha Fields
On Seeing is an exhibition series on The Huffington Post curated by Annie Buckley. It includes emerging and established artists from around the globe. The goal is explore the depth of how we see and reflect on art while expanding the range of ways to view art.
On Seeing is not a commercial series, but in the event that it results in a sale, participating artists and gallerists are invited to donate at least 10% of the proceeds to a charity of their choice.

Related
Popular in the Community